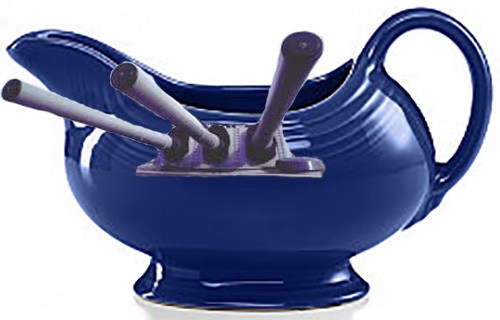 As is its wont, Fox News is ginning up outrage among the duct-taped naugahyde recliner set by highlighting godless liberals' plans to persecute Trump supporters over turkey this year:
GQ: It's Your 'Civic Duty' to Ruin Thanksgiving for Your Trump-Supporting Family Members https://t.co/GZF4eyRAmv

— Fox News (@FoxNews) November 22, 2017
The suggestions for how to ruin Trump-supporting relatives' holiday dinner in the linked GQ article are clearly tongue-in-cheek and purposely silly. But this part is kinda true, IMO:
This year, if you're headed home to a household that still thinks a sex-offending game show host in rapid cognitive decline was the best choice for a president, it is your civic duty to filibuster Thanksgiving.

Trump has spent the entire year performing one long, clumsy touchdown dance atop the wreckage of America's former norms and values… Any parents still riding the Trump Train at this point have thereby signaled that nothing is sacred. It is time to follow their example. They can't stand idly by while President Deals tramples every other American tradition and yet somehow expect that Thanksgiving will be normal too. If every other moment of this year is going to be drastically out of whack, nobody should get to pretend that everything is normal for one meal just because that's what the pilgrims would have done.
It's not so much that Trump supporters don't deserve a normal Thanksgiving (although they don't); it's that we who are related to or otherwise entangled with these assholes have a duty to try burst their bubble of complacency.
As it should be, this obligation is borne almost exclusively by my fellow white people — it was our demographic cohort that foisted this treasonous buffoon on the world, and it's on us Saltine-Americans to try to fix it.
Trump voters should know we feel demeaned every goddamned day that dawns with a self-described sexual predator (and child molester apologist!) representing our country. We should make them aware that we're appalled that literal Nazis and white nationalist trash are elevated and empowered by this administration.
Trump supporters should understand that we're repulsed by the Bible-humping hypocrites who flock to support their degenerate president, and that we're revolted by the arrogant, preening, phony morality of anti-gay creeps like Mike Pence.
We should point out that the huckster-in-chief invited a gaggle of plutocrats to loot the U.S. Treasury while he and his pack of grifting-hyena relatives convert the presidency into a personal branding engine and profit center. That "drain the swamp" thing was 100% bullshit, and if they're still lapping it up, Trump supporters are a con man's willing dupes.
And Trump supporters should know we're repelled by people who wrap themselves in the flag and invoke "the troops" as an excuse to cram their jingoism down our throats while at the same time expressing enthusiasm about a foreign autocrat undermining our democracy or turning a blind eye to it.
I could go on, but the point is, this shit is not normal, and if we're ever going to get within hailing distance of normal again, we must not only call out Trump and his official minions, we must confront the people who put him where he is. Even if they are our dads, aunties, cousins, etc.
The techniques to confront MAGAts vary. I favor sarcasm. Valued commenter Mnemosyne has described a gambit that I've found particularly effective in exposing the stupidity at the core of Trumpian conspiracy theories: Feign ignorance when wingnuts repeat some chain-email lie, politely ask them to elaborate and ask pointed questions until the full lunacy of the premise is exposed, sometimes even to the speaker, who eventually trails off in embarrassment or changes the subject.
Anyhoo, arm yourselves with the rhetorical weapons that suit you best, including sweet reason and loving kindness, if that's your thing. As I mentioned yesterday, I'm off the hook on Thanksgiving Day since no Trump-supporting relatives will be in attendance. But I will be seeing them over the coming weeks, and I will give no quarter. They don't deserve it, and these days, silence equals complicity with a white supremacy agenda. Fuck that!