It's a terrible shame that Donald Trump ever became president. On the bright side: the progressive response in 2017 was tremendous. Here's a couple remarkable charts. The first is the number of House challengers who have raised at least 5K as of the last filing (September 30).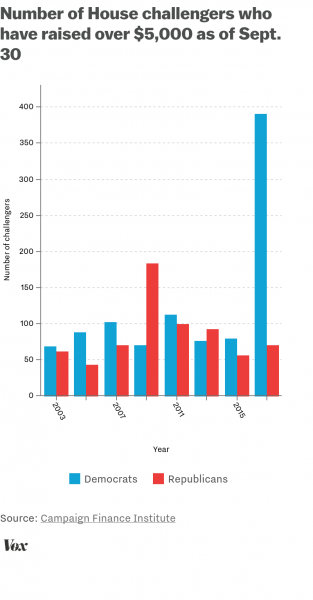 And here's another: Democrats over-performed Cook PVI by 9 points on average in 2017 special elections.
In six 2017 special elections, Dems have been outperforming their @CookPolitical PVI-suggested share of the vote by an average of 9%: pic.twitter.com/P4qDT7LDGv

— Dave Wasserman (@Redistrict) December 15, 2017
If Democrats beat the Cook PVI by 9 points every district in 2018, they'll win something like 100 seats. I doubt that will happen but….you never know.
Here's a fund that's split between all eventual Democratic nominees in House districts currently held by Republicans. Let's kick in a little money.