Remember the asshole on the left, whom the asshole on the right appointed as U.S. ambassador to the Netherlands?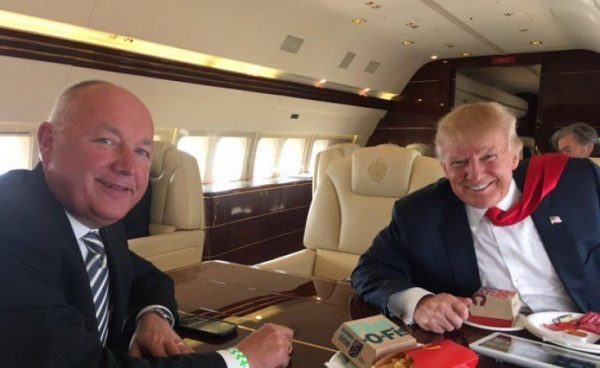 He's Pete Hoekstra, former teaturd congressman from Michigan. He jumped on the Trump train early, attracted by Trump's disdain for immigrants and Muslims. He just made an absolute fool of himself in an exchange with a Dutch journalist:
Just perfect.
Dutch journalist to new US Ambassador: you said there were 'no go zones' in Netherlands, where are they?
Ambassador: That's fake news, I didn't say that
Journalist: We can show you that clip now.
Ambassador: Err ?? pic.twitter.com/8ohIOzmYAc

— Sunny Hundal (@sunny_hundal) December 22, 2017
First, Hoekstra lied and claimed he never said there are "no-go zones" in the Netherlands, calling it "fake news." Then, when called out on that lie, he lied again, denying he'd characterized an accurate account of what he said as "fake news" mere seconds before! These low-quality, integrity-free Trump hires are almost as embarrassing as their boss.
In other news, the man Dictionary.com chose to illustrate the word "sycophant," Mike Pence, promised endless war in Afghanistan yesterday:
Pence arrived on a military plane at Bagram Airfield under the cover of darkness on Thursday night after leaving Washington on Wednesday night. He then flew by helicopter to Kabul, where he met President Ashraf Ghani and Chief Executive Abdullah Abdullah at the presidential palace.

Pence told the leaders he hoped his presence there was tangible evidence that the United States was "here to see this through."

In a reversal of his campaign call for a swift withdrawal of U.S. forces from Afghanistan, Trump in August pledged a stepped-up military campaign against Taliban insurgents and signaled the United States would send more troops to fight in what is the longest war in its history…

"Under President Donald Trump, the armed forces of the United States will remain engaged in Afghanistan until we eliminate the terrorist threat to our homeland, our people once and for all," Pence said.
Good thing we didn't elect that warmonger lady with extensive experience in international diplomacy! Le sigh.
Open thread.