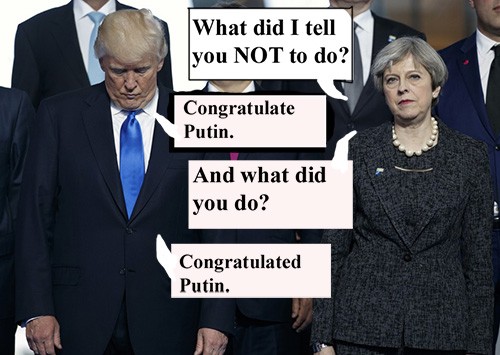 The Trump White House is as leaky as a rowboat constructed of colanders, window screen and Scotch tape. That's entirely on the recalcitrant man-baby at the top, who delights in pitting aides and advisers against one another. Trump is like a sadistic child who fills a glass jar with dung beetles, wingless flies and fire ants and giggles maniacally while shaking the jar to encourage mortal combat.
So it's not surprising that when Trump does something particularly bone-headed, like calling the Kremlin to squee over Putin's sham reelection and failing to mention the recent use of a deadly nerve agent on the soil of our closest ally or the attack on our own elections, the disgruntled palace guard goes straight to their reporter pals — via The Post:
President Trump did not follow specific warnings from his national security advisers Tuesday when he congratulated Russian President Vladi­mir Putin on his reelection — including a section in his briefing materials in all-capital letters stating "DO NOT CONGRATULATE," according to officials familiar with the call.

Trump also chose not to heed talking points from aides instructing him to condemn the recent poisoning of a former Russian spy in Britain with a powerful nerve agent, a case that both the British and U.S. governments have blamed on Moscow.

The president's conversation with Putin, which Trump described as a "very good call," prompted fresh criticism of his muted tone toward one of the United States' biggest geopolitical rivals amid the special counsel investigation into Russia's election interference and the Trump campaign's contacts with Russian officials.
Leave it to Lil' Marco to identify the true outrage, though:
I don't agree with congratulating #Putin but bigger outrage is this leak that could only come from someone in @POTUS inner circle. If you don't like President resign, but this ongoing pattern of duplicity holds potential for serious damage to the nation https://t.co/DHwXp63SYx

— Marco Rubio (@marcorubio) March 21, 2018
Other Republican tut-tutters fret that the "duplicity" Rubio decries will become the new normal, and how will you libturds like that, huh? Huh?!?
Of the many thousands of ways the Trump presidency is undermining American democracy and warping established norms, the prospect of future West Wing staff undermining future presidents through leaks on a Trumpian scale is close to the bottom of my list of worries, to be honest. Leaking to advance competing agendas has been an issue in every White House to some extent. But in this one unique instance, I expect norms to reassert themselves once the herd of possessed swine currently inhabiting the White House departs.