New: Steve Bannon ups the ante on Trump's war against the Kochs. "If you take Koch money, there's going to be a punishment," he warns GOP candidates in an exclusive interview w @schwartzbCNBC https://t.co/rZcyCtuTSb

— Christina Wilkie (@christinawilkie) July 31, 2018
Mild response from Koch network to Trump's irritation at Charles Koch's criticism:

"We support policies that help all people improve their lives. We look forward to working with anyone to do so."

(Koch thinks Trump's trade actions risk a recession.)https://t.co/ZV2UwB9fw0 https://t.co/HMY6NkPYom

— Jennifer Jacobs (@JenniferJJacobs) July 31, 2018
The headline of the latest @JaneMayerNYer story says it all:https://t.co/wWk95yX30I

— Frank Bass (@RealFrankBass) August 2, 2018
I've been reading about this Oligarch Feud for the past few days, wondering just where the levers were…
Most of the media coverage of the "ugly public feud," as the New York Times called it, between President Trump and the Koch brothers has taken the Kochs at their word that they may have to give up on the Republican Party of Trump and start backing Democrats, so disgusted are they with the President's protectionist trade policies. But history suggests that the Kochs' threat is about as believable as that of a parent threatening to "just plain leave" if a balky toddler doesn't behave.

Despite the brothers' record as among the country's largest and most consistently partisan financial sponsors, the Kochs' pique at their own party is nothing new. For decades they have complained bitterly about Republican politicians whose fealty to their libertarian agenda has rarely, in their view, been absolute enough. This dissatisfaction with the Grand Old Party was evident as far back as 1980…

… In fact, it was the Kochs' disappointment with George W. Bush's expansion of prescription-drug benefits, among other issues, that inspired them, in 2003, to form their political-fund-raising network with like-minded conservatives. Since then, the group has grown into a private political machine that arguably rivals, and by some estimates overpowers, the Republican Party itself. Earlier this year, the network announced that it planned to spend four hundred million dollars in the coming midterm-election cycle, to help preserve the Republican majority in both houses of Congress. But last weekend, somewhat unexpectedly, at a meeting in Colorado Springs, of some five hundred members of this group, all of whom have pledged to contribute at least a hundred thousand dollars annually to the cause, Koch officials attacked Trump, in all but name, as "divisive," and threatened to start backing Democrats in some midterm races….

On the surface, the cause of the rift is their opposition to Trump's protectionist trade and immigration policies, which clash with their free-market preferences—and Koch Industries' bottom line. The policy fight runs deep, reflecting a larger rift in the Republican Party on these issues. Exacerbating tensions, Trump and Charles Koch are both headstrong billionaires who are accustomed to buying, and then getting, their ways. Both were sent to military schools by their parents, after having disciplinary problems at home, and both have high regard for themselves as self-made men, despite both inheriting vast fortunes from their fathers.

Beyond this, both appear to think that the Republican Party in particular, and American politics in general, should be theirs to dominate. Yet, if you parse last weekend's complaint from Charles Koch carefully, what you see is that his ire wasn't so much directed at Trump, whom he didn't name, as at the Republicans in Congress for having fallen in line with the President instead of with him….

As Stephen Bannon, Trump's former chief political strategist and an architect of the nationalist and nativist policies that the Kochs oppose, put it, "the donor class controlled the Republican Party—that is, until the rise of Trump." Now, the Kochs' real problem, he said, was that they "see that being ripped away."…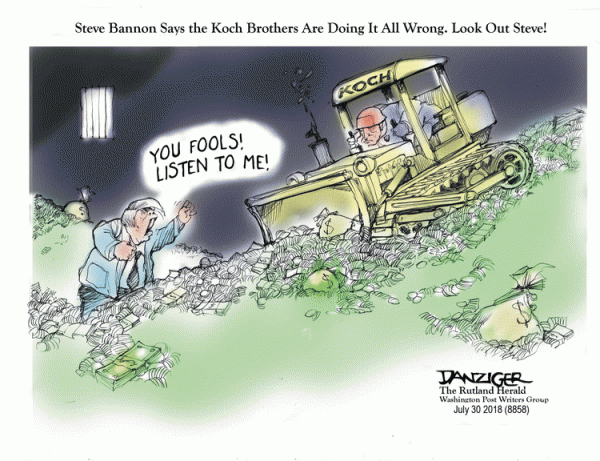 Of course Steve Bannon is 'standing up' for his former boss; since he got cut off the GOP teat, he's been zigzagging around Europe looking for a new source of income, garnering media attention but not much financial success. What I wonder most about, though: What of the oligarchs who paid Bannon's way into the Trump campaign in the first place?
Both Rebekah Mercer, Bannon's original sugar momma, and Peter Thiel, his political soulmate, have been relatively quiet in recent months, with good reason. But they're at least a generation younger than Charles Koch (who's already pushed his brother out of political partnership due to 'failing health') or fellow GOP macher Sheldon Adelson.
It *could* be that Mercer, or Thiel, have decided that modern American politics are not the best place for them to harvest the attention and power they so desperately want. It could also be that I'll wake up tomorrow and discover I've lost my appetite for potato chips and chocolate… but the odds are against that, too.
In the Trump Era, FOX pundits go after the … Koch Bros? https://t.co/mKTvr3w6OH

— Marc Caputo (@MarcACaputo) July 31, 2018
With the Koch brothers in the news for condemning "divisiveness" and "lack of leadership" in DC, a reminder that the American Legislative Exchange Council—conservative state legislators that Kochs fund—is celebrating its anniversary at Trump Hotel DC in Sept. Tickets are $500. pic.twitter.com/u22tksIuXq

— Zach Everson (@Z_Everson) July 30, 2018
NEWS: RNC warns donors to steer clear of the KOCHS
The fight escalates
Read @GOPChairwoman's memo here>> https://t.co/epMeqIAFis

— Alex Isenstadt (@politicoalex) August 2, 2018
I'm starting to think the creepy old billionaires funding the trolls doing dumb stuff to "own the libs" actually want to literally own libs.

— Schooley (@Rschooley) July 31, 2018