Just back from a glorious 10 days without much internet (and no Twitter!).  I was with my family in Peru, a trip occasioned by the joy of my nephew's wedding to his Peruvian fiancée.  We got in this morning, an experience that reinforced my view that red eye flights ought to be classed as crimes against humanity whenever we get around to revising the appropriate conventions.
Obligatory unconsciousness dealt with by midafternoon, I was jolted back to our grotesque reality by the news that White House counsel Don McGahn has clearly decided that he isn't going to lie down on the tracks for Donald Trump.  Instead he's been talking (and talking, and talking) to Mueller's shop, apparently reeasoning (correctly) that his client was the presidency, and not its current infestation — and that said fungus would not hesitate to throw him to the wolves as it suited him.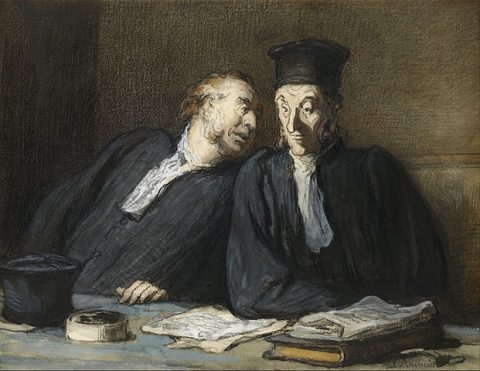 With very few conscious brain cells to rub together even yet (did I say that I loath red eyes?), I'll leave it to the actually knowledgeable to go into just how bonkers this is, and how valuable Mueller and his team will find McGahn's fount of inside knowledge.
Anticipating that, this whole thing reminded me of two deep truths.  First: when wrongdoing starts to unravel in public view, any smart, or even mildly self-aware mooks entangled in the affairs of the principal miscreant, realize that their interests diverge from said brigand. Clearly that's happening all over Trump world.
Second:  the Manchurian president appears both to have committed the cardinal sin of all criminal clients — lying to his legal team — and to be represented by morons:
Mr. Trump's lawyers still had a chance to keep Mr. McGahn's insider knowledge from the special counsel. By exerting attorney-client privilege, which allows the president to legally withhold information, they would have gained the right to learn what Mr. McGahn planned to tell investigators and what he might reveal that could damage the president. But the president's lawyers never went through that process, although they told people that they believed they still had the ability to stop Mr. Mueller from handing over to Congress the accounts of witnesses like Mr. McGahn and others.
It's no surprise, of course, that the Shitgibbon would hire only the best people, but damn, this is (or so it seems to me, never having seen the inside of a law school) some…truly special lawyering.
And with that…enjoy yourselves some thread!
Image: Honoré Daumier, Two Lawyers Conversing, before 1879.