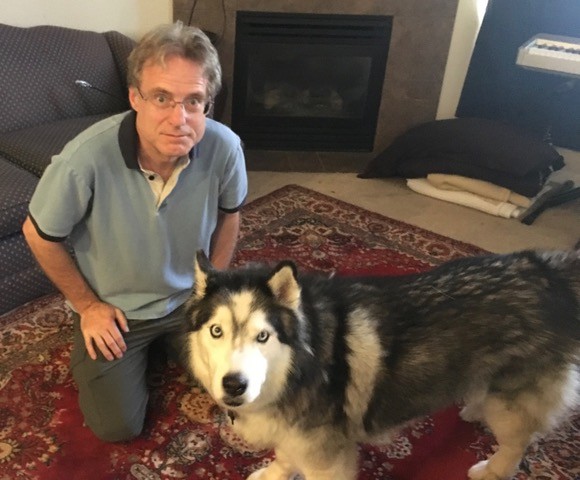 Scamp Dog and Meeca Pup
Last week, Scamp Dog contacted me and wondered if we could do a bit of fundraiser for Meeca. Turns out she's going to need surgery and Scampdog wants to do what's best for her, but it's going to be a big hurdle. I'm posting this now, hoping for a quiet Friday night, but I'll repost next week if things get crazy tonight. I'll let Scamp Dog take it from here:
Hello Juicers! You may remember that back in mid-July TaMara put up a post  on a Husky, Meeca, who needed a new home. I'd been dogless for a while, so I went up to visit her, and decided to take her home on the spot.

Now it turns out that she's developed a couple of expensive medical issues. I took Meeca to the vet because she was limping, and found out that she has a torn ligament in her right hind leg. Unfortunately, I don't have any classes this semester, so I'm in a personal cash crunch to begin with. 

The next problem was that she attacked a neighbor dog. Fortunately the other dog was only bruised, and the owners were 

very

understanding, but it still scared me, and I made an appointment with a veterinary behaviorist down in Castle Pines, south of Denver. Meeca's been good with people, so aggression towards humans isn't an issue. 

The vets think that part of the problem may be the pain in her knee, so they prescribed some more pain meds. The behavior part seems to be a combination of fear and predation, so they came up a fairly elaborate behavior treatment plan that I'm working on. Based on their report, I'm not as worried as I once was, but Meeca will need to have some more appointments to monitor her progress and keep her on the right track, so she and the neighbor dogs will be safe. 

The pain meds have been great: she's been more mobile, and seems to be happier, too. I've been following the behavior plan from the vets. The quick description is keeping her away from other dogs, and giving her treats on walks to get her paying attention to me. We'll be seeing them again on Monday to check on her progress and update the plan. 

To put some numbers on this, the surgery will probably be around $2,200 (there's a more expensive version done by a specialist, but I'm confident of my local veterinarian's office, so I think the regular one should be fine. The meeting with the behavior vets wound up being about $430, which is pricy, but we met with two veterinarians, a behavior tech, and a vet student, so I'm not terribly surprised. I'm guessing this all could easily exceed $3,000 after a series of appointments with the behavior vets.

So if you could help out a good dog and a worried human, I'd be grateful for your assistance! Based on TaMara's suggestion, any overages will go to Big Bones Canine Rescue here in Colorado (their info here – note from TaMara: this is where I got Bailey and they are amazing, rescue both giant breeds and toy breeds, it's adorable, and were so kind after Bailey left us -I donate to them fairly regularly.)

Here's a paypal link where you can donate:

The picture at the link is the one at the top of the post, so that should let you know you're at the right place.

Thanks for helping a sweet, 10 year old dog!  –  Scamp Dog
TaMara again – Thanks for anything you can do, as always. If you have any additional questions hit the comments or email me and I'll pass them on to Scamp Dog. I have a business PO Box for anyone may want to avoid Paypal, email me if you'd rather do that.
Here's my direct email: whats4dinnersolutions (at) live (dot) com