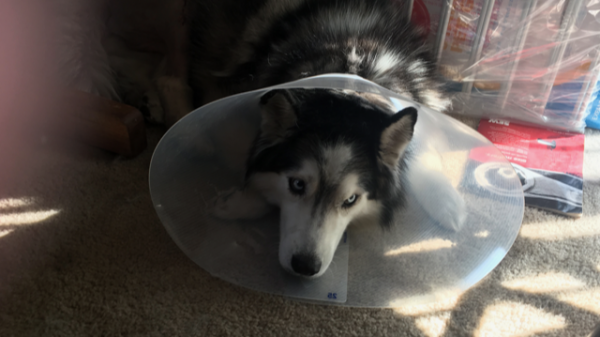 Scamp Dog sent me an update this weekend on Meeca to share with you:
The picture is a few days after surgery.

Meeca's surgery went well, and she came home after an overnight stay at the vet clinic.  She's gotten a little more mobile over the two days she's been home.  Her incision is healing nicely, although she won't let me move her knee to increase her range of motion like the vet wants me to do.  She's able to get down the stairs to go out, but I have to carry her up when we get back.  She's 62 pounds, so I'm getting my exercise!

Thanks again to everyone who donated!
I know we reached about 2/3rds of the goal for her surgery. So if you still want to contribute, here's the link.
Again, thanks to everyone. Meeca went from being the product of a divorce and homeless, to being a featured Balloon-Juice adoption, and then having help with her surgery costs.  A real Balloon-Juice pet success story!