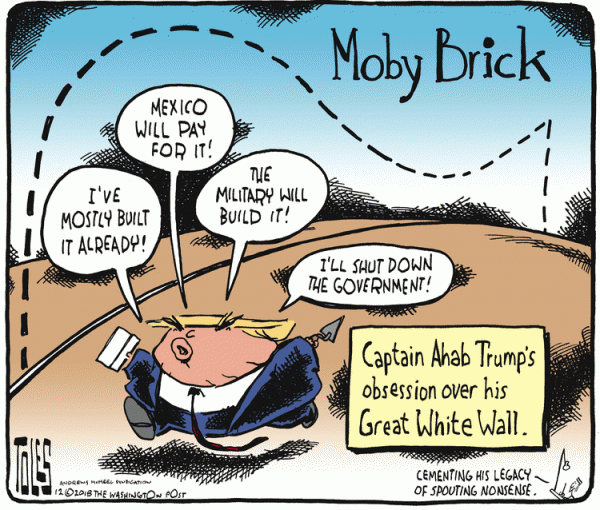 Schumer says Trump needs to understand the votes for a southern border wall aren't there in US House or Senate.

"He is not going to get the wall in any form." https://t.co/tExauiccZy

— Jennifer Jacobs (@JenniferJJacobs) December 16, 2018
Playing Reality Star Emperor on the teevee — Who gets the thumbs down? All eyes are on ME! — is the only part of the Oval Office Occupation that Donny Dollhands actually enjoys. No surprise, he thinks of a government shutdown as a prime opportunity for more exposure*. The fact that hundreds of thousands of people are depending on getting paid for doing those jobs would only add an extra thrill for him, assuming anyone tried to get the concept across.
* (sorry for that image, first thing in the morning)
So, y'know, I really don't have any concern to spare for the rest of the Republicans, who are facing the blowback they toiled to achieve.
Per the Washington Post, company paper for the town whose monopoly industry is national politics:
Congressional Republicans struggled Monday to find a way to persuade President Trump to back off a public threat to shut down the government over border wall money, staying largely in the dark over the impasse that could halt pay for hundreds of thousands of federal workers by the end of the week.

At the White House, Trump has remained disinclined to support even stopgap measures that would keep federal government operations running for a week or two, told by his closest advisers that he would have even less leverage when Democrats take control of the House next month. Trump is also bolstered by support of rank-and-file Border Patrol agents, whose union leader told the president in a recent Oval Office conversation that they would back a wall-induced shutdown if the dispute came to that point.

All that has left Republican lawmakers eager to avoid a shutdown unsure whether Trump would ultimately come around to at least one option that would end the impasse before Friday. Without a resolution that the president could sign before midnight Friday, roughly 800,000 federal workers will be furloughed or forced to work without pay in a partial shutdown that Trump has already — and proudly — claimed as his own…

Asked what kind of spending bill Trump would support, Appropriations Committee Chairman Richard C. Shelby (R-Ala.) responded: "We don't know that."

A Monday evening meeting of McConnell and his top deputies also yielded little, with senior Republicans unaware of where exactly the White House stands. During the meeting, McConnell told other GOP senators that he had no information, and — referring to the White House — said "we're waiting for them," according to a senator in attendance…
Politico, of course, is more sympathetic to the GOP suffering:
Senate Republicans are searching for a way out of the impending partial government shutdown. But they are waiting for President Donald Trump to weigh in before making a move, and he appears to be in no rush to help them out.

Roughly one-fourth of the federal government is scheduled to shutter on Friday without action, and Democrats and Trump continue to spar over his border wall. With the House out of town until Wednesday, all eyes are on the Senate GOP majority and Senate Majority Leader Mitch McConnell (R-Ky.), who hates shutdowns.

But as of Monday night, McConnell and Senate Republicans don't have any plan. What Trump's intentions are as to a potential shutdown apparently are as opaque to them as they are to anyone else. Senior Republicans suggested the shutdown deadline may have to come closer before either side is willing to make a deal…

A former White House official who spoke with Trump Friday said the president is relishing in the fact that Republicans are awaiting his signal and letting him set the terms.

Trump wants to "maximize drama," per another Republican close to the White House…

That likely leaves it to McConnell, who talks to Trump on a near-daily basis.

Senate Republicans would prefer not to pass a stopgap bill but acknowledged on Monday it was possible. That would likely result in House Democratic Leader Nancy Pelosi (D-Calif.) passing a long-term spending bill in January and denying Trump the $5 billion in wall funding he's demanding….
You knew he was a snake when you took him to your ample bosom, Mitch. And if his bite should prove fatal — well, Murphy the Trickster God grows bored with his every favorite, eventually.
Democrats have zero political incentives to deliver on Trump's border wall request. House Republicans don't have the votes to even get a bill to the Senate. So… => https://t.co/NVtWlKKHI8

— David M. Drucker (@DavidMDrucker) December 17, 2018