The real reason people voted for Trump is because unvarnished racist, sexist, xenophobic demagoguery appealed to them. But if you ask Trumpers why they voted for Trump, they'll say something like, "He's a successful businessman who knows how to make deals."
That's bullshit on stilts; the serially bankrupt Trump would be far richer than he (probably falsely) claims if he'd stashed his inheritance in an index fund. But it's true that he sold his own mottled orange hide to the public along those lines: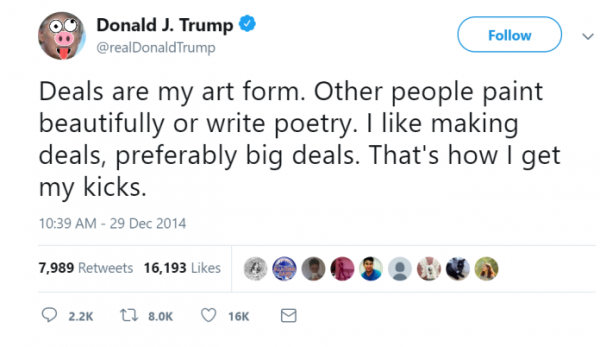 Let's roll the tape on how Trump got his kicks during the DHS funding negotiations, shall we?
March 2018: Democrats offer $25B in border all funding for a pathway to citizenship for the dreamers. Trump kills the deal by tacking on draconian cuts to LEGAL immigration.

December 2018: Trump demands $5B for wall; Democrats counter with a $1.6B offer. Trump shuts down the government, costing the U.S. economy $11B.

January 2019: Trump caves, ends shutdown in humiliating political defeat, vows to get WALL funding as a condition to fund the government after 2/15/2019.

February 2019: Trump indicates he'll sign a bill with $1.375 billion "fencing" funds to avoid another shutdown.
The prospect of another stinging humiliation in the form of this bill had Trump pre-whining on Twitter yesterday about "the Radical Left" thwarting his "Border Security" plans. He also lied that "the Wall is being built" when pretty much everyone who's not a slack-jawed moron knows that's not true.
But he'll almost certainly sign the goddamned paper when it lands on his desk. McConnell isn't going to endanger his own political prospects with another shutdown. One way or another, that bill will pass, and the degree to which Trump has been taken to the cleaners in this negotiation will be expressed in hard numbers.
Even math-phobes like me who are routinely swindled in negotiations know that when your opponent's offer drops from $25B to $1.6B to $1.375B — and you accept the low number along with all the damage incurred along the way — you've just had your very own ass handed to you on a silver platter and a giant golden "L" tattooed to your forehead.
After this debacle, Trumpers will need to invent a new justification for their vote. Or maybe just tell the damned truth.
Open thread!