We — and by "we," I mean the world — have a problem: the global white supremacist movement and its capacity to commit horrific acts of violence. Here's how the POTUS is handling it today:
Bring back @JudgeJeanine Pirro. The Radical Left Democrats, working closely with their beloved partner, the Fake News Media, is using every trick in the book to SILENCE a majority of our Country. They have all out campaigns against @FoxNews hosts who are doing too well. Fox …..

….must stay strong and fight back with vigor. Stop working soooo hard on being politically correct, which will only bring you down, and continue to fight for our Country. The losers all want what you have, don't give it to them. Be strong & prosper, be weak & die! Stay true….

….to the people that got you there. Keep fighting for Tucker, and fight hard for @JudgeJeanine. Your competitors are jealous – they all want what you've got – NUMBER ONE. Don't hand it to them on a silver platter. They can't beat you, you can only beat yourselves!
Pirro was suspended or shit-canned because of her latest anti-Muslim rant, in which she said that since Rep. Ilhan Omar of Minnesota wears a hijab, Omar is a follower of "sharia law," which Pirro says is "antithetical to the U.S. Constitution."
Carlson is under fire this week because of racist, sexist gibbering newly surfaced from old appearances on the "Bubba the Love Sponge" radio show. But Carlson has been busily mainstreaming white nationalist garbage for years from his perch at Fox News.
After the Christchurch massacre, Trump tweeted "warmest sympathy and best wishes" to New Zealand. He has uttered not a word of comfort to the Muslim community there or here.
No one who has been paying attention found that surprising since the source of Trump's political power is the ability to gin up hate through racist, sexist, xenophobic demagoguery.
Still, since Trump got a shout-out in the terrorist's manifesto, the Beltway press asked Trump directly if we have a white supremacy problem, and he said no.
ACTING Chief of Staff Mick Mulvaney was trotted out on the Sunday shows to defend Trump's inexcusable response. Here's what he told Chris Wallace when asked why Trump wouldn't just deliver a speech condemning white supremacy and anti-Muslim bigotry:
"The president is not a white supremacist. I'm not sure how many times we have to say that."
Meanwhile, Trump was giving Fox News a pep talk on Twitter to make sure his favorite anti-Muslim bigots and "white genocide" conspiracy theorists don't get fired. So there's your answer, Mulvaney.
Now for something completely different: Pete Buttigieg's beautiful letter to the Muslim community in South Bend after the New Zealand terrorist attack.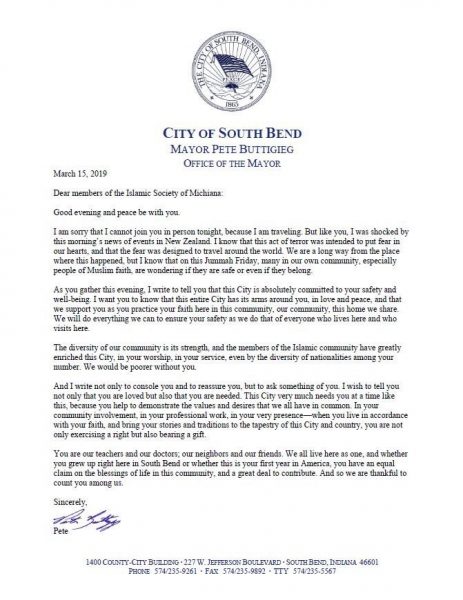 This is how a great leader speaks to a shaken community. And that's how we'll confront the rising threat of white supremacist violence if we ever recover from this deeply shameful episode in our national history — with unity, and with the decency of people like Pete Buttigieg.