I've given up on using the quote feature, as it consistently messes with the formatting.  Here are your fowl stories of the day.
===========================
It was just a normal day last summer at R and R Garage in North Carolina when a rooster randomly wandered over to the garage, and didn't seem to have any plans to leave. The employees assumed he'd been abandoned and began feeding him leftovers from the shop fridge, but when they took a long weekend, they sort of figured he would move on to another spot.
When they all returned, though, he was still there, so they named him Earl and he's been the shop rooster ever since.
"He comes running when the first guy comes in to open up for the day," Joe Gallo, co-owner of R and R Garage, told The Dodo. "He gets his cup of scratch, then wanders the shop looking for any bugs that may be around. He gets up under all the toolboxes and workbenches looking for spiders and anything else he can find."
===========================
As they say, the rest of the story is here, with lots more photos.
And here's a sweet duckling family:
At least once a year, a mother and her brood of ducklings make their way from her nesting grounds, through a high school to a nearby creek. Staff have helped guide the family on their journey for the last 10 years. pic.twitter.com/X6Xfcz8GAf

— CBC (@CBC) May 19, 2019
And finally mammals represent –  a boy and his ram:
Rams are considered the bullies of the sheep world but Mario is kind, gentle and helps four-year-old Rory overcome his shyness.

Secret Life of Farm Animals
Wednesday, 8pm – BBC One Walespic.twitter.com/63vKEHTG77

— BBC Wales ??????? (@BBCWales) January 21, 2019
And finally – our Governor tells dad jokes – and also signed into law his campaign promise of fully funded all-day Kindergarten.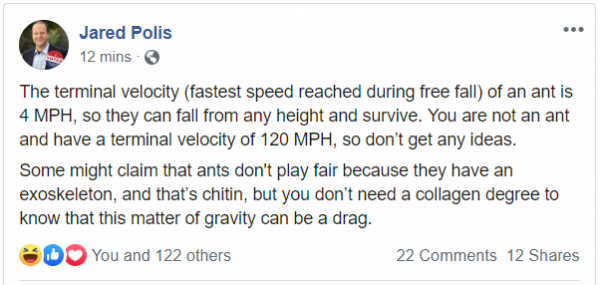 Respite open thread