So Seth was able to contact the rescue people, and they gave him a trap, which she ignored last night because he had fed the hell out of her, but this morning he put some chicken in it, came back a bit later, and had captured her. She and her kittens are now crated upstairs in his house: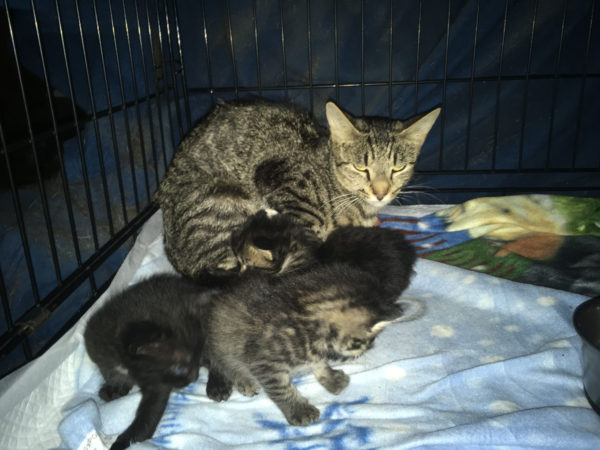 There are also FIVE kittens and not three. Seth reports that the mother is not, in fact, feral, and has had human contact because now that she and the kittens are safe, she has been coming up to Seth and letting him pet her. Seth is already in love and it would not surprise me if he keeps the momma and several of the kittens. His working philosophy is you don't go out and get cats, you just keep the ones that show up to you. He's been dying to have a cat around since Speak and Whisper both died, so we are hoping things work out with his dog Boghan.
He also has given them amazing names already- he has named them "white feet" and "grey feet" and "white stripe" as featured here: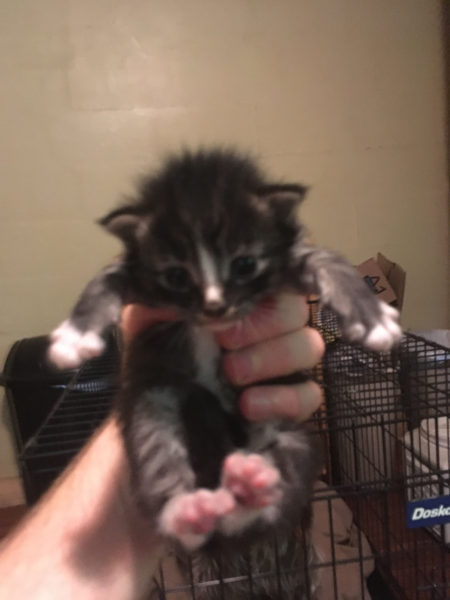 OMG WOULD YOU LOOK AT THOSE PINK TOES!
At any rate, I was giving him shit about the names and he just said they were temporary, and we both agreed that my stupid ass would have named them Gary and Fred and Agnes and never been able to tell them apart, so maybe short term descriptive names are for the best.
In other news, I went to the strip district in Pittsburgh to get some things for my dad and to pick up some olive oil (It's cheaper for me to drive 30 miles to pick up a gallon of imported olive oil at 25 bucks than it is for me to drive 5 miles and get half that in whatever shit Bertolli is passing off as olive oil), and on the way home I stopped by a farm and orchard I had never been to called Simmons Farm. I had no intention of buying anything but then discovered that they were basically GIVING away bruised peaches for 35 bucks a bushel. That's an absurd price. So, of course I bought them.
When I got home I discovered that much to my surprise, what they were passing off as bruised peaches are really just mostly oddly shapen or ugly peaches. Some were misshapen, some had some bruises, many were smaller than average (so I assume those fell prematurely when they were picking other ones and they just threw them in the shitty peach bin), etc. All told, there were only about 20 peaches that had portions of them that were unusable. I carved those up and threw the bad parts over the fence for the deer that come by every night and put the good parts in an 8 qt cambro and refrigerated them until tomorrow, and I will make jam with them. When the others ripen, I will can them. I might try to dehydrate some, too, for snacking.
Send money to my paypal account and buy stock in mason jars, I have a problem. In all seriousness, though, 35 dollars for a bushel is just ridiculous. Prepared, that's like 300 bucks worth of product, and my parents want some more, my sister will want some, etc. And I like the activity and the thought of saving all that money and using something that might have been thrown away.
*** Update ***
Speaking of bruised peaches, my friend had his dog Zero fixed, and the vet told him to ice his sack five times a day for 20 minutes. I've never had to do this so I have no idea if the vet was just messing with him, but it's happening and this picture is equal parts sweet and hysterical: