This is the new normal in Trump's America:
An Iranian student planning to attend Northeastern University was removed from the country overnight Monday in defiance of a court order, his lawyer said, and a federal judge said Tuesday there was nothing that he could immediately do.
And in case you are wondering exactly what threat the fearsome Mohammad Shahab Dehghani Hossein Abadi, 24 years old, posed to the United States…consider this:
According to the legal filing, Hossein Abadi was admitted to Northeastern for the 2018-2019 academic year and submitted his visa application in 2018. After a background check that took nearly a year, the State Department issued Hossein Abadi a student visa last week, the petition says.
HE HAD A VISA.
The US State Department, not exactly a hotbed of radical Islamic activism, granted him one after an exhaustive inquiry.  And still, CBP agents stopped him at Logan, and then defied a federal judge's order not to deport him until a hearing could be held. They lied to the judge about the deportation, asserting that he was being kept in the country when he was already on an Air France flight to Paris.
Carol Rose, executive director of the American Civil Liberties Union of Massachusetts, said Hossein Abadi had been put on an Air France flight out of Logan late Monday night. It was not immediately clear why he Hossein Abadi was removed in spite of the judge's emergency order that he be detained here and brought to court Tuesday morning.
It's pretty fucking clear, I'd say: CBP agents, operating under the accepted lawlessness that flows to and through their organization from the Oval Office on down, don't see themselves as bound by anything so 2016ish as the rule of law.
What adds to my fury is this:
"There seems to be some history of CBP ignoring district court orders, which should concern the court," Doyle said during the hearing. She asked that Hossein Abadi be returned to the US, but the judge said there was little he could do now that the student was gone.

"I don't think they're going to listen to me," Stearns said.
How about starting by holding every agent involved, and their supervisors, in contempt. Throw them in jail. Fine the shit out of them. I'm sure that Barr's "Justice" Department will pry them loose fast enough, but put at least a little bit of consequences into the equation.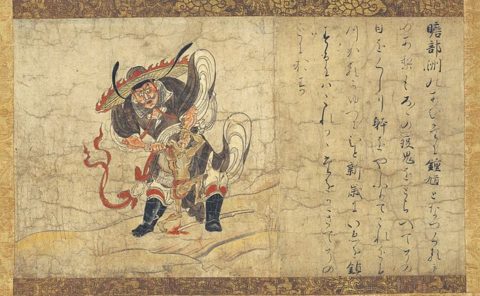 This is why Trump — and every Republican in elected office everywhere in this country — needs to go. The spectacular corruption and egregious crimes grab the headlines, but it's the daily acts of cruelty, and the brick-by-brick destruction of US governance in every domain that will leave us bereft.
Salt their fields.
Image: Unknown artist, Shoki (The Extermination of Evil), 12th century.