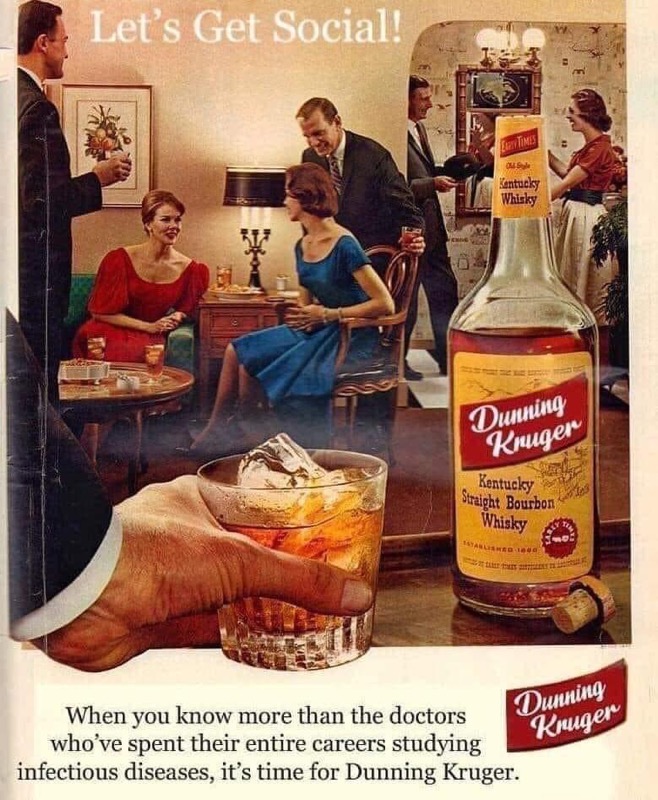 Graphic courtesy of my daughter (someone sent it to her). By the way, Trump tried to walk back his "let's inject Lysol" comment, but CNN, at least, wasn't buying his bullshit. Good for them.
I'm thinking of my paternal grandmother this afternoon. She died over 40 years ago, but once in a while I buy a jar of bread-and-butter pickles, and inevitably I think of her, because the first time I tasted them, they were from her cellar. She was an immigrant who homesteaded 160 acres of North Dakota farmland in the 1920's, herself. She had six children, three of whom survived, and all of the survivors went to college, because that's why she came to America – to have a better life for her children, at least the ones who lived.
In other words, she was acquainted with grief, as were her children. Death was not an abstraction for her, and if she were alive today, I doubt that she would fool herself into thinking that somehow she would be above dying of COVID-19 because of her allegiance to a political party (btw, she was a Democrat who kept a picture of FDR on her living room wall).
So, knowing my grandmother and people like her, I wasn't surprised that my South Dakota hometown locked down over a month ago, no matter what the idiots in state government were doing. The 80+ year olds in town were all raised by women like my grandmother and went through a hell of a lot as children. My dad has a story about his sister, one of the three who died before they grew up. My father-in-law, who lives in the same town, has a story about his brother, and the night he died of some childhood illness. Both my dad and my father-in-law locked down even before the town did. They know death.
Andrew Cuomo, who today mentioned his Italian grandmother, who sounds not so different from mine, knows death. In the comments to my post yesterday about Cuomo, Elizabelle posted this transcript of Cuomo's response to a fucking stupid question about idiots protesting in Albany:
Speaker 9: (54:37)
I have a couple questions for you and one for Melissa. I don't know if you can hear, but there are protesters outside right now honking their horns and raising signs. We did speak to a few of them before we came in and these are regular people who are not getting a paycheck. Some of them are not getting their unemployment check, and they're saying that they don't have time to wait for all of this testing and they need to get back to work in order to feed their families. Their savings is running out. They don't have another week. They're not getting answers. Their point is the cure can't be worse than the illness itself. What is your response to them?

Andrew Cuomo: (55:19)
The illness is death. What is worse than death?

Speaker 9: (55:23)
What if somebody commit suicide because they can't pay their bills?

Andrew Cuomo: (55:27)
Yeah, but the illnesses may be my death as opposed to your death. You said they said "the cure is worse than the illness." The illness is death. How can the cure be worse than the illness if the illness is potential death?

Speaker 9: (55:47)
But what if the economy failing-

Andrew Cuomo: (55:52)
Worse than death?

Speaker 9: (55:53)
… equals death [crosstalk 00:55:54] because of mental illness-

Andrew Cuomo: (55:56)
But it doesn't. No, it doesn't.

Speaker 9: (55:56)
… the people stuck at home.

Andrew Cuomo: (55:58)
No, it doesn't. It doesn't equal death. Economic hardship. Yes, very bad. Not death. Emotional stress from being locked in a house. Very bad, not death. Domestic violence on the increase. Very bad, not death; and not death of someone else.
The stupidity and flailing of Trump, and the goon squad of Trump-humping governors, shouldn't keep us from understanding that the vast majority of humanity knows death, and they also know a death-bringer when they see one. Trump and his cohort of idiots bring death. Strip away the noise, and that bare fact remains.