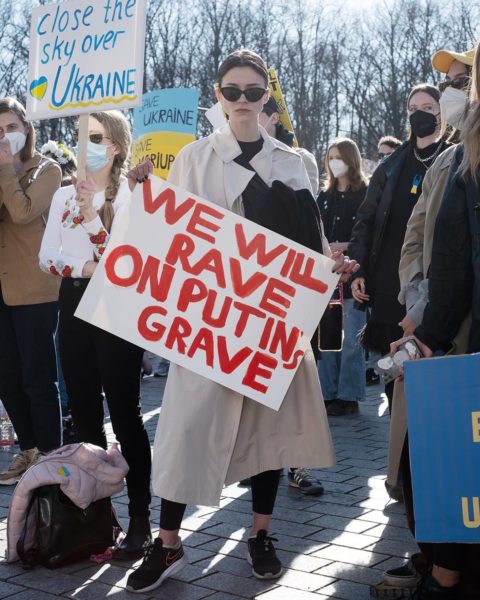 (Image found here)
Before we start I just want to take a moment and deal with some of the domestic politics news from today because its actually tangential to Putin's reinvasion of Ukraine. As AL dealt with in her post earlier today, we now know that almost 8 hours is missing from the White House call logs and related White House records regarding Trump's activities on 6 January 2021. As AL covered in her post, speculation has immediately gone to Trump using one or more burner phones. Not least of which is because Trump blurted out he didn't know what a burner phone was!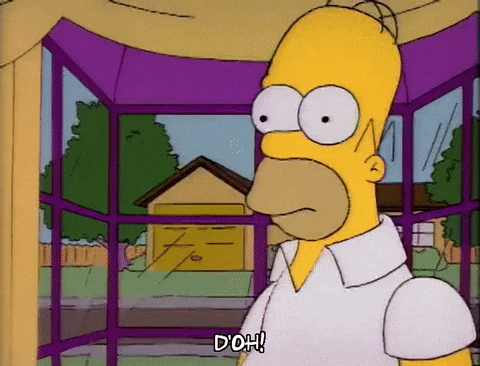 While I think that is a possibility, I also think there is a simpler and far better documented explanation for why there is nothing on the official call logs: Trump was using one or more of his unsecured personal cell phones and/or using Dan Scavino's unsecured personal cell phone to do business related to the insurrection during the insurrection.
Way back in May 2018 I did a post about the then new reporting that Trump would either make or take calls from people on his unsecured cell phone at all hours. Subsequent reporting indicated that these calls included his informal advisors Sean Hannity and Lou Dobbs, Jeanine Pirro, as well as informed speculations that they included calls to or from Bibi Netanyahu, Vladimir Putin, and other world leaders. While these calls often took place at night while Trump was in the residence, the reporting did indicate that he would take calls from people like Dobbs during meetings in the Oval Office and then put the call on speaker so that Dobbs could tell whomever was in attendance what he was telling the president. A little over a year later we got reporting that the cell signal collectors that kept popping up in DC were being placed by Israeli intelligence. I did a post on that in September 2019.
So is it possible or even probable that Trump had a burner phone that day? Sure, without a doubt. But it is also, based on what we actually know about how Trump operated while president, that he was just using one of his unsecured personal cell phones or Scavino's unsecured personal cell phone, which Scavino used to tweet as Trump from Trump's now suspended account. Or a combination of the two. This would explain why Trump and Scavino have fought so hard to prevent Scavino from having to turn anything over to the January 6 Select Committee, appear before the committee, have fought to prevent Scavino's phone carrier from doing so, and why others like Congressman Kevin McCarthy have made threats about what will happen to the cell carriers if the GOP retakes the majority in November. I think either explanation is both possible and plausible, but given that we have long standing documentation for Trump getting around the White House switchboard and the call logs by using his unsecured personal cell phone, I'm not sure a burner was even necessary. Especially if he thought he would be successful in pulling off the auto-golpe. Because if he had, no one was going to look into what happened because he would essentially be a dictator.
So what does this have to do with Ukraine? Well the informed speculation that one of the people Trump would talk to on his unsecured personal cell phone was Putin.
Much, much more after the jump!
The reason things were weird today in regard to Putin's reinvasion of Ukraine has to do with the strange reporting regarding what actually happened at today's Ukrainian-Russian ceasefire negotiations. First The Financial Times' Max Seddon reported: (video clip at the link):
Russia's deputy defense minister says Moscow has decided to "fundamentally cut back military activity in the direction of Kyiv and Chernigiv" in order to "increase mutual trust for future negotiations to agree and sign a peace deal with Ukraine."
Then three hours later Seddon clarified the reporting:
"De-escalation does not mean a ceasefire," the head of Russia's delegation now says.
This seems to happen every time The Financial Times covers these negotiations. They first report Russia's spin as fact representing a consensus from both Ukraine and Russia. Everyone and their brother looking for a ray of sunshine to finally burst through the dark clouds of war grabs on and starts prattling on about off ramps and face saving and this is great. Finally, either Ukraine or Russia – and it's usually Ukraine – clarify what actually happened and the whole reporting just looks silly. Wash, rinse, repeat.
Here's how the advisor to President Zelenskyy summed everything up:
Unconditional security guarantees for Ukraine, ceasefire, effective decisions on humanitarian corridors and humanitarian convoys, observance by the parties of the rules and customs of war. Difficult negotiations for peace in our country. Istanbul round right now…

Briefly. Security guarantees treaty with an enhanced analogue of Article 5 of NATO. Guarantor states (USA, UK, Turkey, France, Germany etc.) legally actively involved in protecting

Ukraine 

from any aggression. Implementation through a referendum & parliaments of the guarantor states.

As for Crimea, it is offered to clearly record the parties' intention to settle the issue exclusively through Ukrainian

-Russian

bilateral negotiations within 15 years. It's also offered not to resolve the Crimean issue by military means in any case. Only political & diplomatic efforts.
'Ukrainians are not naive,' we see risks in peace talks. Zelensky called not to trust any promises given by Russia. "Of course, we see all the risks. Of course, we don't have a reason to trust the words of representatives of a country that wages war against us."
And:
Zelensky draws the obvious conclusion from the talks with Russia in Istanbul: "I see no basis for confidence. Our only guarantee is the Ukrainian Armed Forces."
Quite simply, what Foreign Minister Podolyak is proposing is simply not going to happen, even as an intermediate deal to establish a ceasefire. Leaving aside the fact that I'm not sure the idea of letting Putin and/or Russia maintain control of Crimea over a fifteen year window of bilateral negotiations and having the status of the Russian occupied Ukrainian territories in the Donbas indefinitely is going to fly. Especially as subsequent reporting indicated this would all be put to a vote by Ukrainians once the war ended. I cannot imagine Ukrainians voting to embrace neutrality and have Crimea remain under Russian control for fifteen more years in the aftermath of the war. Ukrainian journalis Oleksiy Sorokin sums up my thoughts on this:
– Freezing the question of Crimea for 15 years.

– Freezing the question of Donbas indefinitely.

– Signing a new version of the "Budapest Memorandum."

– Changing the constitution to delete the aspiration to join NATO.

I don't see how this will pass via a referendum in Ukraine.
The other thing that is not going to happen is negotiating a treaty with the US that establishes clearly delineated, ironclad security guarantees that require the US to treat an attack on Ukraine as if it was an attack on a NATO ally. I want to be very, very clear here. I don't think the Biden administration will have a problem negotiating such a treaty. I do know that it will never be ratified in the US Senate. It takes a 2/3rds majority to ratify a treaty in the US Senate and that is, quite simply, never going to happen again for any treaty as long as the current Republican Party continues to function as a parliamentary party in the Senate and denies cloture on everything using the non-talking filibuster. There's a reason that the Law of the Sea treaty has still not been ratified despite it getting started under a Republican administration: the Republican Senate caucus, whether in the majority or the minority, refuses to allow it to come up for a vote by denying it cloture despite each successive Chief of Naval Operations and Commandant of the Coast Guard telling them it needs to be ratified and asking them to do so. Right now just one senator, Rand Paul, is holding up the bipartisan legislation that passed the House 424-8 to strip Russia of most favored nation trading status with the US. I guarantee he would withhold unanimous consent for this type of treaty with Ukraine and enough Republicans would make it clear that they wouldn't vote for cloture, dooming it.
Additionally, Germany, France, Turkey, and the UK aren't going to support this either. None of them have the capability to actually defend Ukraine on their own. Two weeks ago Germany and France tried to prevent the EU from putting Ukraine on the fast track for membership. A little over a month ago Germany preemptively decided to abandon Ukraine to the Russians! Britain has one Army combat brigade!
I'm honestly not sure what is going on here other than the Ukrainians are playing games with the Russians because they know that nothing the Russians negotiate or agree to can be trusted. I mean this was the guidance the Ukrainians gave their negotiators!
Ukraine warned its negotiators not to eat, drink or even touch anything as they headed into talks with Russia in Istanbul on Tuesday, following allegations that Russian oligarch Roman Abramovich and others may have been poisoned during previous talks.

"I advise anyone going for negotiations with Russia not to eat or drink anything, preferably avoid touching surfaces," said Ukrainian Foreign Minister Dmytro Kuleba in an interview on national television channel, Ukrayina 24
That really gives one the warm and fuzzies. Or is that the polonium?
Here's Anders Aslund's, the former economic advisor to both Russia (1991-1994) and Ukraine (1994-1997), take. I think the reference to three dead by poisoning is a drafting error; I think he is referring to the reports that Abromovich and two Ukrainian negotiators were poisoned in a previous round of negotiations.
A good friend said that Putin's war in Ukraine could take three forms: 1. Hitler's attack on Poland in 1939: failed! 2. The Finnish Winter war 1939-40: loss but territorial gain = expansion of Russian Donbass. 3. Russo-Japanese war 1904-5: Complete failure.

I bet on the Russo-Japanese war, which led to the Russian revolution of 1905, but the Finnish Winter War scenario, with an expansion of Russian Donbass is still possible.

It was the Russians who called for the current round of negotiations. They wanted it to take place in Belarus, but the Ukrainians refused after three of their delegation members died mysteriously. There is no official explanation of where or how from either side.

The Ukrainians insisted on Istanbul, and the Russians conceded, clarifying they are now the demandeurs. It looks as if the Russians hope for a face-saving agreement on an expansion of their holding of Donbass, but the Ukrainians are not likely to agree, nor should they.

The Ukrainians state readiness to declare neutrality, but only if they get credible security guarantees, corresponding to NATO Charter Article 5. Right they are. The US, UK and Russia cheated them in 1994 with security "assurances," which the Ukrainians thought were guarantees.

Since nobody will give Ukraine credible security guarantees, the war will continue. As Russia is concentrating its troops to the Donbass, it is vital that the Ukrainians first rout the Russian troops around Kyiv & the North & protect their troops in Donbass against encirclement.

I continue to believe that Ukraine will win this war and pretty soon. Note that the Russians are not digging in around Kyiv and Chernihiv as all these military experts have claimed after they failed the first offensive.

In this situation, it is vital that the West reinforces its sanctions on Russia to really sink the Russian economy. 1. Tighten the financial sanctions! 2. Sanction oil and gas exports! 3. Sanction all shipping! 4. Sanction all insurance to Russia! 5. Sanction Putin's family!
Well would you look at that!
⚡️ France says humanitarian mission to Mariupol not possible 'at this stage.'

French President Emmanuel Macron asked Russian President Vladimir Putin to provide a humanitarian corridor from Mariupol, however, he didn't receive a positive answer, says Macron's office.

— The Kyiv Independent (@KyivIndependent) March 29, 2022
Putin just told Macron he wants Mariupol to surrender. Russian diplomacy in action.

— Samuel Ramani (@SamRamani2) March 29, 2022
Who could have possibly seen either of those coming? Eez a puzzlement!
Here's today's British Ministry of Defense update.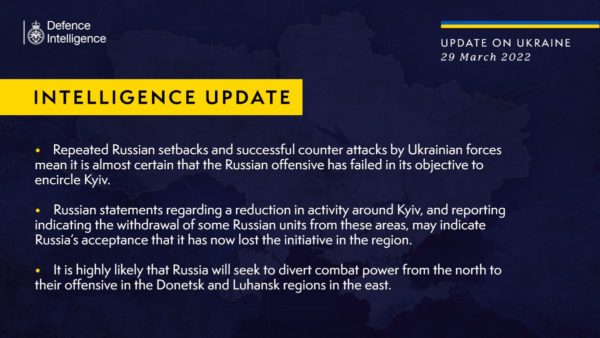 Mariupol:
70 people from Mariupol maternity hospital no. 2, including medical personnel and patients, have been forcibly deported to Russia, local authorities said. More than 20k Mariupol residents were forcibly deported earlier to filtration camps in Russia, their Ukrainian IDs seized

— Olga Tokariuk (@olgatokariuk) March 29, 2022
Trostyanets:
This is what Trostyanets, a town of 20,000 in #Sumy region, northeast #Ukraine, just liberated by the Ukrainian forces from the #Russia|n occupation, looks like now: pic.twitter.com/ARrc25bT8Q

— Alex Kokcharov (@AlexKokcharov) March 29, 2022
Chernihiv:
Starting a thread after checking in with my family in Ukraine. Please read and consider sharing.

The Human Face of Putin's War in Ukraine: My Family in Chernihiv.

— Adam Parkhomenko (@AdamParkhomenko) March 27, 2022
Putin has turned the southern resort seaport of Mariupol to rubble but amazingly continues to meet stiff resistance from Ukrainian troops determined to hold the city. Putin is not giving up. He still holds entire Ukrainian cities hostage.

He is currently focusing on the country's northernmost city of Chernihiv. It's a historic gateway to the capital of Kyiv and has been bombed nonstop since the war began a month ago.

Russian forces have encircled and mined the entire city and have prevented humanitarian aid from entering, including essential medicine, food and water. According to the mayor, the entire city has been destroyed, including churches, hospitals, schools and libraries.

My family members in Chernihiv are also being held hostage by Putin. My aunt Marusya, her 23-year-old daughter Natasha and her 3-year-old son Romchik have been in the mouldy basement-bunker of their old apartment building since the start of the war a month ago.

Their apartment building, like most others, has been badly damaged.  They emerge only briefly to search for food and water each time risking their lives. The bombing and shelling has been non-stop.

It takes an especially hard toll on the many children, sick elderly and pets in this bunker. No one can evacuate the city because it is surrounded by Russian forces, mined and because the main bridge leading to Kyiv was bombed last Wednesday.

The city has no electricity, gas, water and heat. Some people bravely cook outdoors. Many are drawing water from Desna, the local river. More than 60 people have been killed in bread lines by Russian shelling and snipers since the war started.

The bombing continues to increase with each passing day and so does the city's death count. Human lives don't matter to Putin, including his own young conscripts used as cannon fodder in his latest war in Ukraine.

Putin has never personally experienced the horror of war. However, he does have considerable experience in starting wars, especially short victorious ones against weaker neighbors. Ukraine has proven to be an exception and a colossal miscalculation for Putin.
My cousin Natasha and family. This is life with Putin. He must be defeated. pic.twitter.com/IMBdckYK4x

— Adam Parkhomenko (@AdamParkhomenko) March 27, 2022
Some good news:

My family was able to get out of Chernihiv. Natasha's husband had to stay behind and while they are still far from safe they have made it to their next stop in this journey. Thank you to everyone fighting for them and the millions of others.
Anything good on Russian TV?
Meanwhile on Russian state TV:

Host Evgeny Popov says it's time for the Russian people to call on Americans to change "the regime in the U.S." before its term expires "and to again help our partner Trump to become President."https://t.co/orPMoKoxwG pic.twitter.com/sPVDhVWm6Q

— Julia Davis (@JuliaDavisNews) March 29, 2022
Not so much…
Nothing good on American TV either:
Former President Donald Trump in a new interview called on Russian President Vladimir Putin to release information regarding alleged dealings between Eastern European oligarchs and Hunter Biden, President Joe Biden's son.

Trump's remarks, in an interview with discredited far-right journalist John Solomon, were published Tuesday by the "Just the News" television show on the Real America's Voice network.

In making his claims about Hunter Biden, Trump cited the findings of a controversial, highly politicized investigation by Senate Republicans into the Bidens, which was published just weeks before the 2020 election and produced little new evidence of wrongdoing.

Trump has repeatedly promoted dubious claims of foreign business dealings by Hunter Biden, specifically alleging that he received millions of dollars from the wife of Moscow's late mayor, Yury Luzhkov.

"She gave him $3.5 million so now I would think Putin would know the answer to that. I think he should release it," Trump said in the interview, conducted at his Mar-a-Lago resort in Florida. "I think we should know that answer."

Trump failed to mention that he himself sought to do business with Luzhkov's government in the late 1990s, according to POLITICO. Trump also was pursuing high-profile real estate deals in Russia as recently as 2016, including a proposed Trump Tower Moscow.

Trump's new interview is far from the first time the former president has suggested or openly demanded that foreign governments intervene to damage his domestic political rivals.

In 2016, Trump publicly asked the Russian government to obtain and release emails from the private email server that then-Democratic presidential nominee Hillary Clinton used during her tenure as secretary of State.
Here's the actual video clip:
Trump asks his friend Putin to take a break from murdering innocent civilians to help him frame Biden. pic.twitter.com/jWGz5CGQ1r

— Ron Filipkowski ?? (@RonFilipkowski) March 29, 2022
More regarding Russian troops traipsing about in Chornobyl.This would seem to be ungood!
LONDON, March 28 (Reuters) – Russian soldiers who seized the site of the Chernobyl nuclear disaster drove their armoured vehicles without radiation protection through a highly toxic zone called the "Red Forest", kicking up clouds of radioactive dust, workers at the site said.

The two sources said soldiers in the convoy did not use any anti-radiation gear. The second Chernobyl employee said that was "suicidal" for the soldiers because the radioactive dust they inhaled was likely to cause internal radiation in their bodies.

Ukraine's state nuclear inspectorate said on Feb. 25 there had been an increase in radiation levels at Chernobyl as a result of heavy military vehicles disturbing the soil. But until now, details of exactly what happened had not emerged.

The two Ukrainian workers who spoke to Reuters were on duty when Russian tanks entered Chernobyl on Feb. 24 and took control of the site, where staff are still responsible for the safe storage of spent nuclear fuel and supervising the concrete-encased remains of the reactor that blew up in 1986.

The regular soldiers one of the workers spoke to when they worked alongside them in the facility had not heard about the explosion, he said.
Much, much more at the link!
This is just horrific. It is the first actual long form reporting in English on this, rather than reporting by tweet. From The NY Times:
The crime first came to light last week, when Ukraine's prosecutor general, Iryna Venediktova, said in a Facebook post that a Russian soldier had killed an unarmed civilian and then repeatedly raped his wife. Days later, the White House said it was concerned about emerging reports of sexual violence in Ukraine.

Then on Monday night, The Times of London published the woman's chilling account. Using the pseudonym Natalya, she told a reporter she had been in her home in a village near the Ukrainian capital, Kyiv, when she heard footsteps and a shot rang out. Moments later her husband lay dead outside her front door, and two Russian soldiers were at her side, one holding a gun to her head.

"I shot your husband because he was a Nazi," the gunman told her, before he and the other soldier raped her, as her 4-year-old son sobbed in a boiler room next door, according to the Times. She said she was later raped a second time by the soldiers, and eventually managed to flee to western Ukraine with her son.

"I could have been silent, but when we got to the police, my husband's sister made me speak up, and there was no going back," she was quoted saying in the Times. "I understand that many people who have been hurt would stay silent because they are afraid. Lots of people don't believe terrible things like this happen."

A Kremlin spokesman, Dmitri S. Peskov, rejected Ms. Venediktova's allegation, telling reporters in Moscow last week that "we don't believe it at all."

"It is a lie," Mr. Peskov said, according to the Interfax news agency.

Ms. Venediktova said a Russian soldier is wanted for arrest "on suspicion of violation of the laws and customs of war."

Ukrainian officials contend that numerous cases of rape and sexual violence have occurred in the country since Russia's invasion began on Feb. 24.

Maria Mezentseva, a Ukrainian member of parliament, detailed the woman's account to Sky News on Sunday and said there were "many more victims." She did not provide further details or say how she learned of other assaults, but said that she expected them to come to light once the victims were "ready to talk."

"We will definitely not be silent," she said.
Much, much more at the link. It is grim reading.
Your daily Bayraktar. With a guest appearance by a Javelin. And a Ukraina…
On a sunnier note, meet @janebespala (TikTok). She won't mind me sharing #Ukraine's fiercest fighters…#Bayraktar #Javelin #Ukraina #StandWithUkraine #Zelensky #SlavaUkraïni pic.twitter.com/2KdyPJtGqc

— ??Justaguy?‍☠️ (@reports2u) March 23, 2022
We'll finish with this:
Little Ukrainians thank nations with big hearts hosting them during this difficult time. We join their words of gratitude.

more ♥️ here: https://t.co/wYhQLAXgWT pic.twitter.com/1Axosj29hj

— Ukraine / Україна (@Ukraine) March 28, 2022
Open thread!