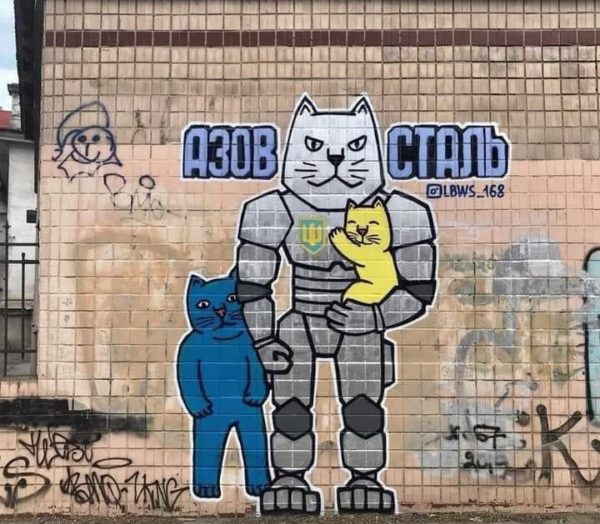 I apologize for not getting this posted sooner, but something work related came in that put me a wee bit behind. And I also had to walk the dogs. I did that, took care of the work related item, and now I'm doing this. So if you're unclear on the order: 1) dogs, 2) work, 3) you all. If my mom had needed something she'd have slotted in at #1 with the dogs.
Since I'm behind time wise I'm going to just run down the basics tonight.
Moving on, let's start, as per tradition, with President Zelenskyy's address to Ukraine this evening. Video with subtitles below, transcript with my emphases after the jump.
Ukrainians!

Our defenders!

The 68th day of our strong defense is coming to an end. The 68th day of self-destruction of Russia. Self-destruction in every sense of the word. If this country once had what is called a reputation, now Russia does things on a daily basis that simply preclude any adequacy.

Yesterday, for example, Russia's foreign minister openly and without hesitation said that the biggest anti-Semites were allegedly among the Jews themselves. And that Hitler allegedly had Jewish blood. How could this be said on the eve of the anniversary of the victory over Nazism? These words mean that Russia's top diplomat is blaming the Jewish people for Nazi crimes. No words.

Of course, there is a big scandal in Israel today as regards these words. However, no one hears objections or excuses from Moscow. There is silence. Hence, they agree with what their foreign minister said. After the Russian missile attack at Babyn Yar in Kyiv, after the Menorah damaged by shelling at the site of the mass executions in Drobytsky Yar near Kharkiv, after the deaths of ordinary people who survived the Nazi occupation and Nazi concentration camps from Russian shelling, such an anti-Semitic thrust by their minister means Russia has forgotten all the lessons of World War II.

Or maybe they never studied those lessons. So the question is will the Israeli ambassador stay in Moscow knowing their new position? Will relations with Russia remain as usual? Because it's not accidental. The words of the Russian foreign minister – a "great connoisseur of Hitlerism" – are not accidental.

It is no coincidence that the Russian occupiers are creating so-called "filtration camps" on Ukrainian land through which thousands of our Ukrainian citizens are passing. Where our people are killed, tortured and raped. It is no coincidence that the occupiers capture civilians and take them hostage or deport them as free labor.

It is no coincidence that they are waging a so-called total war to destroy all living things, after which only the burned ruins of entire cities and villages remain.

To do this, one must completely reject the moral and achievements of the victors of Nazism. But if such people are in the Russian leadership, it does not mean they can judge others in Europe or in the world according to themselves.

If they send tens of thousands of their citizens to die in a foreign land and do not even take the bodies of those killed from the streets, roads, fields, it does not mean that everyone else is like them.

If there are people among them who come from Ukraine but support the extermination of Ukrainians and everything Ukrainian, it does not mean that everyone else has abandoned normal human morality.

Today, Russian troops launched another missile strike at Odesa. Destroyed the dormitory. A 14-year-old boy was killed. A 17-year-old girl was wounded, she has a shrapnel wound. What is it? For what? What did these children and the dormitory threaten the Russian state with? And that's how they fight. That's all.

A gymnasium founded over a hundred years ago burned down in Lysychansk, Luhansk region, due to Russian shelling. It was built by the Belgians for this city. It withstood two world wars. But, as we see, this gymnasium turned out to be a terrible threat to modern Russia.

220 Ukrainian children have been killed by the Russian army since February 24. And we still don't know about everyone, because we don't have access to the temporarily occupied areas of our state. 1570 educational institutions were destroyed or damaged by shelling. It's in a little over two months!

That is why the whole free world united so that no one justifies Nazism, kills children or destroys peaceful cities as Russia does.

Today in Kyiv I met with the Minister of Foreign Affairs of Denmark. We discussed the whole range of issues of our bilateral relations, especially defense, financial and political cooperation. I see progress in implementing the agreements reached during the talks with the Prime Minister of Denmark. I am grateful. I received good signals.

Plans to rebuild Ukraine after the war were also discussed. And support for our movement towards the European Union. I am grateful that Denmark resumes the work of its embassy in our capital. This is already the 29th foreign mission that returned to Ukraine.

We are working on new sanctions against Russia. We expect a new package from the European Union in the near future. This package should include clear steps to block Russia's energy revenues. We truly believe in this. So that the terrorist state is not given a billion euros a day for fuel.

But it is also worth preparing for the next sanctions steps now. In any case, we will have to block all export-import operations with Russia. Because that's what they make money on in Moscow. And they do not even understand that international law and peace in Europe must be respected.

We continue to do everything to save our people from Mariupol. The evacuation operation continues. Tomorrow we also expect movement through humanitarian corridors from Berdyansk, Tokmak, Vasylivka.

The Armed Forces of Ukraine heroically repel the occupiers' attempts to advance. Kharkiv direction, Donbas, the south of the country – everywhere the situation remains extremely difficult. But I am grateful to each and every one of our defenders who are holding the defense.

I have just signed a large decree to award our military. 438 servicemen of the Armed Forces of Ukraine were awarded state awards.

The title of Hero of Ukraine was awarded to Senior Lieutenant Dmytro Ruslanovych Todorov for his personal courage and extraordinary efficiency in the battles against the occupiers in the Donetsk region.

Eternal glory to everyone who stood up for our state!

Eternal memory to all who died for Ukraine!

Glory to Ukraine!
Here's today's operational update from Ukraine's Ministry of Defense (emphasis mine):
The operational update regarding the russian invasion on 18.00 on May 2, 2022

The sixty-eights day of the heroic resistance of the Ukrainian people to a russian military invasion continues.

russian enemy continues to conduct a full-scale armed aggression against Ukraine and is conducting offensive operations in the Eastern Operational Zone in order to establish full control over the territory of Donetsk and Luhansk oblasts and maintain the land corridor with the temporarily occupied Crimea.

The greatest activity of russian invaders is observed in Slobozhansky and Donetsk directions. In the Zaporizhzhia, Kryvyi Rih and Mykolayiv areas, russian enemy regrouped troops, strengthened artillery units and air defense units. It is trying to establish a system of logistical support for the grouping of troops in these areas.

russian enemy continues to prepare reserves in order to further transfer them to operational areas in Ukraine.

russian enemy continues to launch missile and bomb strikes on targets in Kharkiv, Donetsk and Zaporizhzhia oblasts.

The shelling of the city of Kharkiv continues in the Slobozhansky direction.

In the Izyum direction, russian enemy continues to attack in the directions Izyum-Barvinkovo ​​and Izyum-Slovyansk.

To strengthen the group, russian occupiers moved to certain areas of the units of artillery and jet artillery.

In order to improve the transport infrastructure, russian enemy built a pontoon-bridge crossing over the Siversky Donets River. russian occupiers continue to shell the positions of Ukrainian troops and civilian objects located a short distance from the state border of Ukraine from the territory of the russian federation.

In the Belgorod region, the concentration of russian occupiers' reserves for fighting in the Eastern Operational Zone continues.

In the Donetsk direction, russian enemy's main efforts were focused on establishing full control over the settlements of Rubizhne and Popasna and advancing in the directions of the settlements of Lyman and Siversk.

In the Tavriya direction, measures are underway to regroup units and engineering equipment positions. In particular, a barrel artillery unit was deployed at firing positions near the settlement of Tokmak in the Zaporizhzhia oblast. russian enemy carried out artillery shelling of the positions of our troops in the area of the settlement of Orikhiv.

In the temporarily occupied territories of the Zaporizhzhia oblast, russian enemy deployed a fuel and oil depot and a point for repairing and repairing damaged equipment.

In the South Buh direction, russian enemy is fighting to improve its tactical position. It does not stop trying to reach the administrative border of the Kherson oblast, it continues to deploy jet and barrel artillery units to fire on the positions of Ukrainian troops.

The transfer of material resources from the temporarily occupied territory of the Autonomous Republic of Crimea with the use of Ukraine's railway infrastructure continues.

In the Bessarabian direction, the situation in the transnistrian region of the Republic of Moldova remains tense. russian enemy, through controlled media, continues to spread provocative reports about the growing threat to the population of transnistria from Ukraine.

In the Volyn, Polissya and Siversky directions, the possibility of the enemy's demonstrative and provocative actions in the areas adjacent to the state border of Ukraine is not ruled out.

The threat of missile strikes on objects on the territory of our state remains.

Measures to strengthen the administrative-police and counter-intelligence regimes continue in the Bryansk region bordering on Ukraine.

In the waters of the Black and Azov Seas, enemy ships are involved in missile strikes on the territory of Ukraine, perform the task of isolating the area of hostilities and conduct reconnaissance.

russian enemy continues to destroy Ukraine's civilian infrastructure. Inflicts rocket and bomb attacks and carries out artillery shelling of residential areas of the city of Mykolayiv, as well as settlements of Dnipropetrovsk, Zaporizhzhia, Luhansk and Kharkiv oblasts.

In the temporarily occupied territories, the russian occupiers are artificially creating and exacerbating humanitarian and economic crises. There is a shortage of medicines in the settlements, the range of grocery stores is limited, and bank institutions do not function.

Ukraine's Defense Forces inflict losses on russian enemy in all directions and are ready for any changes in the operational situation.

We believe in the Armed Forces of Ukraine! Let's win together!

Glory to Ukraine!
Here's today's assessment from Britain's MOD: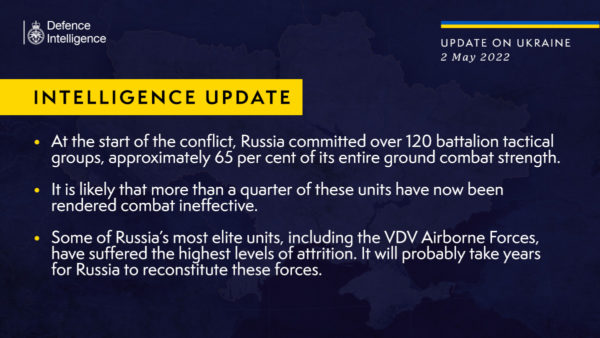 Here's their updated map: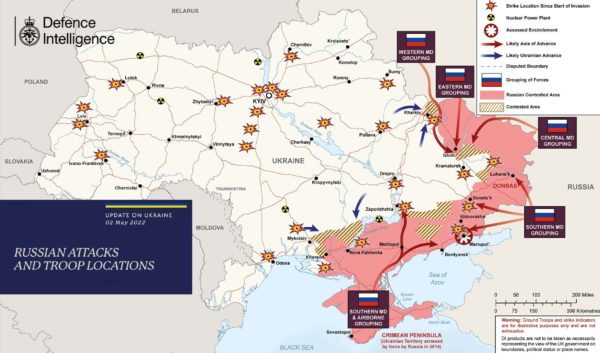 As you can see there's not a lot of change from yesterday's updated map.
I do want to once again focus us all on just how long the Russian lines are. The real problem Putin has is that the line snaking from Izium all the way around to Mykolaiv and Kherson in the south is 400 miles long. He just doesn't have the personal or equipment to be effective across that distance.
Given this reality, the Ukrainians should adjust to a strategy to just bleed Putin out. They should focus on a combination of pushing the Russians out of areas and reestablishing Ukrainian control wherever possible combined with attrition to eventual complete reduction of Russian forces. This should be paired with a counter-revolutionary warfare strategy – a la Bernard Fall – carried out by Ukrainian special operations and irregular forces behind the Russian lines to terrorize the Russians and Russian capitulating Ukrainians conducting the occupation.
Easy for me to say, I'm safely home on the couch!
There was a DOD background briefing on Ukraine today. Here is the transcript (emphasis mine):
SENIOR DEFENSE OFFICIAL: Okay, good afternoon, everybody. Happy Monday to you. We'll get started again, "senior defense official" while on background.

Day 68, we've observed now more than 2,125 missile launches since the start of the invasion. Just go through a little bit here. I know all of you are more interested in the operational stuff, so I would just tell you that we continue to see minimal, at best, progress by the Russians in the Donbas. They've had some minor gains east of Izyum and Popasna in the Luhansk Oblast. But what we saw there in Popasna is not unlike what we've seen in other hamlets in the Donbas. They'll move in and then declare victory, and then withdraw their troops, only to let the Ukrainians take it back. So there was a lot of back-and-forth over the last couple of days, and again, so I would say minimal progress at best in the Donbas. They are still, for all the lessons they are trying to learn, they're still suffering from poor command-and-control, low morale in many units, less-than-ideal logistics. They still have not solved all their logistics problem, and quite frankly, there's a casualty aversion, a risk and casualty aversion that we continue to see by the Russians now, not just in the air, but on the ground. So very, very cautious, very tepid, very uneven work by them on the ground, and in some cases, quite frankly, the best word to describe it would be anemic.

I do want to highlight, if I could, Kharkiv, which we've not talked about in a long time. The Ukrainians have maintained, obviously, their dominance of Kharkiv, and the Russians have been basically around the city. We haven't really talked about it in a while, but it has continued to come under air assault largely through strikes for sure, but the Ukrainians have been doing an able job over the last 24/48 hours of pushing the Russians further away, and they have managed to push the Russians out about 40 kilometers to the east of Kharkiv. They're pushing them back, so back into areas of the northern Donbas region, but away from Kharkiv, so an incredible effort there that, again, hasn't gotten a lot of headlines and hasn't gotten a lot of attention, but it's just another piece of the stiff Ukrainian resistance that they continue to demonstrate.

And again, to remind, Kharkiv's important to the Russians because it sits at the very northwestern sort of lip and edge of that Donbas region, and as they wanted to, you know, they were obviously hoping to get Kharkiv and hold it so that they could have that ability to continue to push down from the north, and the Ukrainians are making it difficult for them to do that.

No significant, no changes to really talk about in terms of the south, including Mariupol. Mariupol continues to get hit with the standoff air attacks. We continue to see them using dumb bombs in Mariupol, and of course, they're continuing to launch strikes in the Donbas region, the JFO specifically. So no major changes there.

I can't speak with great specificity about the evacuation from Mariupol. We see the same reports that you do, and I don't have I don't have an update on how fast or how slow. We do have indications that some folks have been evacuated, but I would refer you to the Ukrainians to speak to that with a lot more specificity than we can, and I apologize for that.

No real changes to report to you in the in the maritime domain; pretty much maintain that their surface vessels are staying close to Crimea. There's some small efforts in the Sea of Azov. We see with small ships to try to help resupply, but nothing that's different than what we've seen in the past, so just not a whole lot to report to. I've seen the press reporting about the drone attack on these patrol boats. We cannot confirm that, but we've seen the videos, same as you, but we're not in a position to be able to confirm that that attack actually happened and had those effects.

And I would say the same with General Gerasimov. I'm pretty sure you're going to ask me about that. What we can confirm is that we know that for several days last week he was in the Donbas. We don't believe that he's still there, that he's left and he's back in Russia. We can't confirm reports that he was injured. I've seen the speculation on that. We are in no position to confirm that. We can't refute it, but we certainly can't confirm it. And as for why he was there, again, I think you'd get a much better sense of what his temporarily duty orders were from President Putin, but it's certainly possible that his trip was of a manner of oversight in trying to gauge for himself what was going on in the Donbas. But what he came away with, what he learned, what he transmitted to his commanders, if anything, we just don't know. But we can confirm that he was in the Donbas.

All right, so let me get back to security assistance. I can now confirm that 80 percent of the M777 howitzers have been transferred to the Ukrainian military. That's 80 percent of the total, the total 90, so more than 70 of them have now been transmitted to Ukraine. As for the 155 ammunition, about half of it, you know, we if it put both PDA-7 and -8 together, you're up over 140,000 rounds was committed, and about half of that is now in Ukrainian hands, with more coming every single day.

Nearly all of the radars that were committed have been transferred to Ukraine, and as for flights coming in and flights going out, on PDA-8, I can tell you that, over the last 24, there were 13 flights arriving in the region from the United States and, no, I'm sorry, 14 flights, my bad, 14 flights over the last 24, and in the next 24 hours, we are looking at about 11 more flights from CONUS to go into the region. And that's not all at one location into the region.

And then from other nations, in the last 24 hours, there have been 23 deliveries via airlift from five separate different nations received, again, at locations in the region, outside Ukraine. So 23 deliveries from five separate nations. So that flow is still happening and it's making a difference.

On the training front, we can now report that more than 170 Ukrainian military soldiers have been trained at more than one location on the M777, and there's another 50-plus that are scheduled to graduate today. So when they do graduate today, in fact, they may have already graduated today, you know, that puts us up over 200 Ukrainian artillerymen trained on the M777.

And there's more of that coming. In fact, tomorrow, there'll be another 50-plus Ukrainians will be arriving at one of the training sites to begin their training later this week. I think I'll leave it at that.

And just yesterday, 20 Ukrainian soldiers commenced a week-long training course on the Phoenix Ghost UAS. So the training continues and it's having an impact.

And with that, we'll take questions. Lita?

Q: Hi. Thanks.

One attempt on the Gerasimov rumblings. Are you able to say whether or not there's any truth to Ukraine forces trying to hit where he was or hitting where he may have been?

And second, as the diplomats start to move back to Lviv and, potentially in the future, Kyiv, will there be Marines put back in as to as a security detail or will that be handed off to some other force?

SENIOR DEFENSE OFFICIAL: Yeah, on Gerasimov, I really don't have anything more, Lita. I've given you guys everything that I'm comfortable sharing because of what we just don't know. So I'd refer you to the Ukrainians to speak to their kinetic activity in the Donbas but I can't confirm, I can't confirm any specific strikes that occurred and what the targets were.

On the Marines, look, I mean, the State Department is just beginning, you know, going back to these sort of day trips and there's no U.S. Marine force protection element to that, there's no U.S. military force protection element to that.

But as I've said before, as we've said before, you know, as the State Department makes their plans and makes their decisions about a more permanent footprint, clearly, we will be having active discussions with them about force protection requirements, and then we'll go from there, but no decisions have been made about a return to U.S. Marine security for the embassy or for our diplomats.

Right now, they're making these day trips and there's no U.S. military, there's just certainly no Marine Corps or U.S. military component to that.

Okay, I think that's it.

Tom Bowman?

Q: Yeah, the — British intelligence is saying that roughly 25 percent of the Russian BTGs are combat ineffective. Would you guys agree with that estimate, and if not, do you have another number?

SENIOR DEFENSE OFFICIAL: I have not seen indications that give us, you know, that specific number, so I can't speak to the number that the Brits put out there. We assess that they've got 93 now total operational BTGs in Ukraine, and as I've said before, we have to be mindful of what we say when we say "operational."

Not all of them are as ready as others. They continue to suffer losses, both in terms of gear and people, and some BTGs are simply not as ready as others. But I can't corroborate the number of 25 percent ineffective.

I also don't know by what criteria the Brits are labeling a BTG as ineffective. So I don't have the metrics they're using to make that determination. We would assess clearly that not all of those operational BTGs, while operational, i.e. in the fight, are at the same level of combat readiness they were before going into Ukraine and we know that they have suffered losses, you know, since being in Ukraine.

So that's the best I can do, Tom. It's an honest answer.

Q: Got it. And as far as any Russian units moving up north from Mariupol or that area, any sense?

SENIOR DEFENSE OFFICIAL: We have continued to see them move forces north out of Mariupol but I can't enumerate that, I don't know. But we have seen, even over the last couple of days, a continued, you know, move north away from Mariupol, from a lot, I would say the majority of the battalion tactical groups. And they had about a dozen that were dedicated to Mariupol move away.

Largely, the efforts around Mariupol for the Russians are now in the realm of airstrikes.

Q: Okay. And I'm sorry, you said, of the 12, any sense how many moved north, ballpark?

SENIOR DEFENSE OFFICIAL: I don't have, I couldn't give you a number. I don't have that.

Q: Okay, thanks.

SENIOR DEFENSE OFFICIAL: Yep.

Pierre?

Q: Following up on the readiness of the Russian forces, if you don't mind, last time you assessed that they were at 75 percent capacity. Do you still assess the same percentage or they are lower?

SENIOR DEFENSE OFFICIAL: Yeah, we would say still about 75 percent of their available combat power is still available to them.

Q: Thank you.

SENIOR DEFENSE OFFICIAL: Yeah.
The rest of the Q&A is at the link!
I want to just take a moment and bring to everyone's attention the transcript of the address on Russian aggression against Ukraine that US Ambassador to the OSCE Michael Carpenter delivered to the Permanent Council in Vienna on 28 April (emphasis mine):
The Russian Federation's Ongoing Aggression Against Ukraine

As delivered by Ambassador Michael Carpenter
to the Permanent Council, Vienna
April 28, 2022

Thank you, Mr. Chair.

As we enter the third month of Russia's unprovoked war of aggression, Ukraine stands as strong, united, and resolute as ever. The people of Ukraine are continuing to repulse Russia's barbaric campaign of intimidation and subjugation.  Over the past two months, Ukraine's courageous defenders have repelled Russia's vicious attacks on Kyiv and Kharkiv and sent Russia's forces scrambling back over the border.  Russia is failing, and Ukraine is succeeding.  But the human and humanitarian costs of Russia's assault have been enormous: Bucha, Borodyanka, Mariupol, and Irpin are – tragically – only the first of what are likely to be many municipalities that will one day bear monuments honoring the victims of Russia's atrocities.

Mr. Chair, the courage and solidarity of the people of Ukraine in resisting Russia's monstrous aggression continue to inspire the world.  In the face of Ukraine's determined resistance, Putin's forces are refocusing their brutal campaign on Ukraine's south and east.  In its attempt to subjugate these parts of Ukraine's territory, the Kremlin is working from a well-worn playbook that steals from history's darkest chapters.

We have information that Russia's planning for its further invasion of Ukraine includes a forced capitulation of Ukraine's democratically elected government, including dissolving all local municipal governments in Ukraine.  New governance structures were to be set up in "liberated" territories under Russian control.

Plans for a new government and new constitution are being developed by Russian officials and so-called "separatists."  This planning includes a moratorium disallowing legitimate Ukrainian leaders and those supporting Ukraine's legitimate government from any leadership positions.

This is straight out of Russia's playbook, which has repeatedly exploited phony "electoral" processes with attempts to impose so-called "new realities," including holding sham referenda in an attempt to lend a semblance of legitimacy to subjugation.  We saw this repeatedly in 2014, as the Kremlin orchestrated so-called referenda in the Ukrainian regions of Crimea, Luhansk, and Donetsk – each time with faked high percentages of public support.  The reality is that Russia installed puppet regimes dependent on Russian bribes, and orchestrated nebulous "people's councils" to create phony constitutions – all an attempt to lend an air of legitimacy to the sham. Russia further subjected the local population to intense disinformation portraying the legitimate Ukrainian government as a Western-inspired coup.  All fake.  Yet the danger over time has become clear and is a stark warning for Russia's intended next steps in any additional Ukrainian territory it forcibly seizes.

Mr. Chair, the Kremlin may now be preparing to stage sham referenda in Ukraine's south and east – in the areas it has illegally seized since February 24 – again in a futile attempt to legitimize its illegal invasion and assert control over these areas – control resulting from Russia's brutal use of force against Ukraine.  On Tuesday, Russian forces claimed they had "liberated" the Kherson region of southern Ukraine, and they have now decreed that they will start using the Russian ruble.  Our Ukrainian colleagues have been warning that Russia may soon stage a sham referendum in Kherson, supposedly asking residents if they approved of the "independence" of an entity called "the Kherson People's Republic."  Of course, no such entity exists outside of the Kremlin's web of lies.  And the international community must make clear that any such referendum will never be recognized as legitimate, just as the Ukrainian people have already made clear they will never support this Russian invasion.

Unfortunately, however, such lies have real consequences.  These falsified, illegitimate referenda will undoubtedly be accompanied by a wave of abuses against those who seek to oppose or undermine Moscow's plans.

We should expect Russia to intensify its ongoing forced transfers of local populations from areas of Ukraine's south and east to Russia or Russia-controlled parts of the Donbas via so-called "filtration camps."  We see credible reporting that Russia's forces are rounding up the local civilian populations in these areas, detaining them in these camps, and brutally interrogating them for any supposed links to the legitimate Ukrainian government or to independent media outlets.  There are alarming reports that those suspected of having such connections are being beaten or tortured before being transferred to the so-called "Donetsk People's Republic," where they are reportedly disappeared or murdered. Reporting indicates that many civilians in these filtration camps who "pass" the interrogation are transferred to Russia or Russia-controlled Donbas, including via Belarus.  Our information indicates Russia is abducting, torturing, and/or murdering locally elected leaders, journalists, and civil society activists, as well as religious leaders.

The Mariupol mayor's office reports that four filtration camps are operating in the city.  The accounts of these camps are harrowing.  An escapee from Mariupol described the experience as follows: "The filtration camps are like ghettos," she said.  "Russians divide people into groups. Those who were suspected of having connections with the Ukrainian army, territorial defense, journalists, workers from the government – it's very dangerous for them.  They take those people to prisons to Donetsk, torture them."

Colleagues, what these reports describe brings back horrific memories of a bygone era.  Invading a neighboring country, removing its legitimately elected government, herding its population into "filtration" camps, and holding sham referenda in a transparent attempt to cover its aggression with a false veneer of legitimacy is a wholly barbaric enterprise.

To stop this, we must all act with a greater sense of urgency.  These statements of concern in this Council are necessary but hardly sufficient.  The United States, for its part, is committed to pushing as hard as we can as quickly as we can to get Ukraine the support it needs to defend against this brutal war of aggression.  As Secretary Blinken and Secretary Austin told President Zelensky in Kyiv last Sunday, the United States intends to obligate more than $322 million in Foreign Military Financing for Ukraine.  This brings the total U.S. security assistance to Ukraine since the start of Russia's renewed invasion on February 24 to roughly $3.8 billion, or about $60 million per day.

Secretary Austin also announced in Kyiv that the Department of Defense will expand military training for Ukraine's service-members on certain weapons systems being provided, and he highlighted U.S. efforts to accelerate the delivery of these weapons, which are now arriving within days of announcement.  The United States will continue to coordinate the shipment of additional heavy weaponry, ammunition, and spare parts from other countries – including many of those seated around this table – to Ukraine.  We are returning American diplomats to Ukraine as we stand shoulder to shoulder with the Ukrainian government and people, and we will work with our Congress as we plan to resume full operations at our Embassy in Kyiv as soon as possible.

Mr. Chair, the famous Russian dissident Alexandr Solzhenitsyn once said, "Justice is conscience, not a personal conscience, but the conscience of the whole of humanity."  It is the duty of all of us here today to do everything in our power to ensure that justice prevails, that tyranny is defeated, and that the conscience of humanity is preserved.

Thank you, Mr. Chair. I request this statement be attached to the Journal of the Day
Mariupol:
Evacuation of civilians from Mariupol Azovstal began. A first group of 100 evacuees on the way to Zaporizhzhia. It is hard to imagine what these women and children went through in those two months. pic.twitter.com/6mpe2OLEQD

— Maria Avdeeva (@maria_avdv) May 1, 2022
I haven't seen any numbers reported on how many were evacuated today, I'll keep looking and hopefully we'll have some for tomorrow's update.
This is an excellent article from Peter Pomerantsev, the journalist and documentarian who wrote If Nothing Is True, Everything Is Possible about Putin's use of propaganda on Russians.
When the Russian army first began shelling Lukashivka, a village in northern Ukraine, dozens of residents fled to the Horbonos family's cellar. Children, pregnant women, bedridden pensioners, and the Horbonoses themselves headed down below the family's peach orchard and vegetable patches, and waited. For 10 days, they listened as shells whistled and crashed above several times an hour. The attacks left huge craters in the land, incinerating the Horbonoses' car and destroying the roof of their house. Finally, on March 9, they heard the sound of heavy weaponry and tanks entering the village: The Russian army had taken Lukashivka.

Soldiers ordered the terrified villagers to the surface, and then threw a grenade into the cellar, targeting any hidden Ukrainian soldiers. The Horbonoses—Irina, 55; Sergey, 59; and their 25-year-old son, Nikita—spent the next night in a neighbor's cellar, but it was so wet and cold that they returned to theirs. Upon arrival, they found five Russian soldiers living inside.

"Where are we meant to live?" Irina asked. "This is our home." The soldiers told the Horbonos family that they could return home—they could all live there together. And so the Horbonoses moved back in.

They would spend about three weeks with those five Russian soldiers, eating together, walking together, talking together. The Russian soldiers would make nonsensical declarations about their mission and ask alarmingly basic questions about Ukraine, yet also offer insights into their motivations and their morale; the Horbonoses would push back on their claims, angrily scream at them, and also drink with them, using that measure of trust to prod at the soldiers' confidence in Vladimir Putin's war.

Over the course of those several weeks, a period the Horbonoses recounted to me аnd my colleague Andrii Bashtovyi, the cellar in Lukashivka became a microcosm of the war's propaganda front. On one side were the Russians, who repeated a litany of falsehoods they had been told about their assault; on the other, the Ukrainians, wondering how their home could be decimated by aggressors driven by a fiction.

Yet after meeting with the Horbonoses and, in the same week, with their nation's leader, President Volodymyr Zelensky, I was struck by how clearly the family's experience also informs a question haunting the many politicians, officials, journalists, and activists in Ukraine and abroad desperately trying to bring this war to a close: How do you persuade Russians who have been fed an unending series of lies to drop their support for Putin's invasion of Ukraine?

At first, the Horbonoses were too scared to talk to their Russian housemates. The soldiers, for their part, always clung to their guns. They rarely left the cellar unless called to duty, fearful, like their hosts, of the artillery barrages overhead as the Ukrainian and Russian armies battled for the area surrounding the nearby city of Chernihiv.

After several days of this, however, the two groups began to get to know each other, initially discussing what felt like neutral subjects, such as food, and popular Ukrainian recipes. The Horbonos family learned that the five soldiers were military mechanics. Among them was a captain, the youngest of the group at 31. Three others were in their 40s—two had served in Syria; one's face had been burned when a vehicle he was in detonated a mine on the way to Lukashivka, and he would curse as he rubbed his face with ointment. All four of them were from Siberia. The fifth was also in his 40s, a Tatar, an ethnic group with its own large republic in central Russia. The others found his incessant singing of Tatar tunes annoying, and would tease him for his apparent cowardice, because he always seemed to be the first to scamper into the cellar when artillery barrages began.

At first, the captain fervently repeated Kremlin propaganda: He and his compatriots were in Ukraine to rescue the Horbonoses, he said; the soldiers were fighting not Ukrainians but Americans; this wasn't a war, but rather a "special operation." Once it was over, they could all live happily under Putin's rule, he said.

Irina would push back. She didn't need rescuing, she would say. There were no American soldiers or bases in Lukashivka, or anywhere in Ukraine. She didn't want to live under Putin. When the captain said that he had been told Ukrainians were barred from speaking Russian, she told him they could speak in any language they chose. (I spoke with the Horbonoses in Russian.)

Gradually, he was worn down, confronted not simply with Irina's protestations but with the grim facts of the war. In the conflict's early days, he was buoyant, believing conquest to be imminent. He would rush into the cellar, declaring, "Kyiv is surrounded! Chernihiv is about to fall!" But as the weeks went by, and neither Kyiv nor Chernihiv fell, his mood soured. At one point, Sergey told me, he had to show the captain where Kyiv was on a map, leaving the Russian surprised to learn that it was not anywhere nearby, as he had assumed, but nearly 100 miles away.

The other soldiers were less fervent than their captain. Two retreated into cynicism, unwilling to trust reports or information from either Russians or Ukrainians. The one whose face was burnt was as fervently anti-Putin as the captain was pro-. He openly cursed the president, calling him a goat. He had never voted for Putin's party.

Gradually, a kind of trust was built. One night, a drunk Russian sergeant major roamed Lukashivka, wearing a leather coat and a U.S.S.R. pin, threatening to kill local residents as revenge for the soldiers he'd lost. He was too drunk to make good on his threat, but the incident was not an isolated one: Younger soldiers were drinking and getting high, shouting at the Ukrainians that they all needed to be "punished." The Horbonoses rarely ventured beyond their orchard. They felt safer in their cellar, with their five soldiers.

When the Russians would leave the cellar for a drink or a smoke, they would invite Sergey to join them. The group would dilute raw spirits with a little water, and Sergey would roll up tobacco with newspaper pages. Their conversations became more reflective. "What are you doing here?" Sergey would ask. "What's the point of this war?" Despondently, the Russians would answer that they had come expecting not a fight but a celebration. They had come, one said, "for a victory march in Kyiv."
Much, much more at the link, but I want to bring this section to everyone's attention:
Russia is in an "informational bunker," Zelensky told us, one that is psychological as much technological.

"Russians," Zelensky explained to us, "are afraid to admit guilt. How do you work with that? They have to learn to accept the truth." He described three steps necessary for this: changing the information environment; a political elite that admits culpability for aggression; and finally, ordinary people taking on responsibility themselves.
If you substitute Republicans and American conservatives for Russians in President Zelenskyy's formulation you get right to the core of America's political, social, and religious problems.
Here's a really interesting thread on Russian tank battalion battle groups. The author embedded his slides, which are all great visual aids, throughout the thread. So you'll just have to click over and read through it:
With a great deal of help from @VDV_Textbooks who sourced and translated a regulation VDV battalion tactical group order of battle I have made a few slides to illustrate the 712 man grouping pic.twitter.com/XmgkSx3lAi

— TankDiary (@TankDiary) April 24, 2022
There was a massive explosion at the Perm munitions plant in Russia today.
Powerful "explosion" at Perm gunpowder plant (??) that profuces charges for Grad and Smerch multiple launch rocket systems and air defense systems.
Two people have died, one is wounded in hospital – preliminary data. pic.twitter.com/LSxZkyReAT

— Anton Gerashchenko (@Gerashchenko_en) May 2, 2022
Ain't that a shame…
We finally have new bayraktar footage!!!!
To celebrate here's your semi daily bayraktar!
Ukraine releases footage of Bayraktar strikes that it says sank two Russian Navy Raptor-class ships off Snake island. pic.twitter.com/FeEXfzUtwX

— Yaroslav Trofimov (@yarotrof) May 2, 2022
Your semi daily Patron:
Пёс патрон в исполнении беларуской художницы Ольги Якубовской. Как вам? По-моему, классно получилось) pic.twitter.com/e4gzEH4EP3

— Максим Мирович (@MirovichMedia) May 2, 2022
The Ukrainian in the tweet above the painting reads:
Dog Patron performed by Belarusian artist Olga Yakubovskaya. How are you? I think it turned out great)
Here's the link to Ms Yakuboskaya's Instagram page.
We have a Ukrainian cat rescue, which I'm sure would make Patron happy!
The cat is now on its way to a veterinary hospital for care. pic.twitter.com/LOJePwKaZf

— Lorenzo The Cat (@LorenzoTheCat) May 2, 2022
Before and After—it's amazing what a little human kindness can do. #Ukraine. ????? pic.twitter.com/ho34qJqSax

— Lorenzo The Cat (@LorenzoTheCat) May 2, 2022
And here's a video about Ukrainian pet rescue:
It is inspiring how Ukrainians take care of animals during the war, often risking their own life and health. EU stands with Ukraine and provides support to save animal lives.#StandWithUkraine pic.twitter.com/mWLYdRRKpQ

— Stratcom Centre UA (@StratcomCentre) May 2, 2022
Your semi daily Chef Jose Andres:
After hundreds of check points across @ukraine Showing my passport and credentials almost every single time I can testify they do it with grace, patience, but keeping everyone safe and controlling who is coming in and out of every city, and the rural areas… ☺️????? https://t.co/XoDF0Za0gX

— José Andrés (@chefjoseandres) May 2, 2022
Open thread!