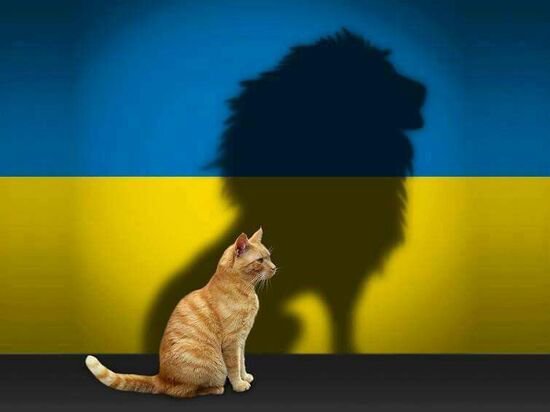 Here's President Zelenskyy's address to Ukraine from earlier this evening. For whatever reason, the English subtitles haven't been added. English transcript, with my emphasis, after the jump:
Ukrainians!

Unbreakable people of our country!

We have a series of important news – clearly positive for our defense.

First. The House of Representatives of the United States Congress voted for a new and significant package of support for our state and global democracy. Almost $ 40 billion. A second vote will be held soon in the US Senate. This decision will then be signed by President Biden and will take effect.

I am grateful to the people of America and to all our friends in Congress and Administration for their support.

What exactly is positive? These funds will be used as quickly as possible and without bureaucracy to strengthen Ukraine's defense. First of all, it is weapons and ammunition for us, equipment. But not only that. It is also a support for the investigation of war crimes of the Russian Federation, the occupiers, support for diplomatic work and more.

The second decision is important and even historic. This is an update of America's famous Lend-Lease program. People who remember history well know that Lend-Lease was one of the key preconditions for the Allied victory in World War II. Lend-Lease assistance from the United States to the United Kingdom and the Soviet Union has dramatically changed the balance of power in Europe. Europeans then received a wide range of products under Lend-Lease – from aircraft to trucks, from aviation fuel to communication means. By the way, American radio stations and other things provided under Lend-Lease worked for the Soviet people long after the war. For decades. Hitler's Germany, even with all the resources in the occupied territories, could do nothing to counter this potential of the Allies on the basis of American productive capacities.

And it is no coincidence that the new Ukraine Democracy Defense Lend-Lease Act was signed on May 9. I am personally grateful to President Biden for this support, for this decision and for such symbolism.

Because we are now defending freedom and the right to life for all free nations in the war against tyranny, which poses no less of a threat to Europe than it did 80 years ago.

Simply put, Lend-Lease is a scheme to give us everything we need for defense. Although formally it is like a loan, in fact it is so profitable that it is incorrect to call it a loan.

Firstly, we will have access to modern weapons, ammunition, equipment, and we do not need to look for options to pay for it all.

Secondly, now the President of the United States will not have to agree with Congress on the assistance he provides. This will speed up the delivery.

And there is one more thing that should be said separately. Ukraine is constantly discussing security guarantees for itself with our friends in a very substantive way. The G7 meeting on May 8, in which our state took part for the first time at the level of leaders, was first and foremost about that. We are negotiating with the world's leading nations to give Ukraine confidence in security for decades to come.

This is the first time in the history of our state when it is possible to fix such guarantees. Not something in the memorandum, not some declarative desire for some kind of course, but specific guarantees. Not only legally significant, but also spelled out so that it is clear: what exactly, who exactly and how exactly guarantees us. God willing.

Of course, all these things will not work in one or several days. But I am sure that this May will be of special significance in Ukrainian history.

Yes, Russian troops are still on our land. Those outcasts whom the Russian state has found for itself as collaborators make statements of cosmic scale and cosmic stupidity, as their level was characterized in "Heart of a Dog". But no matter what the occupiers do, it doesn't mean anything. They stand no chance. I am confident that we will liberate our land and people. By the way, today in communication with students of French universities I felt such confidence in their questions. And with new support from the United States, with Lend-Lease, with all the help we get from the UK and the European Union, from Canada, Japan, Australia – without exaggeration, from the whole free world – it will be easier for us.

I also spoke today with German Chancellor Olaf Scholz. On defense assistance to Ukraine, energy cooperation and new sanctions. New – against Russia. Step by step, we are doing everything to make the aggressor most hurt by aggression.

However, speaking about the help of partners, we must not forget that victory is gained directly by Ukrainians who are fighting. By all who beat the enemy and strengthen the defense.

Just yesterday, 404 servicemen of the Armed Forces of Ukraine were awarded state awards.

The title of Hero of Ukraine (posthumously) was awarded to Colonel Ihor Bedzay, Chief of the Aviation Security Service – Senior Inspector-Pilot of the Naval Command. In total, more than 13,000 of our servicemen received state awards during the full-scale war.

This definitely characterizes the courage of all our defenders.

I am grateful to each and every one of them! Very grateful.

Eternal glory to all who fight for freedom!

Eternal memory to all who gave their lives for us, for everyone. For Ukraine!

Glory to Ukraine!
⚡️ Zelensky: War will be over when Ukraine gets all of its territories back.

President Volodymyr Zelensky said that his desire to continue negotiations is decreasing daily after seeing evidence of massacres and atrocities that the Russians have committed across the country.

— The Kyiv Independent (@KyivIndependent) May 11, 2022
Ukrayinska Pravda reports how President Zelenskyy evolving understanding of negotiations with Russia:
The peace talks with Russia are the story of how Ukraine has gone from despair to realising its own strength and its circle of true allies over 70 days of full-scale war.

"If on the first day of the war we had been allowed to sign a version of the peace agreement like the one we have now, we would have done it without a second thought. But now the agreement seems too much of a compromise for our side", a member of President Zelenskyy's inner circle shared strictly off the record in a conversation with Ukrainska Pravda.

Generally speaking, Ukraine's readiness for some form of tactical surrender in the early hours of the attack has given way to the first attempts to outline Russia's future defeat.

It is obvious that public recognition of such scenarios would be too brave a step for Zelenskyy's team now. But in the cabinets of the President's Office, this course of events is no longer discussed as a fantasy, but as a real thing. Or, to be more precise, a thing that Ukraine can make real.

Zelenskyy's belief in this is compounded by two major changes in global politics.

First, the myth of the "power" of Vladimir Putin and his army is gradually being crushed in the outskirts of Irpin and Rubizhne.

Secondly, the isolationism of the West and its reluctance to really help Ukraine have been finally buried in the mass graves of Bucha, Borodianka and Mariupol.

Ukrainska Pravda found out how these two changes are affecting the course of the peace talks with Russia, who is talking to whom, and how Boris Johnson's emergency visit changed the course of events.

72 hours to surrender

Vladimir Putin had to conquer Ukraine in 72 hours. Ukraine had only one option – to surrender.

These two simple sentences could sum up the starting point of the Russian-Ukrainian war and, accordingly, the peace talks.

For those who doubt their veracity, it should be clarified that it was our partners from the West, not the Kremlin, who reported this scenario for Kyiv and Zelenskyy.

"So you understand, Zelenskyy received the first offer to leave Ukraine and form a government in exile before the full-scale war. This offer was sincerely made to the president during the Munich conference. And they said it was better [for Zelenskyy] not to return to Ukraine", a member of the delegation in Munich told Ukrainska Pravda in confidence.

Zelenskyy was asked to choose either Warsaw, or London, or any other place for his "residence".  To the surprise of all the partners, the president returned to Ukraine.

"I had breakfast in Ukraine this morning and I will have dinner in Ukraine", Zelenskyy said then, shocking the audience at the meeting, perhaps no less than with his famous speech criticising the West.

The partners' position was understandable: they knew about Putin's preparations, they knew about his army's plans, they knew what missions were being sent in staff envelopes to the commanders of various levels in the 120 strike battalion-tactical groups gathered around Ukraine. And they "knew" that Ukraine didn't stand a chance.

"At first we did not know the exact plans of the Russian Federation. But when we seized the staff documents from dead Russian commanders near Kyiv, we understood everything. It was all noted there – when and where the particular group should be, and elite paratroopers had to clear the government quarter in Kyiv within 72 hours. The same 72 hours that all our partners had told us about", one of Zelenskyy's top "security officers" explained in a conversation with Ukrainska Pravda.

One day passed, the second day passed, and the third – and Kyiv was still standing. The woods around the capital were filled with burnt Russian armour and the corpses of soldiers – and Kyiv was still standing. The airfields of Hostomel and Vasylkiv were on fire, Russian helicopters were flying in and falling – and Kyiv was still standing.

"Eventually, on the third day, we felt, maybe even realised, that we would survive. That we do have the strength. It wasn't until the third day that we had time to get out of the shelter for the first time", said a top representative of the presidential team.

And just after the third day, on the morning of 27 February, Russia and Ukraine announced the start of negotiations.

"Boris Johnson", or "Put Pressure" on Putin

The Russian side, no matter what anyone says, can read signals and was actually ready for the Zelenskyy-Putin meeting.

But two things happened, after which Mykhailo Podoliak, a member of the Ukrainian delegation, had to openly admit that now was "not the time" for a meeting between the presidents.

The first thing was the revelation of the atrocities, rapes, murders, massacres, looting, indiscriminate bombings and hundreds and thousands of other war crimes committed by Russian troops in the temporarily occupied Ukrainian territories…

How and what can we talk about with Putin, if we cannot talk to him about Bucha, Irpin, Borodianka or Azovstal?…

The moral gap, the gap in values, between Putin and the rest of the world is so huge that even the Kremlin doesn't have a long enough negotiating table to cover it.

The second – much more unexpected – "obstacle" to agreements with the Russians arrived in Kyiv on 9 April.

As soon as the Ukrainian negotiators and Abramovich/Medinsky, following the outcome of Istanbul, had agreed on the structure of a future possible agreement in general terms, UK Prime Minister Boris Johnson appeared in Kyiv almost without warning.

"Johnson brought two simple messages to Kyiv. The first is that Putin is a war criminal; he should be pressured, not negotiated with. And the second is that even if Ukraine is ready to sign some agreements on guarantees with Putin, they are not. We can sign [an agreement] with you [Ukraine], but not with him. Anyway, he will screw everyone over", is how one of Zelenskyy's close associates summed up the essence of Johnson's visit.

Behind this visit and Johnson's words, there is much more than a simple reluctance to get involved in agreements with Russia.

Johnson's position was that the collective West, which back in February had suggested Zelenskyy should surrender and flee, now felt that Putin was not really as powerful as they had previously imagined.

Moreover, there is a chance to "press" him. And the West wants to use it.
Much, much more at the link!
Here's today's operational update from the Ukrainian MOD (emphasis mine):
The operational update regarding the russian invasion on 18.00 on May 11, 2022

The seventy-sevenths day of the heroic resistance of the Ukrainian people to a russian military invasion continues.

russian enemy continues to conduct full-scale armed aggression against Ukraine.

russian enemy does not stop conducting offensive operations in the Eastern Operational Zone. The greatest activity of the occupiers is further observed in Slobozhansky and Donetsk directions.

In the Volyn and Polissya directions, russian enemy did not take active action. Measures of engineering equipment of defence positions along the state border in Brest and Gomel oblasts are underway. Meetings involving conscripts are being held in Brest and Grodno oblasts.

The threat of missile and air strikes from the territory of the republic of belarus on the objects of Ukraine remains.

In the Siversky direction, the enemy continues to provide enhanced protection of the Ukrainian-russian border in the Bryansk and Kursk regions. In order to prevent the regrouping of our troops and their transfer to other areas, units of the Armed Forces of russian federation continue to conduct demonstrations. In the regions bordering Ukraine, the enemy is increasing the air defence system.

russian enemy did not carry out offensive operations in the Kharkiv direction. The occupying forces moved to the defence in order to slow down the pace of the offensive of our troops. In the course of successful actions of units of the Armed Forces of Ukraine, the settlement of Pytomnyk of Kharkiv region was liberated.

In the Slovyansk direction, the main efforts of russian enemy were focused on creating conditions for the resumption of the offensive. russian enemy units continued to replenish supplies of material and technical means in order to increase offensive capabilities.

In the vast majority of the temporarily occupied territories of the Kharkiv region, in order to prevent the transfer of information about the movement of russian troops, the occupiers are suppressing the cellular network. Locals in many settlements remain without electricity and water. Entry into the territory controlled by Ukraine by the russian occupiers is prohibited.

In the Donetsk direction, the main efforts of russian enemy are focused on gaining full control over the city of Rubizhne and conducting an offensive in the direction of the village of Lyman. russian enemy is trying to hold positions on the right bank of the Siversky Donets River. Also continues preparations for the offensive in the areas of Kurakhove and Novopavlivka.

russian enemy continues to fire on the positions of Ukrainian troops. Increased the intensity of air reconnaissance with the use of UAVs.

In the Bakhmut direction, in order to prepare for the offensive, russian occupiers continue artillery shelling of the positions of our troops in the areas of the settlements of Svitlodarsk and Troyitske. russian enemy carried out assault operations in the directions of Orikhove and Toshkivka, but was unsuccessful.

In Mariupol, the main efforts of russian enemy are focused on blocking and trying to destroy our units in the area of the Azovstal plant. russian enemy continued to launch artillery and air strikes.

In the Kryvyi Rih and Mykolayiv areas, russian enemy did not conduct active hostilities, firing at our units with artillery and mortars. Conducts engineering equipment of advanced positions.

In the Black Sea and Azov sea zones, enemy naval groups perform the task of isolating combat areas and conducting reconnaissance. russian occupiers are launching missile strikes on important infrastructure in Ukraine, providing support to ground forces in the coastal area and blocking civilian shipping.

russian enemy continues to suffer losses. The enemy is disorganized and demoralized. According to available information, servicemen of certain units of the armed forces of the russian Federation performing tasks on the territory of Ukraine were informed about the impossibility of rotating until the end of the so-called "special operation".

We believe in the Armed Forces of Ukraine! Together to victory!

Glory to Ukraine!
Artillerymen of the 17th tank brigade of the #UAarmy have opened the holiday season for ruscists. Some bathed in the Siverskyi Donets River, and some were burned by the May sun. pic.twitter.com/QsRsXmnJ65

— Defence of Ukraine (@DefenceU) May 11, 2022
While the Siverskyi Donets River winds its way through both Russia and Ukraine, audio intercepts of Wagner mercenaries state that the Ukrainian military pushed the Russians back across the border at the Siverskyi Donets River near the Ukrainian village of Bilohorivka.
Wagner Group confirms Ukrainian forces reached state border with Russia and destroyed a pontoon bridge over Siverskyi Donets river resulting in large vehicles losses. pic.twitter.com/JyYkVfOVnO

— Dmitri ?? (@mdmitri91) May 11, 2022
The Ukrainians have also regained control of the border at Ternov:
All the most interesting things are happening in the Kharkiv region now. #Ukrainian troops reached the state border with #Russia northeast of #Kharkiv near the town of Ternov pic.twitter.com/K75tBX5VjU

— Euromaidan PR (@EuromaidanPR) May 11, 2022
Here's today's British MOD assessment: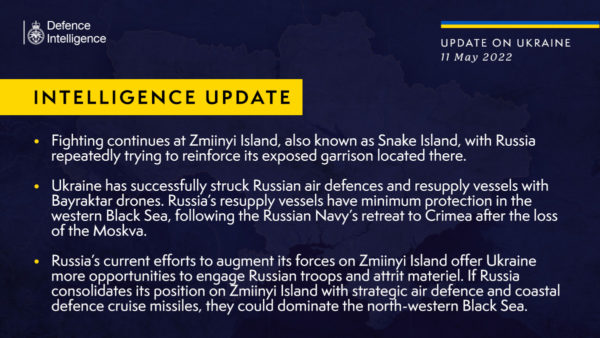 If you've got questions about what is going on at Snake Island, here's The Times of London with the details:
Ukrainian forces are engaged in a fierce battle to retake Snake Island amid fears that Russia could "dominate" part of the Black Sea if it is able to move in its missile systems, according to British intelligence.

Hours after Russia claimed to have repelled Ukrainian efforts to retake the island, the British Ministry of Defence said that fighting continued, with Ukrainian forces managing to disrupt Moscow's attempts to expand its influence.

The sinking last month of Russia's flagship Moskva missile cruiser left Russia's resupply vessels with "minimum protection" against Ukraine's drones, the MoD said in an update on Twitter.

"Ukraine has successfully struck Russian air defences and resupply vessels with Bayraktar drones," it added.

Ukraine claimed this week to have struck a Serna-class landing craft and two Raptor-class patrol boats with Turkish-made Bayraktar TB2 drones. They also hit two Tor surface-to-air missile systems, according to the Ukrainian news outlet Pravda.

The MoD said that Russia was "repeatedly trying to reinforce its exposed garrison located there".
Much more at the link!
And here's today's updated British MOD map: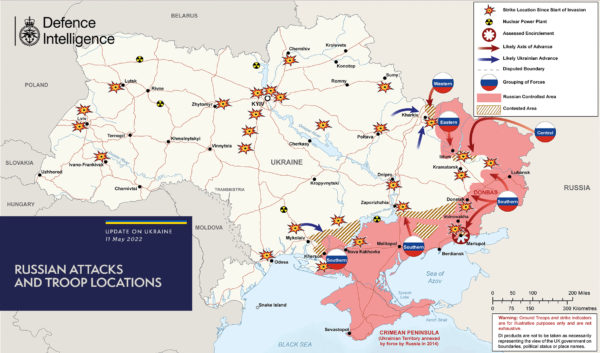 You can clearly see that the disputed territory west and north of Kharkiv has been significantly reduced, which seems to be further indication that the Ukrainians have cleared all the way to the border north of Kharkiv.
Here's the map from Agence France Press to provide a slightly different view:
Graphic showing key developments in Ukraine as of May 11, 0700 GMT #AFPgraphics @AFP pic.twitter.com/kDWWHX6smE

— AFP News Agency (@AFP) May 11, 2022
There was no DOD backgrounder today.
Mariupol:
#Ukraine has offered #Russia to exchange wounded Ukrainian soldiers who are on the territory of the #Azovstal plant in Mariupol for captured Russian soldiers "according to the standard rules for exchange of prisoners of war",said Deputy Prime Minister of Ukraine Irina Vereshchuk. pic.twitter.com/MQnNTi1TuH

— NEXTA (@nexta_tv) May 11, 2022
Wedding rings from chocolate wrap… "The most beautiful…" – she writes.

— olexander scherba?? (@olex_scherba) May 11, 2022
"The marines taught me how to truly love Ukraine… And while my heart is beating, I will feel pure, unconditional and unqualified love for my Motherland." – Commander of Ukraine's 36th Marine Brigade Serhiy Volyna. #Azovstal pic.twitter.com/KyxAQTdl0I

— Anastasiia Lapatina (@lapatina_) May 11, 2022
This provides further answer to commenter Pat's question from the other night:
⚡️Defense Ministry: Ukrainian military can't break the siege of Mariupol at the moment.

Deputy Defense Minister Hanna Maliar said during a briefing on May 11 that if there were at least one opportunity to unblock Mariupol, "the country's leadership would use it."

— The Kyiv Independent (@KyivIndependent) May 11, 2022
Here's greater detail and nuance from The Drive's Warzone:
he Ukrainian military says that it will take any real opportunity that presents itself to cut a path through Russia's brutal siege of the Azovstal steelworks in the southern port city of Mariupol and create an evacuation route for the forces still holding out there. Unfortunately, Ukrainian officials say that such an operation is not viable at present given the strength of Russian defenses in the region, which would require a significant number of units to break through, incurring heavy casualties in the process.

The defenders operating from Azovstal continue to run low on ammunition and medicine, among other supplies, and the Ukrainian armed forces have conceded that their current options for directly resupplying the bastion are limited. Russian air defenses have effectively put a stop to earlier Ukrainian efforts to bring in supplies and then evacuate seriously wounded personnel via helicopter. You can read more about the current situation at Azovstal in our recent exclusive interviews with one of the Ukrainian commanders still running operations there.

Deputy Chief of the Main Operational Directorate of the General Staff of the Armed Forces of Ukraine, Oleksiy Hromov, gave an update on the situation in Mariupol as part of a broader press briefing today.

"The connection with the units of the defense forces, which heroically hold their positions, is stable and maintained," he said, according to an official translation of his remarks contained in the Facebook post below. "Today, the deblocking operation will require the involvement of a significant number of troops, as units of the Armed Forces of Ukraine are located 150-200 kilometers from Mariupol. The enemy also created an extensive system of engineering barriers and defensive lines, which will lead to significant losses from our troops."

"The Armed Forces of Ukraine have repeatedly delivered ammunition, communications, and medicine to Mariupol. Such deliveries were possible until the information about the aid was disseminated," he added. "As a result, the enemy took measures to strengthen the air defense system, which made it difficult for us to carry out such actions and led to the loss of personnel and helicopters that evacuated the wounded."

When Ukrainian forces last attempted to fly into Mariupol is unclear. There was significant reporting back on March 31 regarding Russian forces shooting down a Ukrainian Mi-8/Mi-17 Hip-type helicopter that had been flying wounded personnel out of the city at the time, underscoring how risky the situation had already become more than a month ago.

"If there were at least one opportunity to de-blockade Mariupol by military means, it would be used by the country's leadership," Deputy Minister of Defense of Ukraine Anna Maliar said today in separate remarks. "The Armed Forces of Ukraine today are doing everything possible to make such an opportunity appear in the visible future, so that it happens as quickly as possible."

The Ukrainian forces still inside the Azovstal complex, which is also still sheltering civilians caught up in the fighting, have repeatedly vowed to continue fighting despite near-continuous bombardments from Russian aircraft and artillery. Azovstal has a substantial underground tunnel network that has helped shield defenders from attacks.

However, Russian airstrikes and artillery fire still present very real threats to Ukrainian forces there and reportedly caused a worrying, but thankfully only temporary, loss in communication with a field hospital operating there yesterday. Medical personnel at that hospital have been tending to a growing number of wounded, including seriously injured individuals, some of whom have lost limbs in the fighting, but stocks of medicines and other critical supplies are running low.
For some reason Ukrainians keep asking Elon Musk to help them.
The commander of Ukrainian marines at Azovstal appeals to Elon Musk asking for 'a hint' that would help to save Ukrainian defenders https://t.co/07Vwg3OUYl

— Olga Tokariuk (@olgatokariuk) May 11, 2022
I've seen Ukrainian reporters make appeals to him on Twitter. I've seen other Ukrainians who are using their own names and whose identities are confirmable, if not verified on social media, make appeals to Musk to help Ukraine. At first I thought they were being sarcastic or ironic, but it would seem that Ukrainians seem to think that Musk has capabilities that he actually does not. And that he would direct them to aid the Ukrainians, which he won't unless he can make a profit from doing so.
Kherson:
?#Russia will annex Kherson obl without even fake referendum. Local puppet govern-t will address #Putin and RU will issue a decree. What does it mean? 1) RU doesn't feel stable on occupied areas, they can't afford even fake referendum as in 2014. No local support at all

— Maria Zolkina (@Mariia_Zolkina) May 11, 2022
2)

#Ukraine

's army is fighting on the borders of

#Kherson

obl, and after

#lendlease

prospect for broader counterattack is more than real.

Russia

tries to declare this territories as Russian before that.

3) it changes nothing for plans of UA and West. Idea to fight up to liberation of entire territory will be even more important. 4) later it will be used to justify general mobilization in RU.
Borodyanka:
— Serhiy Leshchenko (@Leshchenkos) May 10, 2022
Odesa:
In #Odesa, servicemen of the Territorial Defense Forces found ancient amphorae during fortification works.
The finds date back to 4-5 centuries BC. pic.twitter.com/VpO6o6lXfQ

— Euromaidan PR (@EuromaidanPR) May 11, 2022
You may remember Anna from one of last week's updates. Apparently, US immigration officials are not impressed or enthused:
Anna's story is perhaps the only one I've ever written where every single comment was positive, including many strangers offering to host her. According to the visa application I saw, Anna's host family in Maryland are longtime family friends & gave precise dates for her return. pic.twitter.com/sPJDLu7W9v

— Hannah Allam (@HannahAllam) May 10, 2022
Home of the brave my tuchas!
A couple of weeks old, but here's some video I haven't posted here for your semi daily Patron:
Patron the dog is at work pic.twitter.com/FdZ20K7zRd

— Mykhailo Golub (@golub) April 29, 2022
Here's a World Central Kitchen update from Chernihiv:
The Russians may be gone from the areas around Chernihiv north of Kyiv, but this is what they left behind. Vasyl from the @WCKitchen team sent this report from Novosilka. Tatiana lost her parents here and now helps us distribute meals & food packs to families. #ChefsForUkraine ?? pic.twitter.com/wI8p9Q444H

— Nate Mook (@natemook) May 11, 2022
Let's end with this Ukrainian girl's story tonight:
A young Ukrainian girl is selling her drawings on Etsy to help support her family. The 7-year-old's digital artwork ranges from a colorful pair of birds to a cat holding a heart-shaped Ukraine flag and it's all available online right now.

Nils Laacks, a language coach in Canada, helped spark the idea when he was trying to figure out ways to help his friend Maxim, who lives in Ukraine. "When the war started I felt helpless and shocked like most people around the world," Laacks wrote in an email. "I was thinking of ways to help this family. I knew that Maxim's 7-year old niece loves to draw as he had sent me some of her drawings in the past."

Laacks suggested that Maxim set up an Etsy page for Maria, so they can sell her drawings and raise funds to directly support their family. Maxim did just that and has already racked up 529 sales (along with plenty of glowing reviews!) of her sweet, bright drawings.

"Thank you for keeping your beautiful light shining in these dark times," one customer wrote, who purchased a drawing of an apple tree. "May humans one day soon evolve beyond war and greed. Holding Ukraine in our hearts and wish you safety and peace." Another added: "Wonderful – on display in my house."

The first few hundred dollars made on Etsy helped Maria and her mom pay for a rental apartment in Ukraine, Laacks explained. Funds have also gone to support other Ukrainians in need. "Maxim was able to buy some pots and pans that the refugee center in Zhovti Vody desperately needed," he wrote. "He is also buying some protective gear (like helmets, plate carriers, gloves, thermal visors, cameo clothing) and wax to make the camouflage tents waterproof and sends it to the territorial defense whenever he has some extra money."

Laacks added that this Etsy store has offered an important distraction

for the family

.

"Maxim could be conscripted into the armed forces at any moment now," he wrote. "The possibility of being drafted and the uncertainty of not knowing if/when your city will be bombed or attacked by the Russian forces is very stressful but last week he was just focusing on the project with Etsy, reading less news, and helping some refugees from his city."
You all know what to do!!!!
Open thread!