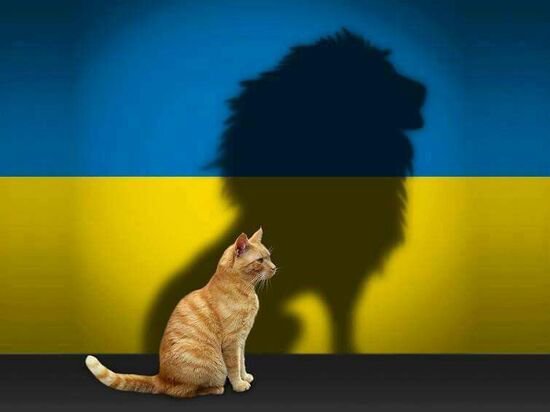 Let's start with the discussion about what is being sent to Ukraine. Fortunately for all of us the President issued a formal statement about what we're sending and this was followed by Undersecretary of Defense for Policy Colin Kahl doing a briefing about it. So we've got plenty of actual factual information to work with.
Here's President Biden's statement:
The people of Ukraine continue to inspire the world with their courage and resolve as they fight bravely to defend their country and their democracy against Russian aggression. The United States will stand with our Ukrainian partners and continue to provide Ukraine with weapons and equipment to defend itself.

Today, I am announcing a significant new security assistance package to provide timely and critical aid to the Ukrainian military. Thanks to the additional funding for Ukraine, passed with overwhelmingly bipartisan support in the U.S. Congress, the United States will be able to keep providing Ukraine with more of the weapons that they are using so effectively to repel Russian attacks. This new package will arm them with new capabilities and advanced weaponry, including HIMARS with battlefield munitions, to defend their territory from Russian advances. We will continue to lead the world in providing historic assistance to support Ukraine's fight for freedom.
So we are, indeed, sending HIMARS. For those a bit light on the acronyms, HIMARS stands for High Mobility Artillery Rocket Systems.
I'm going to put Undersecretary Kahl's statement after the jump (emphasis mine):
COLIN KAHL: Great. Well, good afternoon. It's great to join you all today to announce the latest military assistance authorization to support Ukraine in the face of Russia's premeditated, unprovoked, and unjustified invasion. First, however, I'd like to share with you that Secretary Austin spoke with Ukrainian Minister of Defense Reznikov yesterday to discuss Ukraine's military requirements as fighting continues in eastern Ukraine.

Secretary Austin highlighted the success of the Ukraine Contact Group held on May 23 and noted the unity of the International Community in supporting Ukraine as it repels the Russian invasion. Minister Reznikov expressed his gratitude for U.S. leadership on this effort, and the two leaders outlined priorities for the next in-person Contact Group planned for June in Brussels.

And now for today's announcement. Today, President Biden directed the drawdown of an additional $700 million in weapons and equipment from the Department of Defense Inventories.

The capabilities in this package include High Mobility Artillery Rocket Systems or HIMARS, and guided munitions with a range of up to 70 kilometers, five counter artillery radars, two air surveillance radars, 1,000 additional javelins, and 50 command launch units, 6,000 anti-armor weapons 15,000 155-millimeter artillery rounds, four MI-17 helicopters, 15 tactical vehicles, and spare parts and equipment.

These are critical capabilities to help the Ukrainians repel the Russian offensive in the east. One such need is the High Mobility Artillery Rocket System I just mentioned, which responds to Ukraine's top priority ask. This system will provide Ukraine with additional precision in targeting at range. The Ukrainians have given us assurances that they will use this system for defensive purposes only.

In anticipation of this potential decision by President Biden, the Department of Defense pre-positioned the HIMARS systems in Europe to ensure that they can be rapidly delivered to the Ukrainians. And put in place a plan so that we could start training Ukrainian forces immediately, while ensuring they learn how to operate the system safely and effectively as well as to maintain the system.

We will continue to closely consult with Ukraine and surge additional available systems and capabilities in support of its defense. I would also like to acknowledge and express our appreciation for the strong bipartisan approval in Congress of $40 billion to support the U.S. response in Ukraine. This additional support included $8 billion in additional Presidential Drawdown Authority for security assistance, $6 billion under DoD's Ukraine Security Assistance Initiative, and $4 billion in State Department foreign military financing for Ukraine and countries impacted by the situation in Ukraine.

This is the first security assistance package announced since the additional supplemental was signed by President Biden. The United States has now committed approximately $5.3 billion in security assistance to Ukraine since the beginning of the Biden administration, including approximately $4.6 billion since the beginning of Russia's unprovoked invasion on February 24.

Even as we continue to provide vital assistance, I would be remiss if I failed to recognize and commend our allies and partners from more than 40 countries who have joined us to continue supporting Ukraine with heavy weapons, munitions, and other vital security assistance.

Our support for Ukraine and that of the international community remains unwavering. And finally, I want to thank our dedicated men and women, our service members, civilians and contractors supporting the department's efforts. From the individual bases sourcing U.S. equipment to transportation command providing movement support, to our service members on rotation in support of our enhanced presence across U.S. European Command, to our own policy professionals here at the Pentagon.

The department has come together in extraordinary ways to support this historic effort. Without our most valuable resource, the never-ending dedication and support of our employees and contractors, this response would not have been possible. And with all that I'm happy to take your questions and I think we're slated to start with Ben Fox from AP.

Q: Hi.

DR. KAHL: Hey Ben.

Q: Can you talk about how many and how quickly you can get these H-MARS, excuse me HIMARS into the hands of Ukrainian forces? Obviously, time is of a critical essence right now.

DR. KAHL: So, the initial tranche of HIMARS Systems will be four. As I said, we've already pre-positioned the systems in theater so that we can deliver them expeditiously. I think it's important to keep in mind though, these aren't turnkey these, of course, are systems that the Ukrainians need to be trained on. We think that'll take around three weeks.

And they need to know not just how to use the systems but of course how to maintain the system. So, think of logistics, maintenance, things like that. So, it'll be a number of weeks, until that training is complete.

TAFF: Barb.

Q: Can I follow up on a couple of things? You mentioned that the Ukrainians had committed that these weapons would be defensive only. But you didn't say that they had promised not to strike targets inside Russia, which they may believe is in the defense of their nation. So my first question is, do you have a specific commitment that they won't strike inside Russia?

DR. KAHL: Yes.

Q: And can I follow up then on, you said this is going to be three weeks at least of training. Do you feel at this point, given the Russian gains in the Donbas that the Ukrainians can afford those three weeks? Can – how do you push back against the gains the Russians may make in that time? And the administration is talking about this package in terms of putting the Ukrainians in the best possible position at the negotiating table.

No longer hearing talk about they may succeed, in booting the Russians out of Ukraine. Is this three weeks going to be – delayed that prospect and is that even a reasonable prospect?

DR. KAHL: Sure. Well, Barbara, as you know, the battlefield has changed a lot in the last three months. So obviously, in the first instance, the Russians tried to take over the entire country. They were defeated in the Battle for Kyiv. They've made some progress in the south and now they're trying to encircle Ukrainian forces in the Donbas.

You're right, in the last several days, the Russians have made some incremental progress in and around the Donbas. They have not had a decisive breakthrough. And the Ukrainians are putting up a heck of a fight. And right now, it's a concentrated artillery duel in the east. It's why we put so much emphasis on providing 108 M777 howitzers, and a 200,000 rounds of ammunition.

Most of those howitzers are currently in the fight, and they're helping the Ukrainians a great deal. So, I think we're not seeing the Ukrainian defenses buckle. They're hanging on, but it is a grinding fight. And we believe that these additional capabilities will arrive in a timeframe that's relevant and allow the Ukrainians to very precisely target the types of things they need for the current fight.

Q: Is three weeks too late?

DR. KAHL: I don't think so.

STAFF: David Martin?

Q: Defensive purposes, does that mean they cannot use the HIMARS to go on the offense and expel the Russians from territory they hold? And you said, four systems? How many rockets for those systems?

DR. KAHL: So, Ukraine is defending their territory, anything they're doing on the territory of Ukraine is defensive in this context. The formal assurance is that they will not use these systems to target Russian territory. So just to clarify on that. Go ahead.

Q: Anything they do with these weapons on their territory…

DR. KAHL: They are defending – they have the right as a sovereign nation to defend their territory. They didn't start this war, the Russians did. And the Russians are on the offensive. If the Ukrainians are pushing them back from Ukrainian territory, so for example, the Ukrainians made a recent push into Kherson. If they push back along the line of contact in the Donbas, we would consider that defensive.

Q: And the number of munitions?

Q: A number of systems. I'm not going to go into the total number of munitions. I would emphasize, however -so there are four systems, but we are providing them an initial tranche of munitions. It's important for them to get trained on the systems, to get familiar with the systems. We will be in a position to rapidly surge additional munitions as appropriate in the battlefield evolves.
Much more Q&A at the link!
For those that prefer their information in a less narrative format, here's the infographic from Voice of America News' Steve Herman: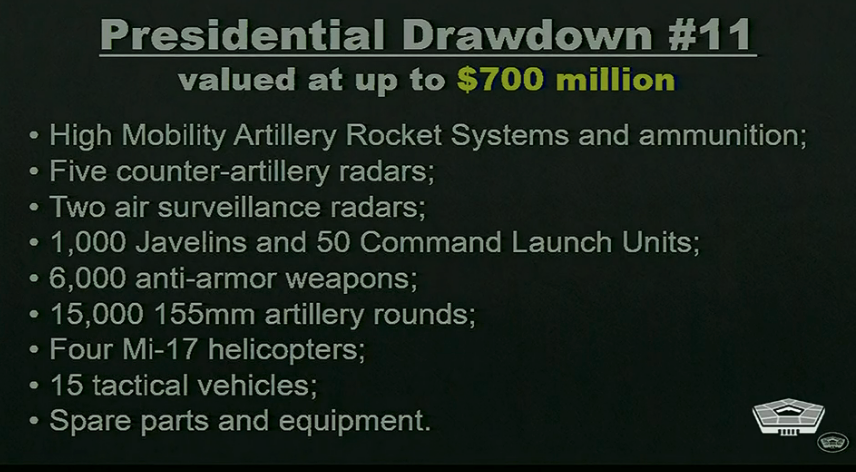 Here's the HIMARS infographic from the same thread: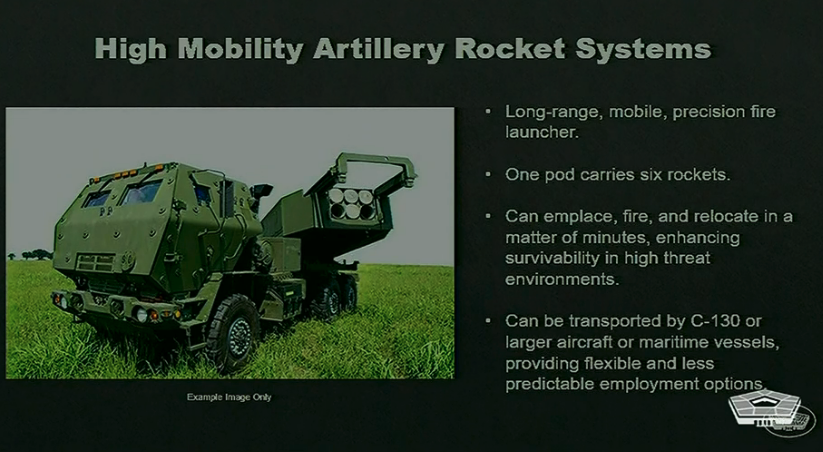 Before we discuss, the British have announced that they're also sending a multiple launch rocket system (MLRS) to Ukraine. From Politico:
The United Kingdom is asking the U.S. to sign off on a plan to send advanced, medium-range rocket systems to Ukraine within a few weeks, according to a person familiar with the matter and a document outlining the proposal, a move that follows President Joe Biden's announcement that he's sending similar weapons.

British Prime Minister Boris Johnson spoke with Biden about the transfer of the U.S.-made M270 Multiple Launch Rocket Systems on Wednesday morning, to be followed by a discussion between U.K. Foreign Secretary Liz Truss and Secretary of State Antony Blinken on Thursday morning, the person familiar with the schedule said. The U.S. must officially approve the move due to export regulations, though the Biden administration is near certain to give the green light.

The person asked for anonymity in order to speak freely about sensitive discussions. The National Security Council, State Department and the British Embassy in the U.S didn't return immediate requests for comment.

The M270 can strike targets roughly 50 miles away. The range of the rockets has been a sticking point in discussions over the past few weeks, as Ukrainian officials have clamored for the weapons as their troops in the East have endured heavy Russian artillery barrages. Western officials have worried that providing Kyiv with rockets that could strike inside Russian territory could provoke President Vladimir Putin into escalating the conflict, including using chemical or even nuclear weapons.
Germany has also announced that it is sending an advanced mobile air defense system to Ukraine. From Deutsche Welle:
Scholz promises air defense systems to Ukraine

In his speech to the Bundestag, German Chancellor Olaf Scholz said Germany would deliver modern IRIS-T air defense systems to Ukraine.

The German leader said with the help of these systems, Ukraine will be in a position "to protect an entire major city from Russian air attacks."

Scholz also said Germany has vowed to give Ukraine tracking radar which is capable of detecting enemy howitzers, mortars and rocket artillery.

In addition, Scholz said Berlin would send multiple rocket launchers to Ukraine in close coordination with the United States. Ukrainian officials have said these systems would not be used to target Russian territory.

German news outlet dpa reported that Berlin plans to send four of the launchers to Ukraine, with the US training Ukrainian soldiers to use the systems.
This German air defense system, if it actually makes it to Ukraine given Scholtz foot dragging to date, would be a major improvement for the Ukrainians. Especially because they're mobile.
The to do about the US sending these weapon systems was a combination of the Biden administration staying silent until they had something to say (this is a good thing) and a lot of the mil, mil-vet, and nat-sec social media personalities filling that silence with screams for HIMARS. Also for President Biden to fire his nat-sec team for not sending them already. Also, too explaining that you can shoot a rifle into Russia from parts of Ukraine, so if the US won't send anything that can be used offensively, they shouldn't send rifles either. I saw one of the most prominent of these personalities on twitter actually hit the trifecta in one thread. Same guy that determined how much a Russian cruise missile weighed by sniffing the air. He was only off by 500 to 750 lbs…
As we've discussed repeatedly, a great deal of what the Biden administration is doing is to over emphasize that nothing that the US or its allies are doing is intended to target or actually is targeting Russia. To a certain extent this is strategic communication concern trolling of the ever more frantic Russian statements about what the US and our allies are doing in regard to Russia's re-invasion of Ukraine.
At the same time the administration was deliberating how the US could provide Ukraine with what it both asked for and clearly needed – HIMARS – while at the same time continue to be able to demonstrate and communicate the US is not targeting Russia. What most people who aren't trying to goose their social media engagement stats figured was that the discussion was on just which ammunition for the HIMARS the US would be including. The long range stuff was clearly going to be out for the time being. What they've gone with is the longest reaching of the short range ammunition. It will be more than effective for now. Hopefully our resident red leg – Omnes Omnibus – will check in in the comments and provide even greater details for us.
I'm also sure there were some serious discussions with the Ukrainians about the flash to bang time for getting the Ukrainian artillerists up to speed on the system. Specifically something along the lines of "We're happy to send these, we've even got them pre-positioned so you can get them ASAP, but it'll take three weeks till your bubbas and bubbettes can be trained to use them. Can you hold your lines for that long? If not, we have this other stuff we can send that will be more immediately effective." You see some of what I'm spitballing happened in the answers that Undersecretary Kahl provided in the Q&A.
If that is now all cleared up, it is important to remember that the Ukrainian military still needs a lot of non big ticket items. Basic Soldier stuff. Rifles and carbines, ammunition for them, med kits, helmets, level IV body armor, socks, boots, etc. Light trucks, usually referred to as tacticals. Radios and night vision equipment too. You see different units and different NGOs and charities continuing to try to crowdsource this stuff on social media. I'll have some more on this tomorrow as we're starting to see reporting trickling out of morale problems arising from this among less well provisioned units.
Reuters is reporting that the US is going to sell MQ1s to Ukraine.
WASHINGTON, June 1 (Reuters) – The Biden administration plans to sell Ukraine four MQ-1C Gray Eagle drones that can be armed with Hellfire missiles for battlefield use against Russia, three people familiar with the situation said.

The sale of the General Atomics-made drones could still be blocked by Congress, the sources said, adding that there is also a risk of a last minute policy reversal that could scuttle the plan, which has been under review at the Pentagon for several weeks.

Ukraine has been using several types of smaller shorter range unmanned aerial systems against Russian forces that invaded the country in late February. They include the AeroVironment (AVAV.O) RQ-20 Puma AE, and the Turkish Bayraktar-TB2.

But the Gray Eagle represents a leap in technology because it can fly up to 30 or more hours depending on its mission and can gather huge amounts of data for intelligence purposes. Gray Eagles, the Army's version of the more widely known Predator drone, can also carry up to eight powerful Hellfire missiles.

The sale is significant because it puts an advanced reusable U.S. system capable of multiple deep strikes on the battlefield against Russia for the first time.

The administration of President Joe Biden intends to notify Congress of the potential sale to Ukraine in the coming days with a public announcement expected after that, a U.S. official said.

A White House spokesperson referred inquiries to the Pentagon and a Pentagon spokesperson said there was "nothing to announce."
More at the link!
Lithuanians just crowd funded the purchase of a Bayrakter TB2s to give to Ukraine. From Business Insider:
Lithuanians raised €5 million ($5.4 million) from its citizens to buy a Bayraktar TB-2 drone for the Ukrainian military.

The country's official Twitter account celebrated the milestone on Saturday. It said the total was achieved in three days thanks mostly to small donations. The fundraising drive was a private initiative started by a media firm.

The drones are much slower and carry smaller payloads than US drones like the MQ-9 Reaper, but they are also significantly cheaper.

The fundraiser was organized by Laisves TV, an online broadcaster in Lithuania founded in 2016.

The drive was an unusual addition to the stream of military aid granted to Ukraine since Russian invaded in February.

Most shipments of weapons and other military equipment have come directly governments like those of the US, UK, and European nations. Ukraine itself also started accepting donations earmarked for its armed forces when the war began.

The Lithuanian drive is unusual because the funds were earmarked for a specific piece of equipment.

Ukraine's ambassador to Lithuania, Beshta Petro, celebrated the milestone in an interview with Laisves, according to the Reuters news agency.

"This is the first case in history when ordinary people raise money to buy something like a Bayraktar," he said. "It is unprecedented, it is unbelievable."

It was not immediately clear how the funds would be used to buy the drone or how soon one could be deployed in Ukraine.
Here's President Zelenskyy's address to Ukraine from earlier this evening. Video followed by English transcript:
Ukrainians!

Defenders!

Every year on June 1 we celebrate Children's Day. A special day when adults pay special attention to the rights of children, safety and development of our kids. But since February 24, everything has changed in our country. And literally every day now is a day of protection for us. Protection of all our people, children, our future. Protection of a free country where every child can, when he or she grows up, live the life he or she wants. Without coercion and oppression.

Everyone sees what Russia brings to Ukraine and what it wants to bring to other European countries. Total contempt for individuals, for entire nations. The Russian state despises even its own citizens so much that they do not understand the value of human life at all. Russian soldiers kill and die themselves as if they were not people, but just dust. Dust under the feet of the owners of Russia.

The principles of our life are completely different. And although life has changed with the onset of wartime, our principles remain the same. Every person matters. This is the main thing that distinguishes us from the occupiers.

During the 98 days of the Russian invasion, 689 children were injured as a result of the occupiers' attacks. And these are only those we know about. We do not yet have all the information from the territory that is currently occupied. But from what is known today – 446 children were injured, 243 children died. 139 went missing.

It is said that human consciousness does not perceive large numbers. The larger the number, the harder it is for a person to realize what is behind it. Destroyed families. Little personalities who did not even have time to see what life is like.

Like little Denys from the Zhytomyr region, from the village of Malynivka, who died with his whole family when a Russian plane dropped bombs on the village. Denys was less than two years old.

Like Stepan from the village of Novi Petrivtsi, Kyiv region. He was less than three years old when a Russian shell hit the yard. The kid was fatally wounded.

Like Anya from Bucha, Kyiv region, she was 14 years old. She was killed when the Russian military fired at a minibus on the road. People were just trying to escape. Anya was in that car with her mother and grandmother. They all died.

Polina, she was not even two years old. A Russian tank fired at a house in Borodyanka. An ordinary house. Direct hit. Polina died.

Arina, Mykolaiv region. On March 5, she received shrapnel wounds as a result of artillery shelling, the occupiers hit the usual residential sector. She died at the hospital. Now, in June, Arina could be 4 years old.

Svyatoslav from Odesa, he was 15 years old. He was killed by a Russian missile strike at a dormitory. It happened on May 2. His body was retrieved from the rubble of the house.

Alisa from Okhtyrka, Sumy region. 7-year-old kid. She died on the second day of a full-scale war as a result of Russian artillery shelling. The occupiers simply fired at the houses.

Mykyta from the city of Izyum, Kharkiv region. He was 3 years old. On the night of March 3, he was killed by a Russian air strike at the city. A total of nine people died that night.

Two sisters – Varvara and Polina from Mariupol. Varvara was 14 years old and Polina was 11. They died as a result of the Russian shelling of an apartment building.

I have named only ten children from the list of two hundred and forty-three. And it's not just numbers. Each line is a separate world that was destroyed by the Russian army.

In this list there are those about whom nothing is known at all, even the name… 243 children! Eternal memory to everyone whose life was taken away by the Russian war against us, against Ukrainians, against Ukraine.

About 12 million of our citizens have been forced to flee their homes due to the war. More than 5 million went abroad. And the vast majority of them are women with children. We will do everything so that they can return home to Ukraine.

Russia is also pursuing a consistent criminal policy of deporting our people. Forcibly deports both adults and children. This is one of Russia's most heinous war crimes. In total, more than 200,000 Ukrainian children have been deported so far. These are orphans from orphanages. Children with parents. Children separated from their families.

The Russian state disperses these people on its territory, settles our citizens, in particular, in remote regions. The purpose of this criminal policy is not just to steal people, but to make deportees forget about Ukraine and not be able to return.

But we must find a solution to this challenge as well. And ensure that all those who killed, tortured or deported Ukrainians are held accountable.

The inevitability of punishment is a principle that Ukraine will definitely teach Russia. But first of all, we must teach it on the battlefield that Ukraine will not be conquered, that our people will not surrender, and our children will not become the property of the occupiers.

Today I signed two new decrees on awarding our heroes. 380 combatants were awarded. In total, since the beginning of the full-scale war, 17 thousand 86 defenders of Ukraine have received orders and other awards.

Thanks to all those who defend our state, our people, our children, we can be sure that Ukraine has everything, and has a future.

Glory to Ukraine!
Here's the Ukrainian MOD's operational update from today:
The operational update regarding the russian invasion on 06.00 on June 1 2022

The ninety-eighths day of the heroic resistance of the Ukrainian people to a russian military invasion continues.

In the Volyn and Polissya directions, units of the Armed Forces of the republic of belarus continue to perform tasks to strengthen the protection of the Ukrainian-belarusian border in the Brest and Gomel regions. Measures are being taken to check the combat readiness of certain units and military units.

In the Siversky direction, russian enemy units are conducting engineering equipment of positions in the areas of some settlements of the Bryansk region, at a distance of about 3 km from the State Border of Ukraine.

russian aggressor fired a Su-35 missile at Bilopillya, Sumy oblast. Artillery fire damaged in the area of the settlement of Seredyna-Buda, Sumy oblast.

In the Slobozhansky direction, russian enemy continued to focus its efforts on maintaining its positions and conducting reconnaissance.

In the Kharkiv direction, russian enemy fired from barrel and jet artillery at the settlements of Oleksandrivka, Slatyne, and Tsyrkuny. It struck by helicopters of the army aircraft in the areas of the settlements of Vesele and Ternov.

In the Slovyansk direction, russian enemy regrouped its troops. As a result of the losses, in the Dovhenkyi district it took some units to the city of Izyum for reconstruction. In order to strengthen the protection and defence of logistics routes, it strengthened the group in the village of Kupyansk by moving the battalion tactical group. It conducted reconnaissance of the positions of our troops with the help of the Orlan-10 UAV in the areas of Izyum, Pervomaisky and Velyka Komyshuvakha.

In the Donetsk direction, russian aggressor's units, with the support of the air force, are focusing their efforts on conducting offensive operations.

In order to inflict losses and deplete the personnel of our troops, russian enemy fires along the line of contact.

from mortars, artillery and multiple rocket launchers. Repaired the railway bridge crossing in the area of the settlement of Kupyansk to restore the logistics supply of the railway branch Kupyansk – Lyman.

In the Lyman direction, russian enemy reinforced units and regrouped them. With the support of Ka-52 helicopters, the offensive is in the direction of the Lyman -Stary Karavan, the fighting continues.

In the Sievierodonetsk direction, russian aggressor carried out assault operations in the northern, southern and eastern districts of the city of Severodonetsk.

In the Bakhmut direction, russian enemy is trying to oust units of our troops from their positions in the Belogorovka and Vrubivka districts. It used assault and army aircraft in the settlements of Komyshuvakha, Berestov and Nyrkove.

In the Zaporozhzhia direction, russian enemy carried out engineering work to improve the fortifications of the second line of defense. He relocated to the area of Vasylivka settlement to the T-62 tank battalion and to the motorized rifle battalion.

In the Avdiivka, Kurakhivka and Novopavlivka directions, russian enemy holds its occupied positions, inflicting fire damage with mortars and artillery.

In the South Buh direction, russian enemy's main efforts are focused on maintaining the occupied positions and creating additional lines of defense. In the areas of the settlements of Mykolayivka, Novopavlivske and Shyroke, it carried out massive shelling from multiple rocket launchers, artillery and mortars.

In the waters of the Black and Azov Seas, ships of the Black Sea Fleet of the russian federation continue to perform tasks to isolate the area of hostilities and blockade shipping.

The storm tore from the anchor 2 enemy naval mines. One was carried by the waves to the shores of Odesa, where it was neutralized by specialists of the Navy subversive team, the other was blown up by our soldiers just at sea.

One carrier of naval-based cruise missiles of the "Caliber" type is ready to use missile weapons in the Black Sea.

In the past 24hrs, nine enemy attacks have been repulsed in Donetsk and Luhansk, two tanks, thirteen artillery systems, eight armored fighting vehicles and six enemy vehicles have been destroyed. In the South, in the Kherson and Mykolaiv oblasts, the losses of the russian occupiers, in addition to military equipment, amounted to about seventy people.

We believe in the Armed Forces of Ukraine! Together to victory!

Glory to Ukraine!
Here's today's assessment from Britain's MOD: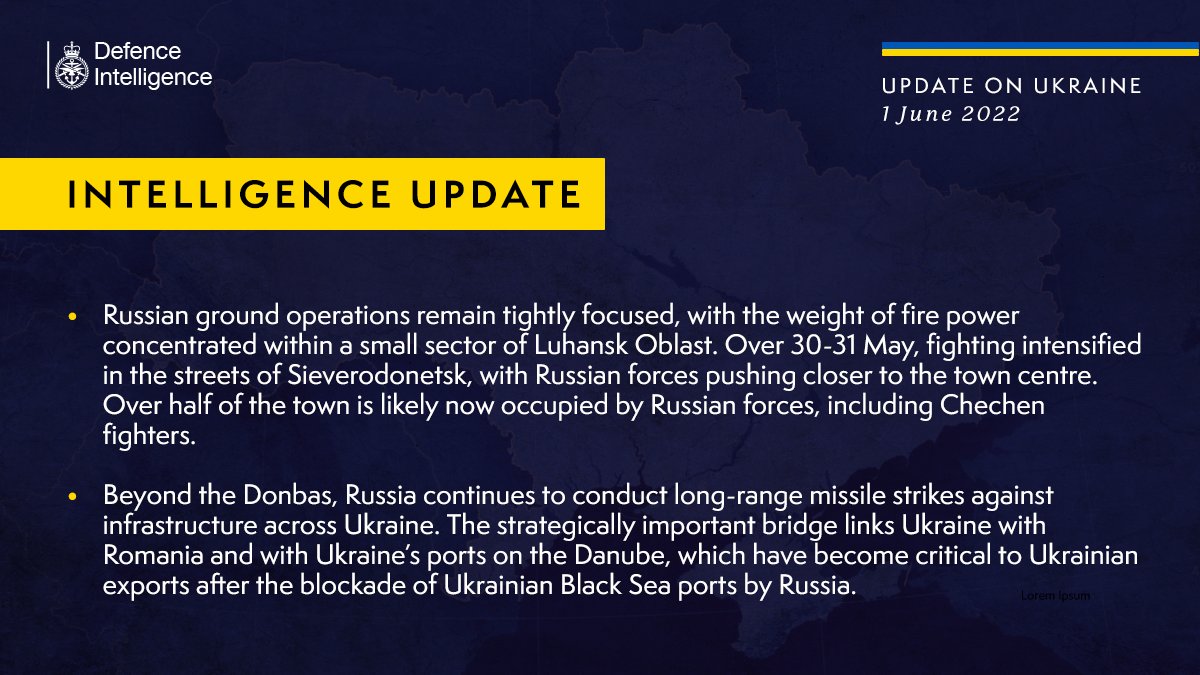 And here's their updated map for today: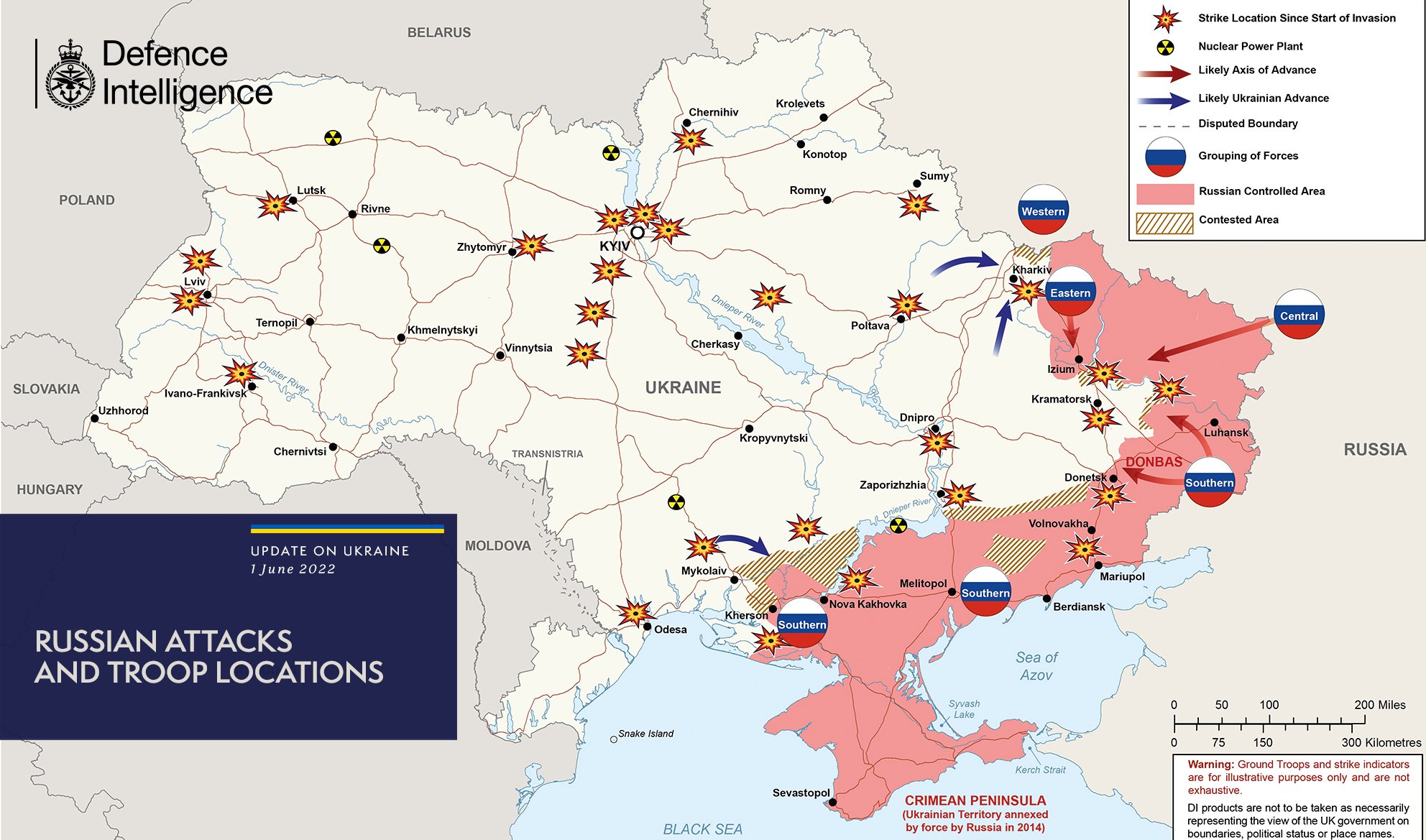 As you can see not a lot of change since yesterday.
The Kyiv Independent's military reporter Illia Ponamorenko has a closer look for us at what is going on in Sievierodonetsk:
Russians now control nearly 70% of Sievierodonetsk.
The Ukrainian command opted in favor of an organized gradual retreat to Lysychansk, which is more convenient for defense, rather than holding the ground until the last man standing.
The garrison has not been cut off supplies. pic.twitter.com/DDeoBiVEMv

— Illia Ponomarenko 🇺🇦 (@IAPonomarenko) June 1, 2022
As we discussed last night, the Ukrainians took advantage of Russia's failure to encircle their forces and have pulled back to a better position across the river in Lysychansk.
Let's finish with your daily Patron!!!!!
The famous Ukrainian demining dog Patron now has his own TikTok channel https://t.co/Ty4voSb8H6

It turns out that in his free time, the Jack Russell Terrier likes to run around in dandelion fields and play ball pic.twitter.com/E2VJAd8eX2

— Euromaidan Press (@EuromaidanPress) June 2, 2022
Someone is going to have to send me instructions for embedding TikTok videos in WordPress!
Open thread!