Advisers to the U.S. Food and Drug Administration unanimously recommended that the agency authorize Moderna's COVID vaccine for children and teens aged 6 to 17 years of age https://t.co/we3d2WOosh pic.twitter.com/f1uoaDjD3x

— Reuters (@Reuters) June 15, 2022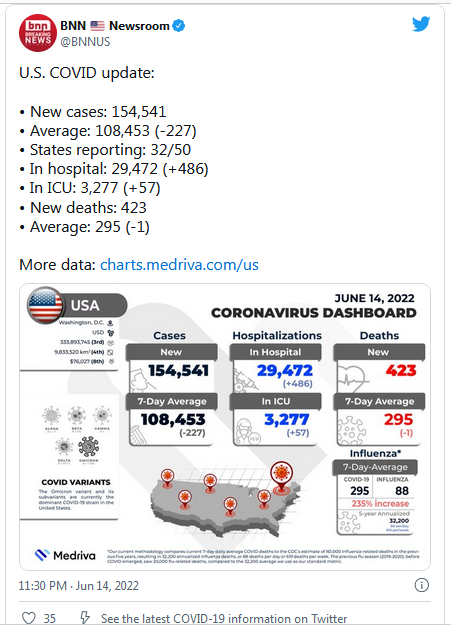 ======
Thread: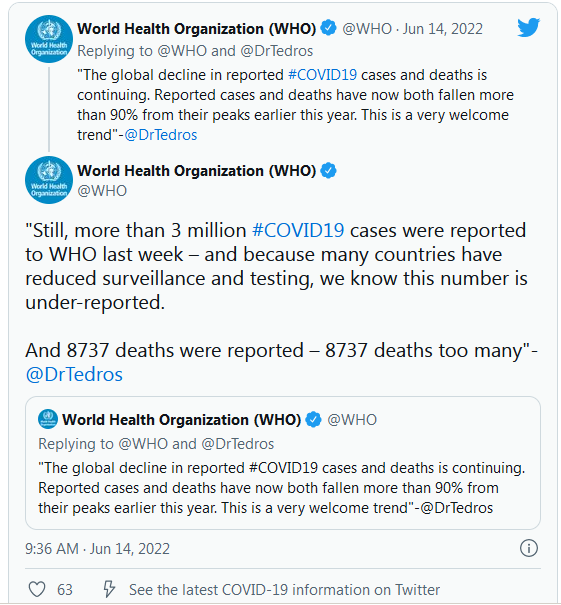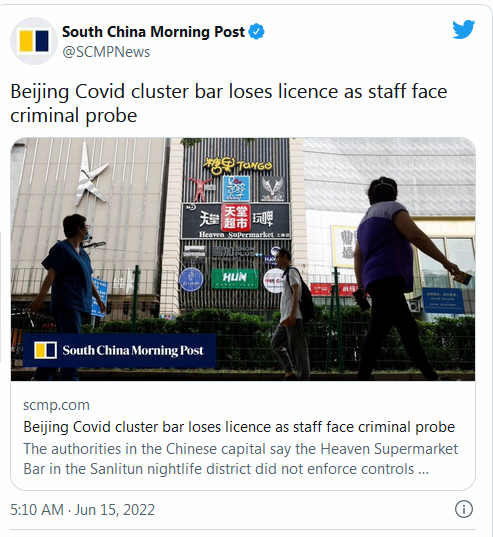 … The Heaven Supermarket in Beijing's busy entertainment area Sanlitun has been linked with 320 local infections that spread across the city in the past week. Authorities say it did not strictly follow epidemic control requirements such as checking customers' test results and temperatures or scanning their health codes.

Before the latest cluster emerged, the capital was seeing a tapering off the outbreak that started at the end of April and forced restaurants to ban dining-in, shops to close and many people to work or study at home.

Now, with infections spreading across 14 districts of the city, students and school pupils – except those taking the high school entrance exam – have been ordered to remain at home while residential areas have been locked down…

The latest Beijing cluster highlights the challenge of maintaining a "dynamic" zero-Covid policy against the highly transmissible Omicron variant. The city reported 63 new local infections on Wednesday morning, all connected with the bar.

It also dealt another serious blow to the city's restaurant and entertainment industry, which has just reopened after a month-long closure starting in early May.

Chaoyang district, the city's largest district and home to foreign embassies, has closed all entertainment venues. In Sanlitun alone, 700 restaurants have been ordered to stop dining-in, while 74 bars, over 200 beauty salons, cultural venues, gyms and game parlours have also had to close…

The cluster emerged when three men who lived in different districts but had all visited the bar were found positive in mass testing last Thursday.

Police said so far six people have been put under criminal investigation for breaking health control rules linked with the cluster in the bar.

These include three bar goers who broke home isolation rules and led to more people being isolated.

One of them, a 31-year-old who lived in Tongzhong district, took public transport to several places and went to restaurants and shopping malls before testing positive – resulting in 29 people being placed in central isolation and 1,800 people in home quarantine.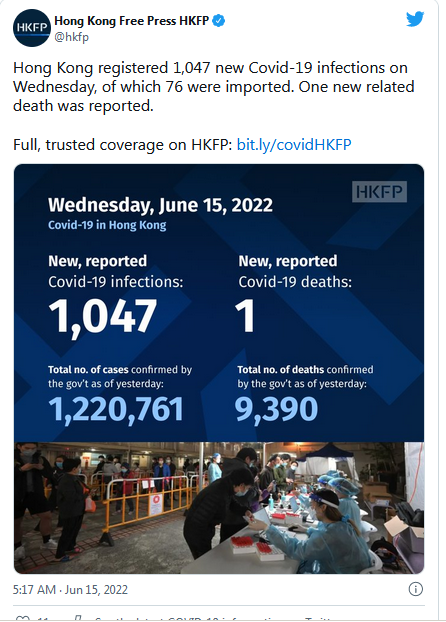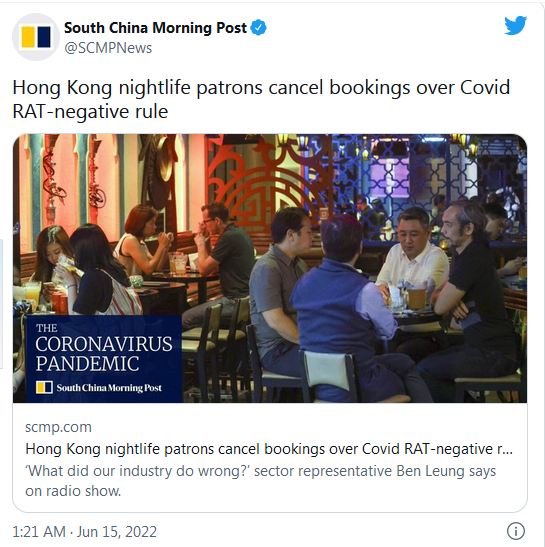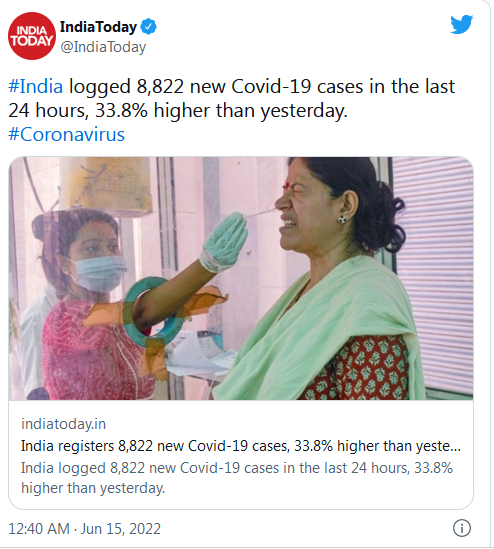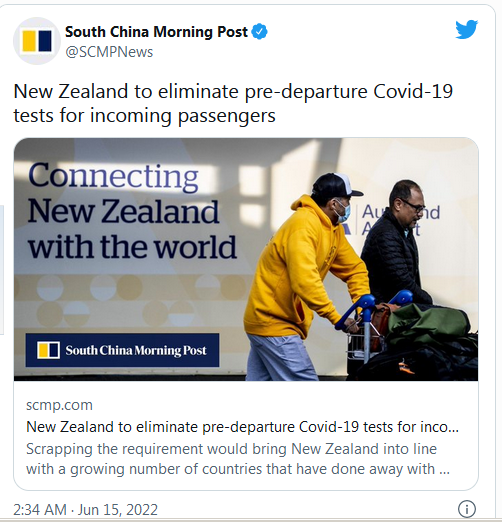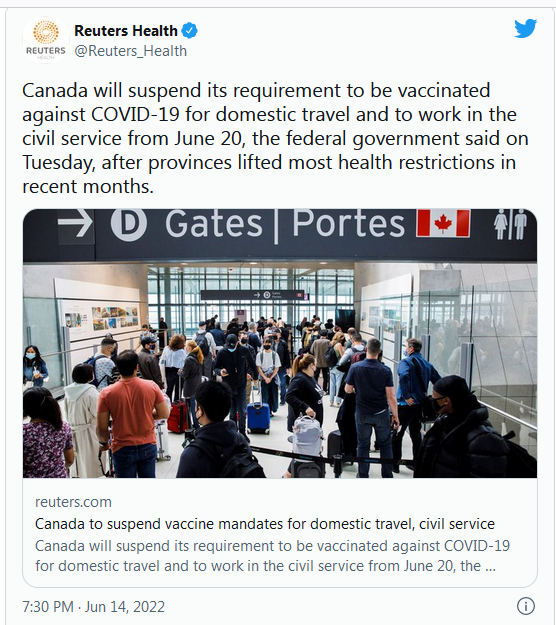 ======
The BA.4 and BA.5 sub-variants of Omicron are estimated to make up about 8.3% and 13.3% of the coronavirus variants in the United States as of June 11, the U.S. Centers for Disease Control and Prevention (CDC) said on Tuesday. https://t.co/d0SOfTIbAv

— Reuters Health (@Reuters_Health) June 15, 2022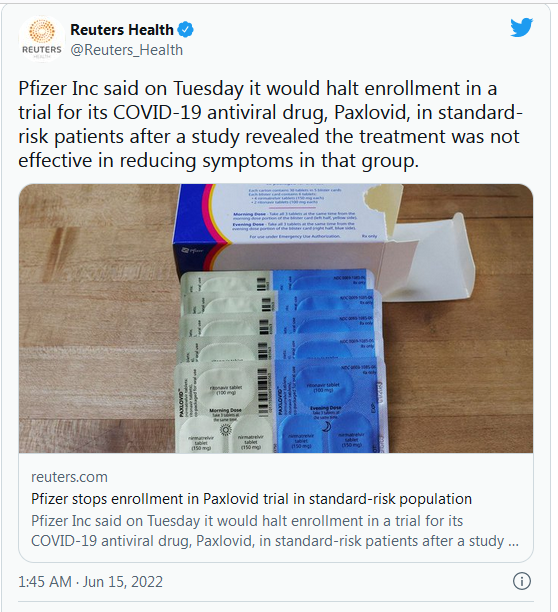 My (cynical) interpretation is that Pfizer wants to profit from a drug that is useful for older & immunocompromised people, but doesn't want the risk of getting sued for some rare side effect in a group with less to gain:
… The drug has emergency use authorization for high-risk groups in which it has been effective in reducing hospitalizations and deaths.

The new data, however, showed a 51% relative risk reduction in standard-risk groups, which the company said was not statistically significant.

The standard-risk population usually includes people who do not have health conditions that put them at risk of severe disease and who can recover without the drug…
Omicron infection is a poor booster of immunity to #coronavirus future infection. A common assumption has been that infection gives a natural immune boost. Findings from a new British study reveal omicron infection does little to boost immunity https://t.co/Qb5Oc9NnUv

— delthia ricks (@DelthiaRicks) June 14, 2022
======