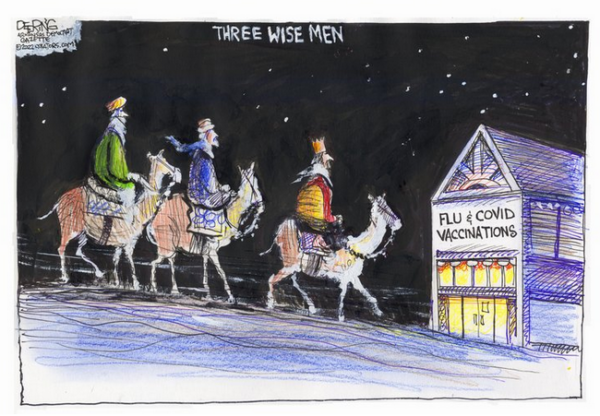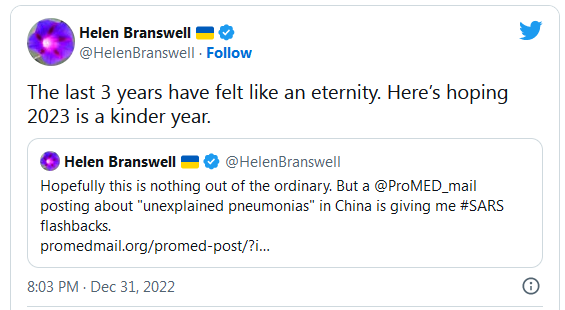 (link)

The Biden administration has made the biavelent booster free, widely available, and have been talking about it constantly.

You would think that after 3 years, you nerds would've learned a thing or two about the public. People being over COVID is not the fault of the gobmint. https://t.co/kEKz0YG9L6

— What Biden Has Done (@What46HasDone) December 31, 2022
=====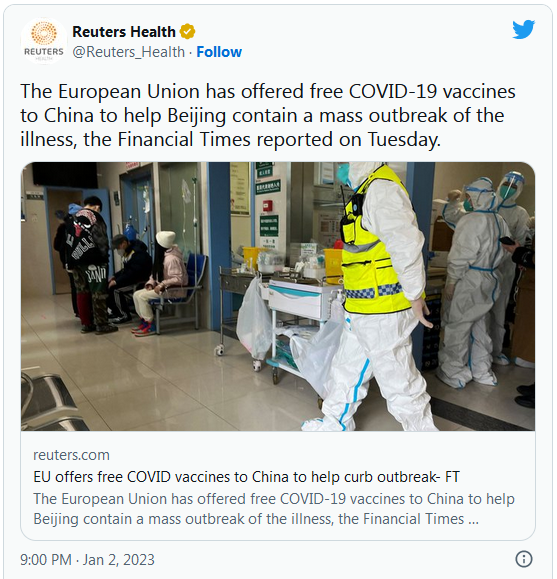 (link)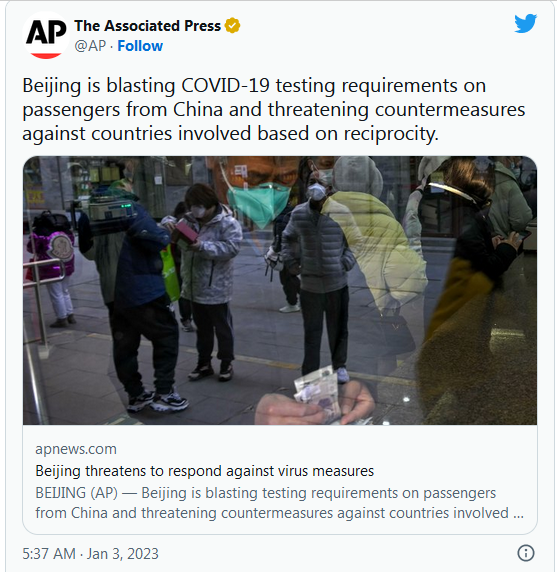 (link)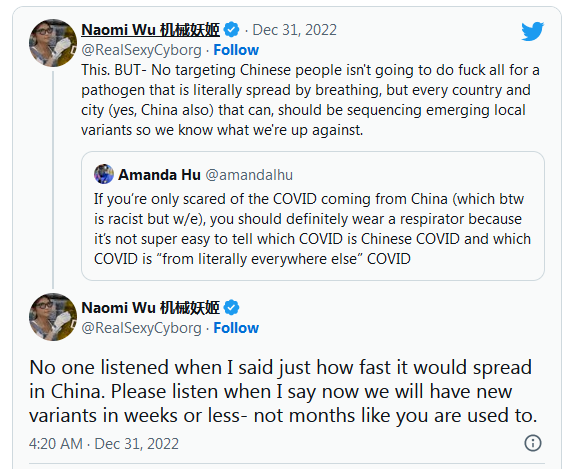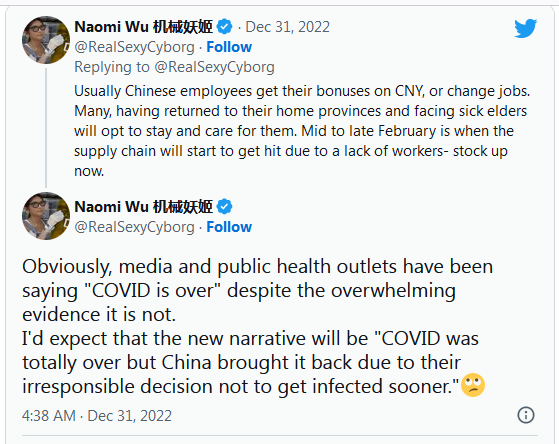 (link)
How deadly will China's #Covid surge get? Experts tackle that question as well as these: How fast is the virus spreading there? How long will the surge last and will China spawn a new variant? https://t.co/nB60leukFW

— delthia ricks 🔬 (@DelthiaRicks) January 1, 2023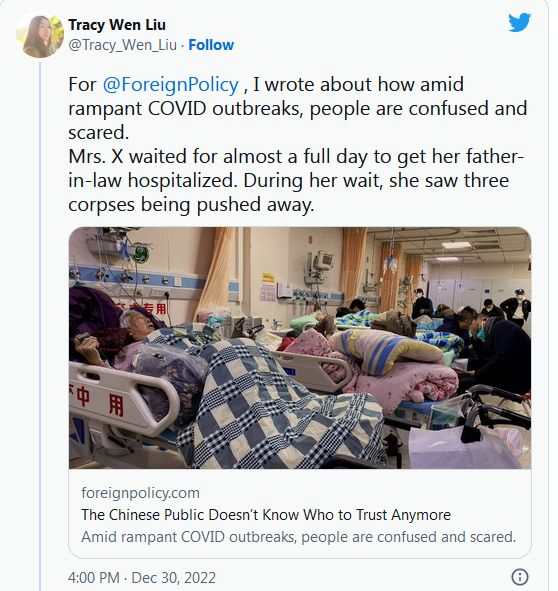 This is a good human-interest article, but the part that raised the hairs on the back of my neck…
… A doctor from Wuhan who worked on the front line during the initial outbreak of the pandemic in 2020 told Foreign Policy, asking for anonymity, "We are not against opening up, but we are against opening up in this manner." She said that the hospital was not prepared when all COVID prevention and control policies were lifted. According to her, COVID screening was not required anymore. This ensured that patients with COVID could be accepted and treated, but it also made it impossible to separate patients with or without COVID infections, which could lead to cross-infection in the hospital ward. In scenes reminiscent of early 2020 in Wuhan, patients flooded into the hospital, but it was not equipped with sufficient medicine and protective gear, which led to a severe shortage of medical resources.

According to the doctor, many medical workers are infected as well, worsening the situation in the hospital, and they, too, are unsure of the proper treatment. After catching COVID, she suffered from a high fever and shortness of breath for weeks, but she was called back to work after a week, before she had fully recovered.

She told Foreign Policy that many patients' CT scans showed severe lung inflammation, while it is commonly believed that the omicron variant appears to cause less damage to the lungs. Many patients she saw also suffered from serious breathing issues, which was not common among people who contracted the omicron variant. She has heard various opinions. Some medical experts suspect that Chinese patients are suffering from more severe symptoms because the vaccines they received provide less protection, and some experts suspect that there is a new variant, but she isn't sure what to believe.

In the past few days, the term "white lungs," which refers to CT scans showing severe lung inflammation, has trended on Chinese websites and people are speculating that patients with white lungs were infected not with the omicron variant but with a previous variant or even the original strain that was spreading in Wuhan in early 2020. On Dec. 27, Jiao Yahui, director of the Department of National Health Commission's Medical Administration Bureau, said in a media conference that "white lungs" have nothing to do with the original COVID strain or vaccination. However, people don't seem to be convinced by this statement. Some of them have lost trust in government assurances and medical experts.

It's a problem across almost all areas of Chinese life, not just health care. With government data now nonexistent or actively falsified, it's hard for people to evaluate risk. Even if they are aware of the catastrophe unfolding in hospitals, just how severe new variants might be—or how effective the Chinese vaccines are—is impossible to know. The rich are now rushing to Macau for mRNA shots and buying up Paxlovid online; the rest of the public has been left to struggle on its own.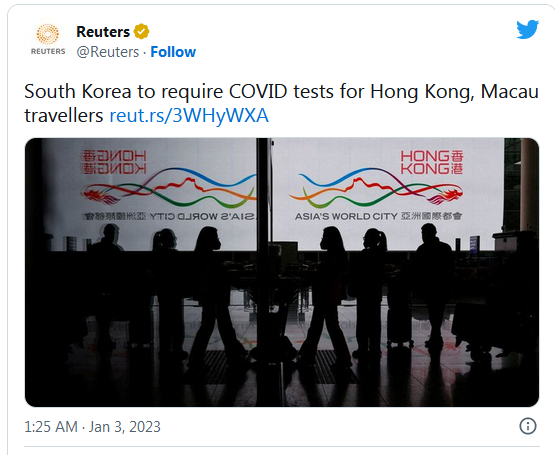 (link)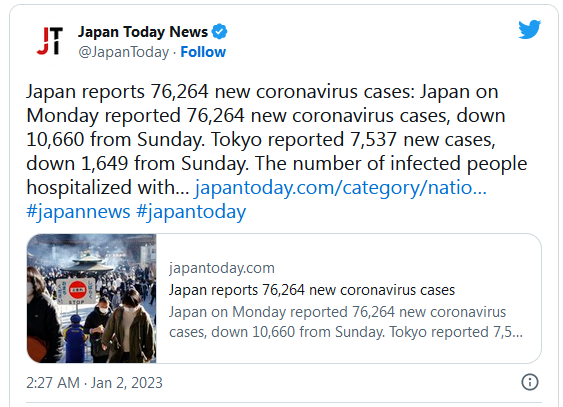 (link)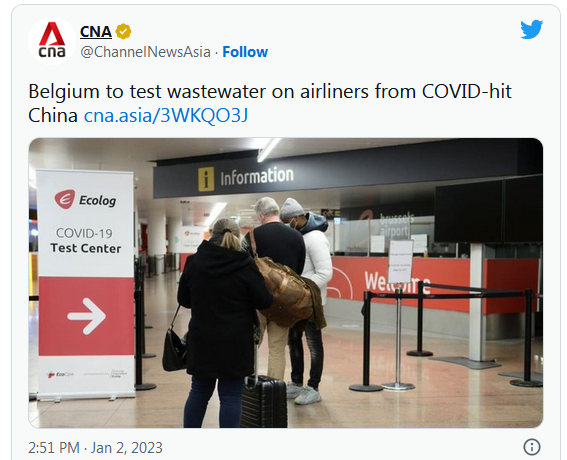 (link)
Canada:
The AREA UNDER THE CURVE from the end of November 2021 to the present dwarfs the period from April 2020 to November 2021. So, in what way precisely is the pandemic "over"?

— Dr David Berger, aBsuRdiSTe cROnickLeR (@YouAreLobbyLud) December 31, 2022
======
"If you make a big bet, and you're successful with a program [Operation Warp Speed], you should keep making big bets"https://t.co/zHVRYmP4vW @SmithsonianMag by @SimarSBajaj

— Eric Topol (@EricTopol) December 31, 2022
I've added a map page to my dataviz on COVID-19 genomic sequencing data.
Here I've used it to visualise the spread of the new XBB.1.5 "Kraken" lineage around the world.https://t.co/FuHOL8g6Xg pic.twitter.com/gXZ2l8EuEn

— Mike Honey (@Mike_Honey_) January 2, 2023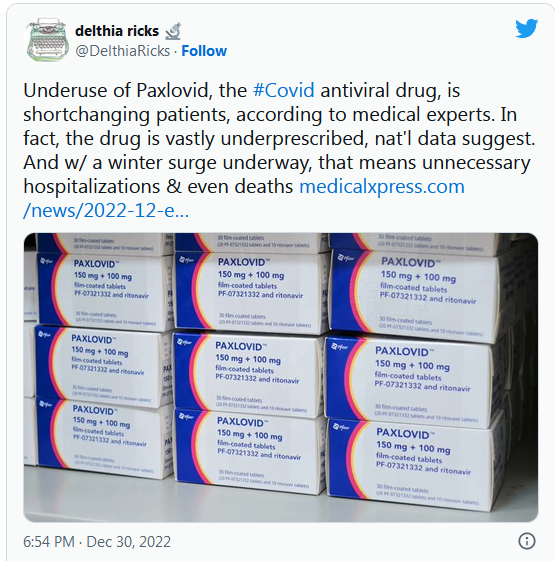 (link)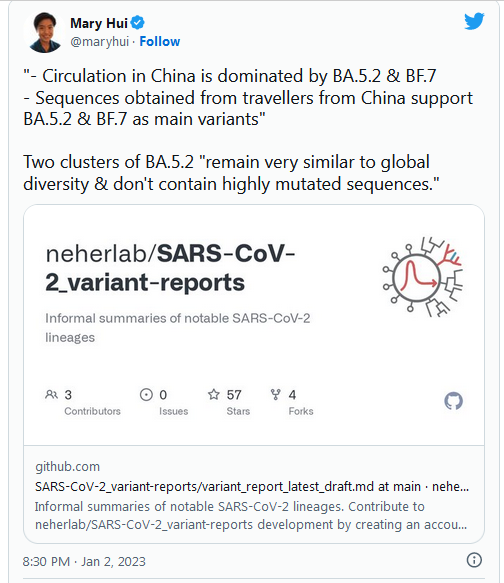 (link)
#Covid has been linked to a crippling heart condition called 'PoTS.' Most experience it as a #LongCovid symptom. Acronym means Postural tachycardia syndrome, an abnormal leap in heart rate when sitting up or standing. Patients can become dizzy or faint. https://t.co/WVuju8G5lV

— delthia ricks 🔬 (@DelthiaRicks) January 1, 2023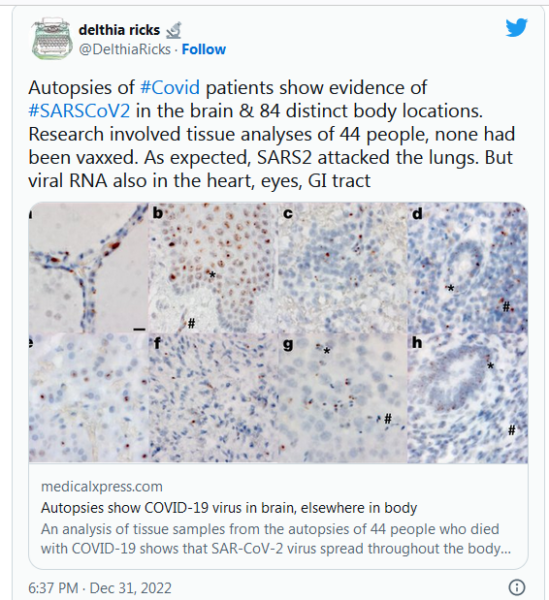 (link)
#Covid pill studied in clinical trials in China may be an improvement over Paxlovid. Drug is a remdesivir derivative developed in China. Remdesivir is a US product. Experimental drug—VV116—worked well in high risk patients. Remdesivir's chemical structure⬇️https://t.co/0RfoPJpkpZ pic.twitter.com/4STHJ1I9Qq

— delthia ricks 🔬 (@DelthiaRicks) December 30, 2022
======
We should not be going back to the drawing board or trafficking in hysteria every time a new subvariant emerges. Instead, we need to achieve high, equitable coverage of the tools we have and activate short-term mitigation tools to blunt the impacts of surges.

— Anne Sosin (@asosin) January 2, 2023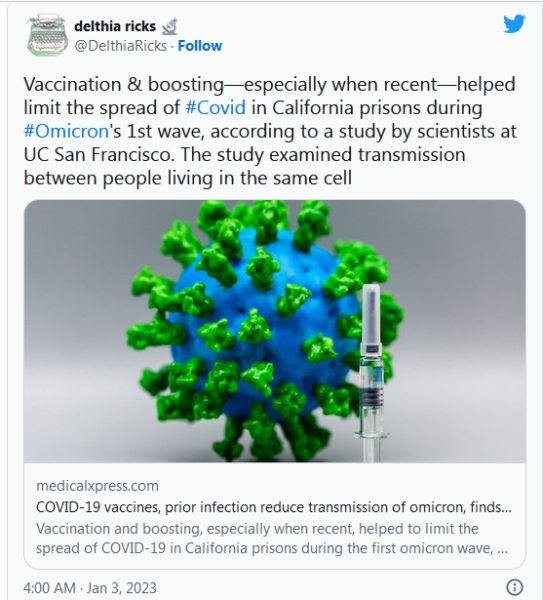 (link)
Yale (Connecticut):
While outcomes are dramatically better & #COVID19 does not affect the hospital's function, need to #StaySafe. You know the drill.
Get COVID bivalent & Flu vaccines
Reduce exposures, #MaskUp in indoor gatherings, use ventilation
Get tested & treated if indicated #COVIDIsNotOver

— Naftali Kaminski (@KaminskiMed) January 2, 2023
I know, I know – we were supposed to "focus protect" the at-risk. I made that exact argument in spring 2020. But in a city like NY, you have millions of at-risk citizens, most of them living on their yen or in multi-generational households. How do you "focus protect" them?

— James Surowiecki (@JamesSurowiecki) December 31, 2022
For those who keep saying they don't understand why we are so focused on masks: Mask mandates are the policy that would instantly make a huge difference to the lives of higher risk people. It would mean they could go on public transport, access medical care, & other basic needs.

— Dr. Lucky Tran (@luckytran) January 2, 2023
Masks aren't perfect, no one single measure is, which is why we need to keep advocating for multiple measures including ventilation, next gen vaccines, and better treatments.

But we are in a surge now that is keeping our most vulnerable locked out of society. We can't keep people at home indefinitely, unable to access essential needs. Mask mandates will instantly open up society to millions more people, while we work on longer term solutions.

If we give up on mask mandates and universal masking now, that would mean millions of higher risk wouldn't be able to fully participate in public life for years. That's unacceptable.

We've been gaslighted by leaders into accepting policies that don't solve the pandemic because they hurt the people who are most vulnerable and lock them out of society. We can do better.

To end the pandemic we need measures that actually reduce COVID spread, like ventilation & better vaccines. These measures will take time to come into effect (they can happen faster if we speak up). In the meantime, mask mandates will open up society to more people & reduce harm.

There is no "apolitical" way out of this pandemic. It's a political choice to accept policies that continue mass death and exclude people from society. We can only turn things around if we fight for more equitable policies. That means speaking up for all protections, inc masks.
Reader Interactions