We haven't had one in a while and I thought, what the heck, I've been cooking up a few cool things the last few weeks, I should share. This is the time of the year when I'm completely bored with the winter standards, craving fresh garden foods. I fall back on soups full of veggies, and quick meals that I don't have to give much thought or effort toward. Not every meal has to be a masterpiece. And sometimes I just want Popeye's spicy fish sandwich (Lent is almost here, after all).
Right now I'm eating Jicama Slaw (recipe below), one of my favorite go-tos when I need a reminder that spring and summer are not far off.
Here are a few other recipes I put together this month:
Spicy Potato soup – recipe here
A Spinach Ravioli Lasagna – recipe here
And because I had workmen at the house and it was snowing like crazy, I made some jumbo cookies for them:
Jumbo Dark Chocolate Chip Cookies – Recipe here
Here's tonight's featured recipe, I made a few adaptations  –  when I made it tonight and last week, I just used my box grater. The texture is a bit different, but I wasn't in the mood to break out the mandoline and clean it after. And I forgot to buy plain yogurt, so I substituted mayo. Not gonna lie, it was still yummy.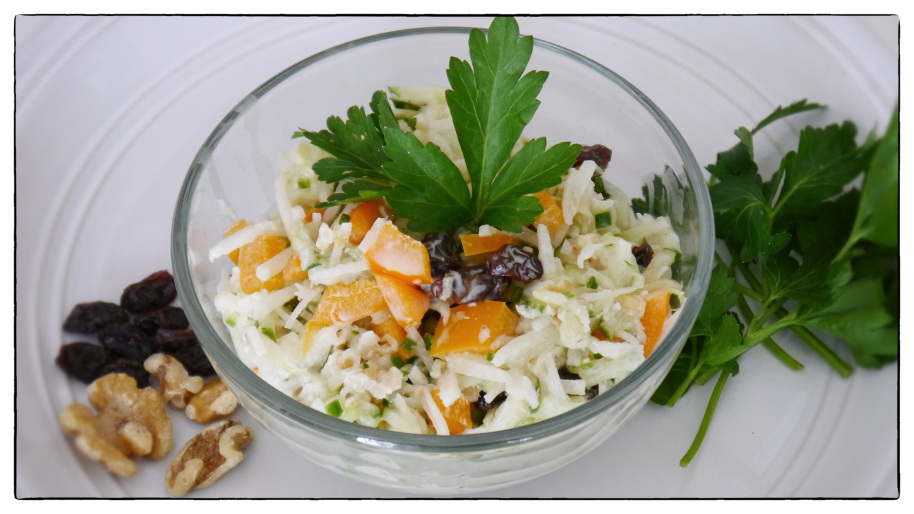 Jicama Slaw
I used my mandoline slicer to julienne the jicama and the cucumber. You can use the large blade on a box shredder if you don't have a mandoline.
Dressing:
1 cup plain Greek yogurt
3 tbsp lime juice
2 tbsp cider vinegar
2 tbsp sugar
1 tsp ground cumin
salt and freshly ground black pepper to taste
Salad:
3 cups shredded or julienned jicama (peeled before shredding)
1 English cucumber*, washed and julienned
1 sweet bell pepper, thinly sliced (red, orange or yellow)
1/2 cup raisins
1/2 cup chopped walnuts
1 tbsp chopped Italian parsley
Combine the yogurt, lime juice, cider vinegar, sugar, salt and pepper and whisk to combine. Refrigerate for at least 30 minutes to allow flavors to develop.
Combine the jicama, cucumber, sweet pepper and raisins in a large bowl and add the dressing. Toss gently but thoroughly to combine. Season with additional salt and pepper, if necessary. Refrigerate until ready to serve. Just before serving toss with walnuts and parsley.
*I like the flavor of English cucumbers and they are unwaxed so I don't peel them and they don't need to be seeded.  Peel waxed cucumbers if substituted.
That's it for tonight. What gets you through the last days of winter in your kitchen?  What's on your plate for the weekend? Also, anyone have a good rye bread recipe, I'm craving rye bread and can't find my old recipe.
Have at it…