We just got a request for our help from commenter timill.
He is part of a FIP rescue organization in Tennessee.
Today's kitty in need is a fluffy black cat in Washington State.
His name is Finnegan and he is 8 months old.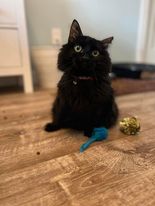 The kitty has been in treatment for a month at this point, and needs 2 more months of treatment.
Here's what they need.
Someone who can foster and/or transport to a someone who can foster…
Person who fosters needs to be able to deal with administering injections once daily for 2 months.
timmil promises to be in the comments to answer all of our questions!