A new study from the CDC suggests that 96% of Americans have some degree of immunity against #Covid https://t.co/xg7hxxiuON pic.twitter.com/iqkoGgwjUu

— delthia ricks 🔬 (@DelthiaRicks) June 2, 2023
Novavax Inc's head of research and development on Monday said an updated COVID-19 vaccine the company is already producing is likely to be protective against other fast-growing coronavirus variants circulating in the U.S. https://t.co/itJXYmJeEj

— Reuters Health (@Reuters_Health) June 6, 2023
The U.S. Food and Drug Administration on Tuesday approved Cue Health's at-home COVID-19 test, the first coronavirus test to get marketing authorization using a traditional premarket review, the agency said. https://t.co/XuFOZbxANF

— Reuters Health (@Reuters_Health) June 7, 2023
The bad news: There's a drive to 'forget', or at least minimize, just how bad this global pandemic got here in the United States. No worse than a bad flu season! Govt overreach! Panicky lie-brals getting over their skis!…
i get that things were different in different places but when i "walked outside" there were a bunch of fucking morgue trucks on my walk to the subway https://t.co/hgtID6DdJU

— flglmn (@flglmn) June 3, 2023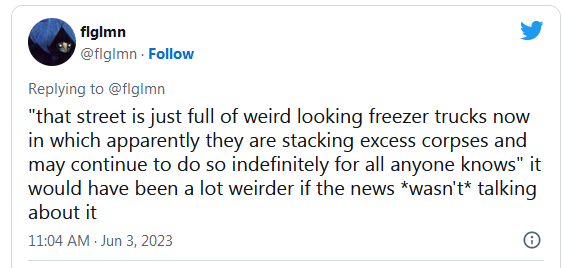 honestly fucked up that so many people died of covid but barely anybody powerful did. the world would be better off if we lost 10,000 chris lichts in the pandemic. https://t.co/fpSnPFCCtV

— Michael (@_FleerUltra) June 3, 2023
If you squint… for the people in Chris Licht's circles, maybe the pandemic wasn't so terrible. Sure, there were a bad few weeks where everyone was panicking, but once you established your base refuge at the summer place, got all the delivery services lined up and fortified the wifi networks, it could mostly be regarded as an inconvenience. No parties, no business schmoozing, your kids (if you had them) were hanging around 24/7, the help kept disappearing with lame excuses like 'just been intubated' or 'relatives all dying / dead', there were unpredictable shortages of your preferred brands — nothing that couldn't have been handled, if not for a lack of will. And if you know, deep down, that this was a terrible three years made worse by intersecting social failures… Forgetting is a balm to the conscience!
So much of Covid discussion today takes place as if March/April 2020- when hospitals were full of people dying and on ventilators because of Covid – never happened.

Well it did. I was there.

And I won't forget it even if you will.

— Neil Stone (@DrNeilStone) January 21, 2023
I think we locked down because Covid was killing 600 ppl a week in New York in early April 2020. https://t.co/1K8214xsMG

— James Surowiecki (@JamesSurowiecki) June 5, 2023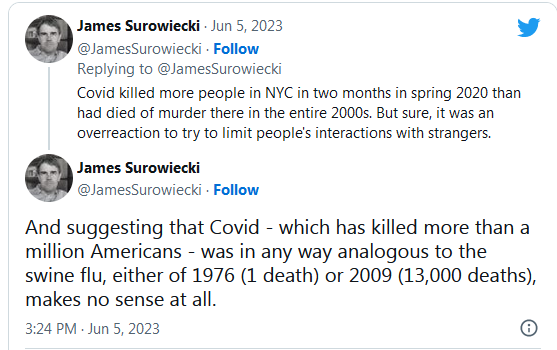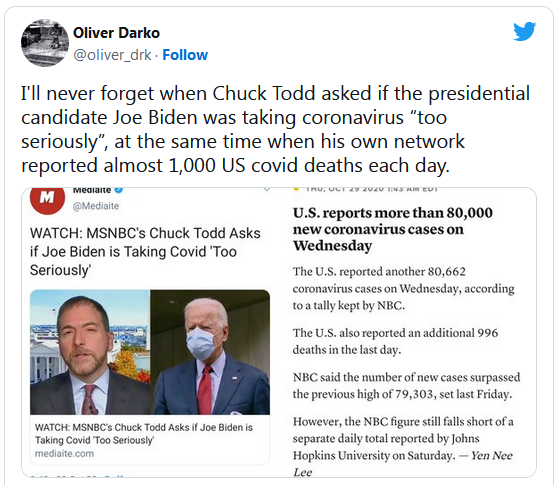 ======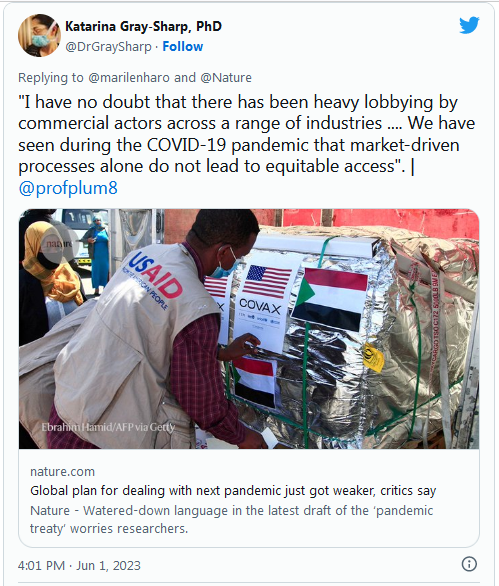 (link)
Critics call them paranoid; they call themselves prudent.

These Chinese people are continuing to observe strict zero-covid rules amid a new surge of infections. https://t.co/Qsb5gMMi02

— The Washington Post (@washingtonpost) June 6, 2023
Switzerland: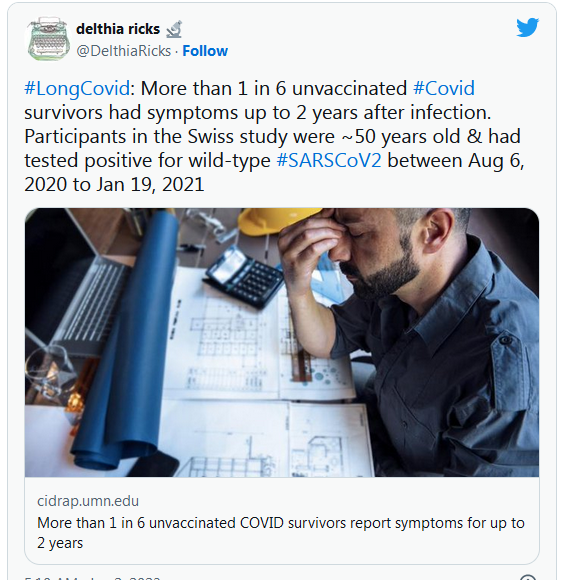 (link)
United Kingdom:
Troubling that there continues to be an excess but there is no non-Covid excess mortality this week.

The CMI has calculated that there was a large non-Covid excess in Jan 2023 (likely due to the flu spike). But since Feb, the cumulative excess mortality is explained by Covid. https://t.co/FKsob48tiQ pic.twitter.com/wL7NeaTR3t

— Adele Groyer (@AdeleGroyer) June 6, 2023
======
#LongCovid's cognitive/depressive symptoms likely tied to brain inflammation. PET scans suggest the presence of gliosis—glial cell enlargement due to viral brain injury. Unlike healthy controls, a gliosis marker was high in those w/neurocognitive symptoms https://t.co/dZfBFxagfi

— delthia ricks 🔬 (@DelthiaRicks) June 1, 2023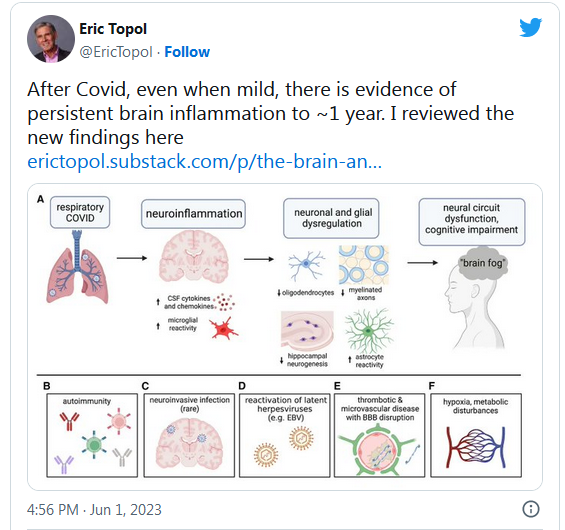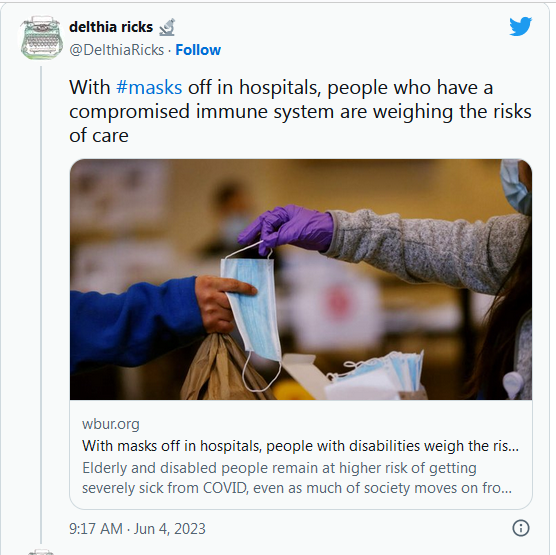 (link)
Stopping routine hospital admission Covid testing
was associated with significant increases in hospital-onset #SARSCoV2 infections@JAMAInternalMed https://t.co/mW1fBF530H pic.twitter.com/aqShFSJZ8y

— Eric Topol (@EricTopol) June 5, 2023
Just an amazing look at what #Covid did to the lungs of some of the people who caught it early on. https://t.co/LxEQD2FvEl

— Helen Branswell 🇺🇦 (@HelenBranswell) June 1, 2023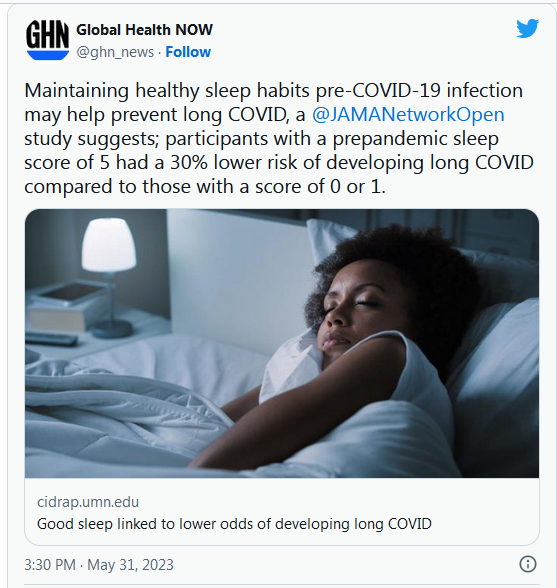 (link)
Remember that recent 'cold' that just wouldn't go away?
.@JHSPH_CHS "It's not possible to distinguish #HMPV clinically from #influenza," says Senior Scholar @AmeshAA

"HMPV is a cause of 'the cold'—which is a syndrome that caused by many different viruses." https://t.co/dsCr5hchg2

— Global Health Observ (@GlobalPHObserv) June 1, 2023
======
The % Americans age 65 and older who were Novids at that time was much higher than younger age groups. This adds to the risk profile for people of advanced age (lack of hybrid immunity added to immunosenescence) pic.twitter.com/tJoBlTjhfc

— Eric Topol (@EricTopol) June 1, 2023
Thread: there's one person in Ohio…
First, the signal is almost always present in the Columbus Southerly sewershed, but not always at Washington Court House. I assume this means the person lives in Columbus and travels to WCH, presumably for work.
2/ pic.twitter.com/y2oojzs6lO

— Marc Johnson (@SolidEvidence) June 4, 2023
There was a scare story about wastewater viral levels in NYC:
I looked to verify the claims that NYC is having high community spread and found that it's an accidental misinterpretation of the WW data. The data comes from ONE WW service, who recently significantly increased sensitivity to their methodology. pic.twitter.com/9Mwfj4odtW

— JWeiland (@JPWeiland) June 3, 2023
Has there been an uptick from a very low baseline? Maybe? Sort of hard to tell either way with any confidence. Another week or so of data will help deterimne if it's starting to increase again. Even if numbers have returned to April levels, April was still very low in NYC

— JWeiland (@JPWeiland) June 3, 2023
Reader Interactions