Current status of this website: the billionaire owner and a podcast host worth hundreds of millions are currently dogpiling a pediatrician who develops vaccines to give to impoverished countries.

— Max Kennerly (@MaxKennerly) June 18, 2023
There's many reasons — contrarianism, credulity, GOP ratf*cking — but I honestly believe *part* of the current fad for 'Vaccines are the devil, and scientists are his servants' is that people want to forget the pandemic. If it was just a couple of bad flu seasons, exacerbated by globalists hoping to tighten their grip on an unwilling populace and Big Pharma wanting to increase profits, well… good thing clean people, superior intellects like the guy who owns twitter and the people who pay him for it, need nothing but their own informed debate and a sufficient supply of ivermectin!
Could the 4th of July mark the start of a summer #Covid surge? Los Angeles County data suggest 2023 may be different from other years when a summer Covid wave hit. Also, this is the 1st summer of the pandemic's post-emergency phase — a distinct new chapter https://t.co/qzZAwT6uwy

— delthia ricks 🔬 (@DelthiaRicks) June 20, 2023
The U.S. Food and Drug Administration (FDA) said on Friday it has advised manufacturers that are updating their COVID-19 vaccines to develop monovalent shots to target the XBB.1.5 subvariant. https://t.co/GdF2aw3opU

— Reuters Health (@Reuters_Health) June 17, 2023
#COVID19 vaccines protective in children ages 0 to 11

The study adds to the broader understanding of vaccine protection in kids & suggests vaccines are useful even in the face of naturally acquired immunityhttps://t.co/l5z9iBIHEN

Photo: Philip Mallis / Flickr cc pic.twitter.com/xVseUIIJpY

— CIDRAP (@CIDRAP) June 20, 2023

======
WHO: Covid-19 hotspots across the globe up to 15th June 2023 pic.twitter.com/AHBL0OHANv

— CoronaHeadsUp (@CoronaHeadsUp) June 15, 2023
WHO: Only 59% of countries and territories are still reporting Covid cases.

The proportion has been consistently declining since mid-2022.

— CoronaHeadsUp (@CoronaHeadsUp) June 20, 2023
During the COVID19 pandemic, researchers from Brazil to South Africa to India kept tabs on how SARS-CoV-2 was evolving by determining the genetic sequences of viruses.But many of the countries that uploaded sequences were slow to receive the shots https://t.co/xzWqFJLV0c

— Dr Agnes Soucat (@asoucat) June 20, 2023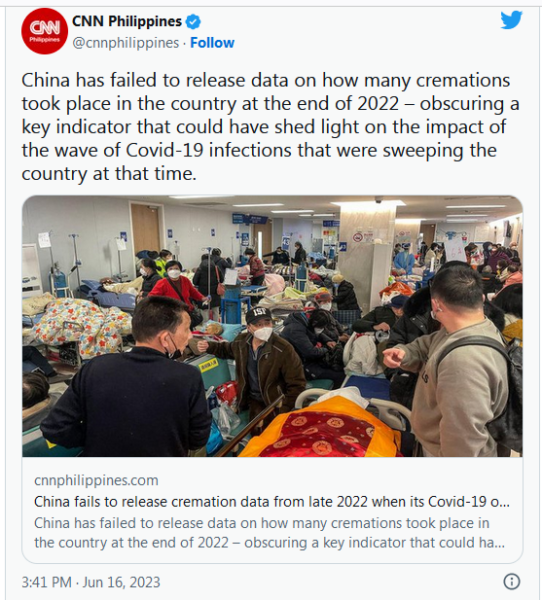 (link)
The WSJ is *never* giving up it lab-leak chew toy: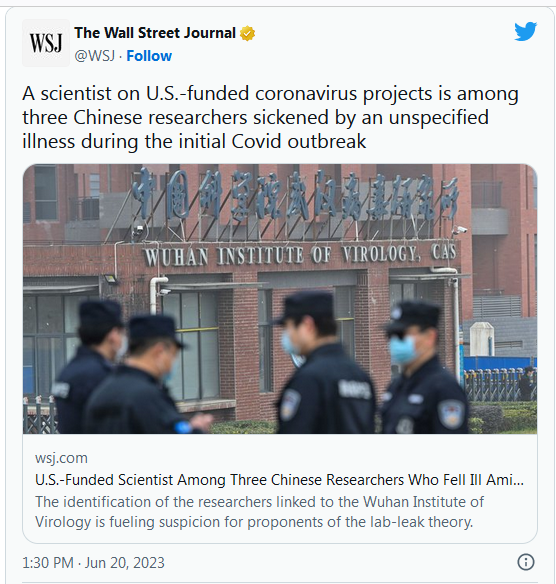 (link)
Excited to be back in NYC where I will be meeting with Indian PM ⁦@narendramodi⁩ to discuss our Covid vaccines for India and partnership with ⁦@TexasChildrens⁩ ⁦@BCM_TropMed⁩ proof-of-concept that the US and India can do big things together in science pic.twitter.com/iggVwWUkBA

— Prof Peter Hotez MD PhD (@PeterHotez) June 20, 2023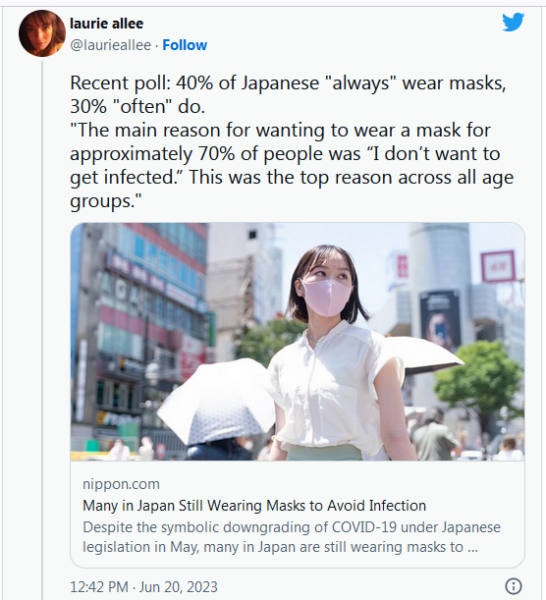 (link)
Zambia: Rising COVID-19 cases in fresh wave

Zambia recorded 208 new COVID-19 cases in the past 24 hours. The cases were recorded from 2,231 tests done, representing daily positivity of 9%.https://t.co/HqSZY0We8n

— CoronaHeadsUp (@CoronaHeadsUp) June 20, 2023
New Zealand: 8544 new Covid cases, 39 new deaths.

Total Covid deaths in NZ are now 3,077 – almost all of those have occurred in the last 15 months.https://t.co/uPCfbaG5Ij pic.twitter.com/G7F6z49ycU

— CoronaHeadsUp (@CoronaHeadsUp) June 19, 2023
Every time you catch COVID-19, your risk of other severe issues starts to rise.

Research is starting to show that with reinfection, your chance of serious issues such as diabetes, mental health issues, and chronic fatigue goes up. pic.twitter.com/qdr3o9zFcI

— Unite against COVID-19 (@covid19nz) June 19, 2023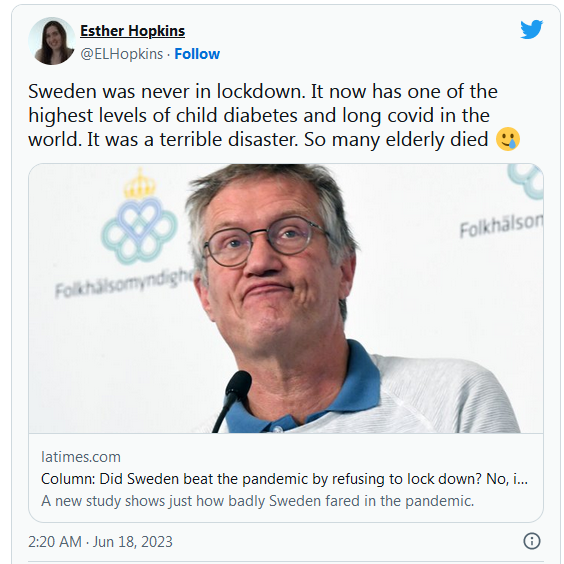 (link)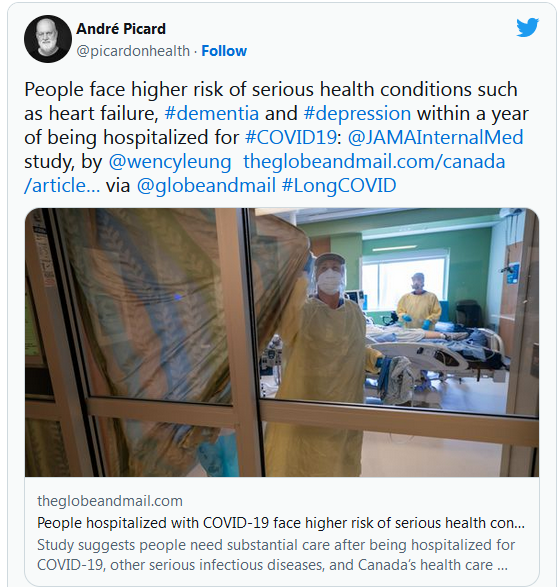 (link)
======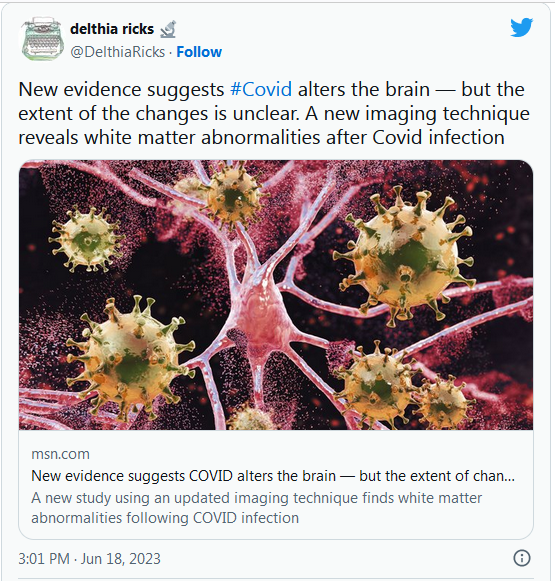 (link)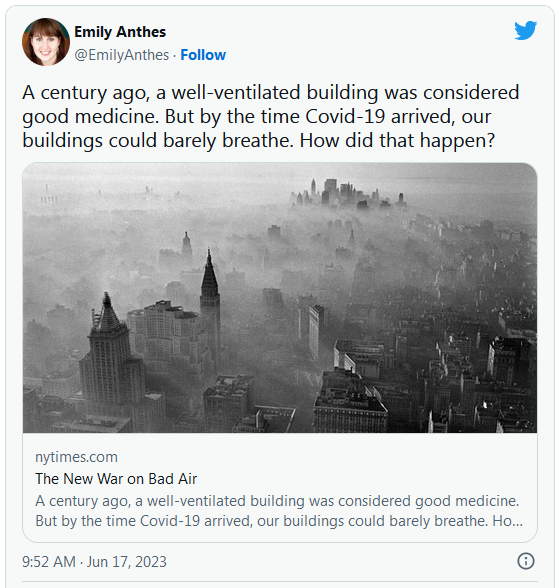 … One of the paramount lessons of the Covid-19 pandemic is that fresh air matters. Although officials were initially reluctant to acknowledge that the coronavirus was airborne, it soon became clear that the virus spread easily through the air indoors. As the pandemic raged on, experts began urging building operators to crank up their ventilation systems and Americans to keep their windows open. The message: A well-ventilated building could be a bulwark against disease.

It was not a novel idea. More than a century ago, when infectious diseases ravaged cities in the United States and Europe, public health reformers preached the power of good ventilation, and open-air homes, hospitals and schools sprang up in New York, London and other locales on both sides of the Atlantic.

But over the last century, society lost hold of that idea. Scientific advances turned pathogens into problems that could be solved at the individual, biomedical level, with medicines and vaccines, rather than through infrastructure or societal change. Skylines became crowded with air-conditioned towers. An energy crisis encouraged engineers to seal structures tightly. And by the time the coronavirus arrived, Americans were spending their days in schools, offices and homes that could barely breathe.

"So you get a virus that spread nearly entirely indoors butting up against our building infrastructure that we know is not designed for health," said Joseph Allen, an expert on healthy buildings at the T.H. Chan School of Public Health at Harvard.

Three years later, many Americans have a new, hard-earned appreciation for the health benefits of clean air. But some experts worry that the lesson may not stick. The Covid-19 public health emergency has now expired, and public attention has shifted to other airborne threats, such as the acrid wildfire smoke that has recently smothered many Eastern cities. Given these developments, it might be tempting to seal our buildings back up again…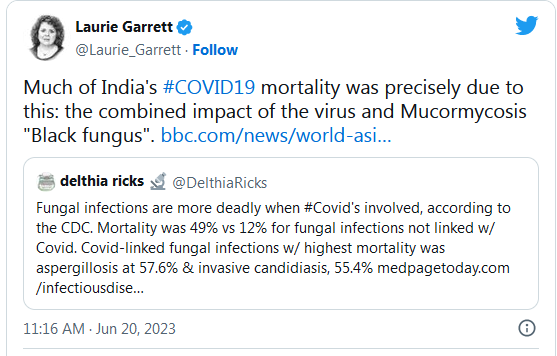 (link)
#LongCovid's brain fog is a serious medical issue that needs more attention. But 'brain fog' is such a nebulous term that it delegitimizes efforts to get disability accommodations and medical leave for sufferers https://t.co/xq3Fry0hHA

— delthia ricks 🔬 (@DelthiaRicks) June 17, 2023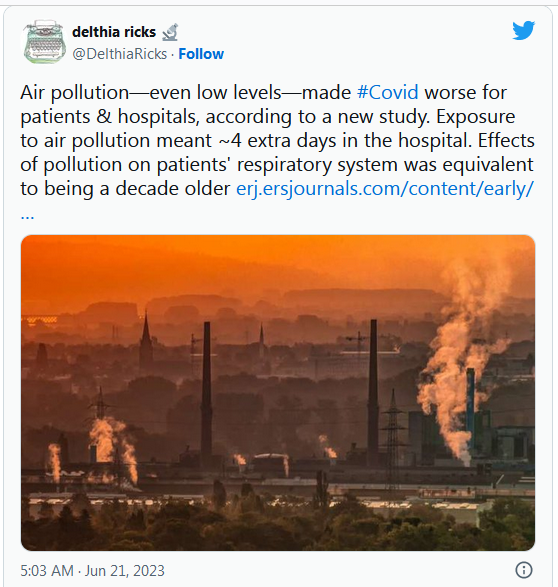 (link)
======
.@CDCgov directors have traditionally been infectious disease experts who've risen from the ranks to lead the storied agency. Mandy Cohen, who is expected to be the next CDC director, is cut from a different bolt of cloth. https://t.co/kyv0QtEE6Z

— Helen Branswell 🇺🇦 (@HelenBranswell) June 15, 2023
A "walking public health hazard" is putting it gentlyhttps://t.co/0JHu28Ls9d by @hiltzikm pic.twitter.com/DJmBJaAtAx

— Eric Topol (@EricTopol) June 20, 2023
I think this quote – from the excellent recent CONSPIRITUALITY – also gets at some of the anti-vaccine stuff among the tech rich; it's a communal effort in which they can't feel special. https://t.co/46ewlrOVzJ pic.twitter.com/GNOPQRZIm4

— James Palmer (@BeijingPalmer) June 18, 2023
It is crazy how the antivaxx just don't give up. They promised mass extinction events, widespread infertility, mutant babies. None of it happened and they're still duping some of the richest, most gullible men on earth.

— Ben Collins (@oneunderscore__) June 18, 2023
Reader Interactions