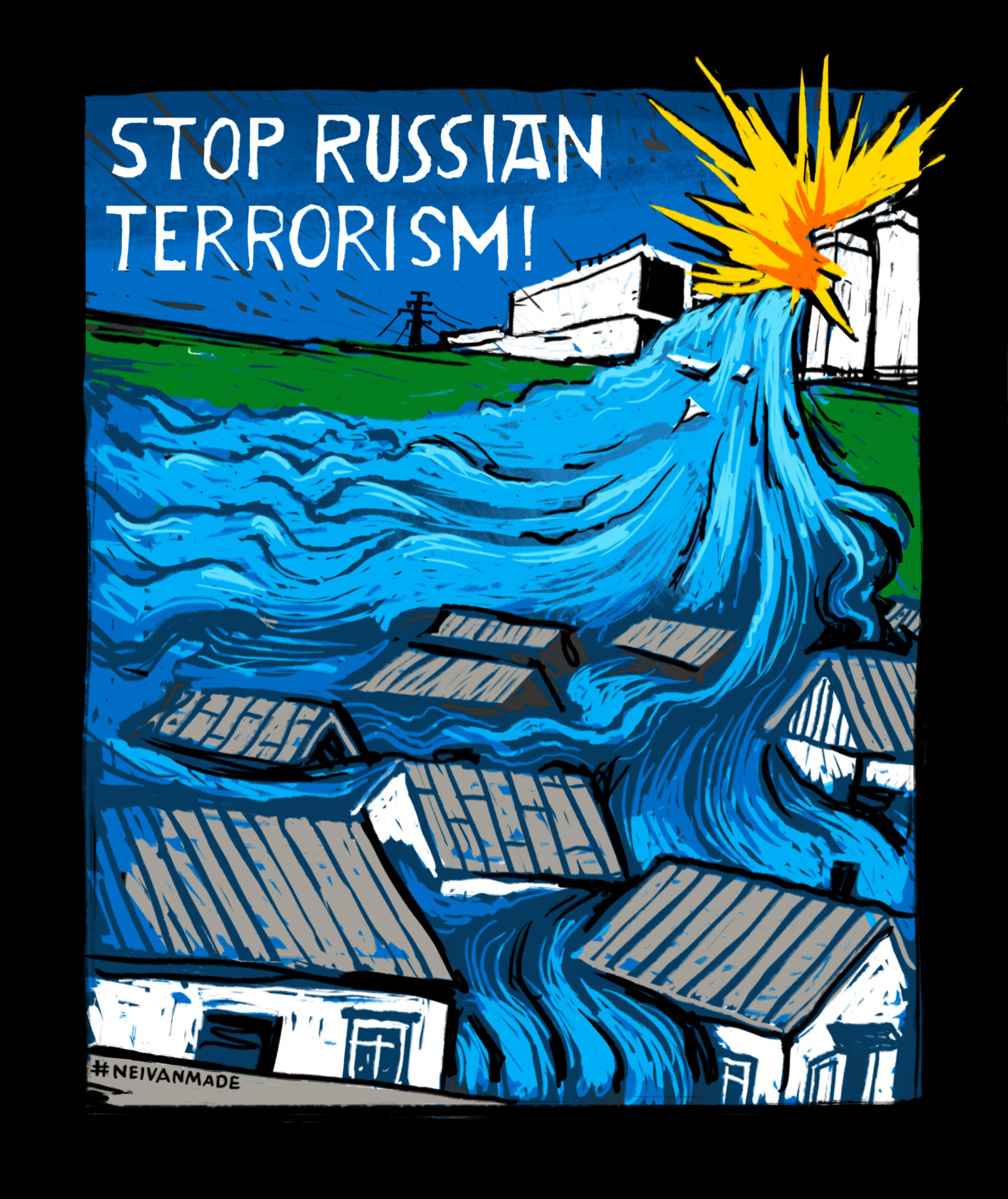 (Image by NEIVANMADE)
Someone asked in comments last night why I wasn't using Chuck Pfarrer's maps anymore. The simple answer is he took several weeks off and that led me to stop using them while he was on hiatus. I will endeavor to bring them back.
Earlier today President Zelenskyy address the Ukraine Recovery Conference, which is being held in London. The Financial Times has the details:
President Volodymyr Zelenskyy appealed to his allies to start funding "real projects" for his country's reconstruction at a summit in London dedicated to spurring a Ukrainian recovery.

"We must move from vision to agreements and from agreements to real projects," Zelenskyy told foreign ministers, Ukrainian officials, bankers and development experts at the Ukraine Recovery Conference in London by video link.

"Every new day of Russian aggression brings new ruins," Zelenskyy said.

The World Bank estimated in March that the cost of reconstruction and losses to the Ukrainian economy from Russia's war stood at $411bn with $14bn needed for priority repairs this year.

The conference is intended to encourage private sector-led investment in Ukraine's recovery, including by expanding publicly subsidised insurance to cover war risks for investors.

"The war has proved how much Ukraine has to offer," said UK prime minister Rishi Sunak.

However, progress on insurance fell well short of Ukrainian hopes for a G7-funded scheme covering billions of dollars of private investment.

The World Bank's insurance agency (Miga) said it was earmarking an extra $23mn to its existing Ukrainian scheme, financed by Japan, while the UK said it would provide Miga with £20mn in guarantees. The US, Germany, France and Poland are all backing national initiatives.

UK officials said the event was not a "pledging conference" but that individual pledges from governments and announcements of loans from international financial institutions would allow Ukraine to approach the $14bn need for priority repairs and investments.

US secretary of state Antony Blinken said Washington was sending an additional $1.3bn in aid to strengthen Ukraine's energy grid, modernise and expand its border and port infrastructure to ease export flows and subsidise war risk insurance.

The EU said it would provide €50bn in grants and loans over the next four years. The UK will give £3bn in guarantees to the World Bank to expand its lending to Kyiv. Germany said it would give Ukraine a further €381mn in humanitarian aid this year. The European Investment Bank will back infrastructure projects with €840mn of investments.
More at the link.
And here is the video. President Zelenskyy addressed the conference in English:
The video of President Zelenskyy's daily address and the English transcript of it will be after the jump.
It is our state that global hopes are focused on, and our people will justify them: Ukraine will win – address of President Volodymyr Zelenskyy

21 June 2023 – 22:32

Dear Ukrainians, I wish you health!

First. Front. Fierce battles. South – we're destroying the enemy. Donetsk direction – we're destroying the enemy. The Kupiansk direction – whatever the Russian terrorists are planning there, we will destroy the enemy.

In the South, we are advancing. Thank you, warriors! In the East, our defenses are firming. And I am especially grateful, guys, for every shot down Russian helicopter… Each shooting down is important.

Second. London. Our special Ukraine Recovery Conference organized with the British began today.

Thank you, the United Kingdom, for the new financial support package. Thank you, the United States, for the package for our infrastructure and energy. Thank you, the European Union, for the EUR 50 billion financial instrument presented by President of the European Commission Ursula von der Leyen for our reconstruction.

The purpose of this Conference in London is not simply to generate the efforts of our partner states, but also to have international business support for our transformation. Currently, a Ukrainian delegation is working in the UK – the government, the Office, the Verkhovna Rada, the public sector. Every aspect of Ukrainian recovery and further development of our state will be presented to those global business figures whose attention we directly need: our industries, cities, communities, the country in general. Ukraine's task is to transform the moral leadership of our people into the economic leadership of our country. All the prerequisites for this exist, first of all, in our people, in our beautiful strong nation.

Third. A new package of EU sanctions against Russia is finally being approved. Part of its norms was prepared based on the proposals of the International Sanctions Group chaired by Michael McFaul and Andriy Yermak. This package will further limit Russia's profits it has received in Europe so far, and will also block some of the routes to bypass the previously introduced sanctions. This is now one of the priority tasks.

All our partners are fully aware of how crucial it is to block all avenues to circumvent sanctions. The terrorist state still has access to various products and components, technological and financial schemes, created by those in the world who still value freedom and international law.

Russia must be in complete isolation while Russia's main export products are evil and death.

And one more.

I accepted credentials from ambassadors of foreign countries who arrived in Ukraine. Norway, Switzerland, Azerbaijan, Pakistan, Iceland. New ambassadors. In general, more than 60 embassies and representative offices of states and more than 20 representative offices of international organizations operate in our country.

To work in Ukraine, to work with Ukraine, is to believe in Ukraine and Ukrainians. The world is with us despite everything the evil state tries to do against us. The 483rd day of the full-scale war. It is our state that global hopes are focused on. And our people will justify these hopes. Freedom will win. Ukraine will win.

I thank everyone who fights and works for Ukraine!

Glory to all who strengthen freedom!

Glory to Ukraine!
President Zelenskyy sat for an interview with the BBC. Here are some excerpts:
President Volodymyr Zelensky has acknowledged battlefield progress has been "slower than desired", weeks into Ukraine's military offensive to recapture areas occupied by Russia.

"Some people believe this is a Hollywood movie and expect results now. It's not," he told the BBC.

"What's at stake is people's lives."

Ukraine says its counter-offensive has reclaimed eight villages so far in the southern region of Zaporizhzhia and Donetsk to the east.

Mr Zelensky said the military push was not going easily because 200,000 sq km (77,220 sq miles) of Ukrainian territory had been mined by Russian forces.

"Whatever some might want, including attempts to pressure us, with all due respect, we will advance on the battlefield the way we deem best," Mr Zelensky added.

He reinforced the need for Ukraine to be given security guarantees from Nato but said ultimately the goal was membership of the defensive alliance.

Nato's secretary general made clear this week that no plan was on the table to issue an invitation to Ukraine at next month's summit in Lithuania.

"[Jens] Stoltenberg knows my position," the Ukrainian leader said "We've told them numerous times: 'Don't knock the ground from under our feet.'"

The Ukrainian leader again made the case for Ukraine to receive US-made F-16s and said he believed fighter pilots could start training as soon as August, and that the first jets could arrive in six or seven months' time.

The Ukrainian leader told the BBC that the support he needed was not just for recovery but for transformation as well.

He said "quick steps" to be done immediately included finding places for people to live, rebuilding the destroyed Kakhovka dam and decentralising the energy network.

"But on the larger scale we are speaking about the transformation of Ukraine," he explained. "This is Ukraine not only with its energy and agriculture and industrial complexes, but with its reforms we can see."

He spoke of "the digitilisation of Ukraine" as well as judicial and anti-corruption reforms.

When I asked him what the endgame of the war looked like at this stage, he made clear that "victories on the battlefield are necessary" and that Ukraine would never sit down with whoever was president in Moscow, if Russia remained on Ukraine's territory.

"No matter how far we advance in our counter-offensive, we will not agree to a frozen conflict because that is war, that is a prospectless development for Ukraine."

Russia announced a few days ago that it had moved tactical nuclear weapons to Belarus and President Joe Biden has warned that the threat of Vladimir Putin using them is real.

So I asked Mr Zelensky if he was worried by that threat.

"Putin has been dangerous for us since 2014 when he occupied the first of our territories," he said.

"He will talk about the use of nuclear weapons, I don't think he is ready to do it because he is scared for his life, he loves it a lot. But there is no way I could say for sure, especially about a person with no ties to reality, who in the 21st Century, launched a full-scale war against their neighbour."

I also asked for his reaction to President Putin telling an international conference in St Petersburg last week that he was a disgrace to the Jewish people. Mr Zelensky lost many of his relatives in the Holocaust, including his grandfather, and it was clear that he was taken by surprise by the question.

He took a deep breath, put his head down and a few seconds later said he wasn't quite sure how to answer the question.

"It's like he doesn't fully understand his words. Apologies, but it's like he is the second king of antisemitism after Hitler.

"This is a president speaking. A civilised world cannot speak that way. But it was important for me to hear the reaction of the world and I am grateful for the support."
There is a bit more left at the link.
Andrei Yermak, the Head of the Presidential Office of Ukraine (read that as Chief of Staff), held a virtual meeting with representatives from a number of Jewish organizations and communities today. Here's the write up from the Ukrainian presidential website:
For Ukrainians and Jews, it is a common war for their own history – Andriy Yermak at an online meeting with representatives of the Jewish community

21 June 2023 – 15:51

Head of the Office of the President of Ukraine Andriy Yermak held an online meeting with representatives of Jewish organizations, the Jewish community, and the Israeli media. More than 50 participants from around the world joined the meeting.

The main topic of the conversation was the unification of efforts of Ukrainians and Jews in countering anti-Semitism in the world, defending the historical truth about the value and contribution of the two peoples to world history, and possible ways to support Ukraine in the war unleashed by Russia.

The Head of the President's Office expressed gratitude for the increased support for our country from the Jewish communities, in particular for the significant humanitarian aid for the most vulnerable groups of Ukrainians.

At the same time, he called on the participants of the meeting to contribute to strengthening Israel's military assistance to our country.

"I believe that today it is Israel that can help Ukraine in the issue of protection against Iranian drones. And we look forward to creating a joint initiative in this regard," emphasized Andriy Yermak.

He reminded that the two countries are linked by more than just friendly relations. Many prominent Jews were born in Ukraine, and many Ukrainians saved Jews during World War II.

"It is natural and historical for Ukraine and Israel to have the most friendly and partnership relations. True friendship has no time limits, and, of course, we must be together both during military challenges and during peace, which we believe in and which we hope will come to Ukrainian soil very soon," the Head of the Presidential Office noted.

According to him, today Ukraine has clearly defined its civilizational path as a democratic European country that treats all peoples with deep respect and honors the memory of the victims of the Holodomor and the Holocaust. Despite the military challenges, Ukraine does not stop working to restore the historical truth about these tragedies both domestically and on the world stage. Russia's imperialist efforts have always been aimed at degrading the value and significance of both the Ukrainian and Jewish peoples. And Vladimir Putin's remarks about President of Ukraine Volodymyr Zelenskyy once again emphasize this.

Andriy Yermak thanked the representatives of the Jewish community for the appropriate reaction: "The Kremlin not only tolerates, but incites the growth of xenophobia and anti-Semitism not only in Russia, but also around the world. That is why a decisive public response by Jewish public figures and a transparent position of the country's political leadership is extremely important."

The Head of the President's Office reminded that with the support of the President of Ukraine, the Verkhovna Rada had adopted a law on fighting anti-Semitism. Andriy Yermak also emphasized that it is extremely important to preserve the unity of the international community in supporting Ukraine and strengthening sanctions against Russia, in particular against Russian propagandists and all those who support the Russian regime.

The meeting was attended by: Soviet dissident, Israeli politician and human rights activist Natan Sharansky, President of the United Jewish Organizations of Williamsburg and North Brooklyn Rabbi David Niederman, President of the Jewish Confederation of Ukraine Borys Lozhkin, Secretary General of the National Fund of the Republic of Austria for the Victims of National Socialism Hannah Lessing, Chairman of the Board of the Raoul Wallenberg Center for Human Rights Jay Rosenzweig, and founder of the Center Irwin Cotler, representative of the Institute for the Study of Global Antisemitism and Policy (ISGAP) Larysa Rutman, Deputy Chairman of the Council of the Federation of Jewish Communities of Ukraine, Director of International Relations Rabbi Raphael Rutman, representatives of the World Union for Progressive Judaism, the Vaad, Moishe House, Masorti Conservative Jewish Community, regional Jewish communities of Ukraine, and Israeli media.
There has been much gnashing of teeth and waling among the vatniks and tankies because General Zaluzhnyi has a Grogu patch on his plate carrier.
SUDDENLY pic.twitter.com/4Nvlz9cTkq

— Illia Ponomarenko 🇺🇦 (@IAPonomarenko) June 19, 2023
— Illia Ponomarenko 🇺🇦 (@IAPonomarenko) June 21, 2023
Vuhledar:
A mortar team of the 68th Jaeger Brigade stationed near Vuhledar.
Watch how they fight, how they live, and how they bring our victory closer day by day.

🎥 YouTube @UkrainianWitness pic.twitter.com/5P93ic2v7s

— Defense of Ukraine (@DefenceU) June 21, 2023
The Financial Times reports on the threat to Ukraine's counteroffensive from Russian aviation.
Russia's "dragon teeth" tank traps, minefields and multi-layered fortifications are just one set of obstacles in Ukraine's budding counteroffensive. Another formidable foe turns out to be airborne: the Russian Ka-52 "Alligator" attack helicopter.

In one of the campaign's early battles near Orikhiv, in Zaporizhzhia province, a Ukrainian infantry company drove into a minefield and reportedly came under fire from Alligators, losing several US-supplied Bradley infantry fighting vehicles and a German-built Leopard 2 tank.

It was unclear how many vehicles were destroyed or later recovered. Nor has Kyiv shed light on to how many Ukrainian soldiers were killed. But images of that battle, shared by Russian media and pro-war bloggers, spoke powerfully of the obstacles Ukraine's forces will have to overcome.

Ukrainian troops and western analysts and officials have long highlighted the role of aviation, including Russian fighter jets and attack helicopters in picking off Ukrainian armour, and the lack of air defences at the frontline to deter them.

"I personally saw how, during our assault, the enemy [fighter jet] aircraft immediately fired on our advancing troops using laser guided bombs from a far distance," said Stas, a soldier with an elite drone surveillance unit helping infantry regain lost territory in the south of the country. It was not an isolated incident, he said.

Russia's use of helicopters to attack armour was a "very powerful technique" to which Ukraine had no parity, said Stas, pleading for the west to provide Ukraine with US Apache attack choppers, in addition to F-16 fighter jets.
Much more at the link!
The threat from Russian rotary wing craft is why this is welcome news:
Today, Ukrainian defense forces shot down a russian Mi-24 helicopter.

Source: @GeneralStaffUA pic.twitter.com/uQZDRivbfA

— Defense of Ukraine (@DefenceU) June 21, 2023
Germany has announced another aid package for Ukraine. Here are the details:
Military support for Ukraine
Germany provides support for Ukraine by supplying equipment and weapons, these come from supplies of the Federal Arms Forces and from deliveries from industry financed from the Federal Government's funds for security capacity building. An overview.

Wednesday, 21 June 2023

This list provides an overview of military assistance provided by the Federal Republic of Germany to Ukraine. It includes deliveries from the Federal Armed Forces, from industry and assistance measures together with partners, which have, inter alia, been financed from Federal Government funds for security capacity building.

Funding for the security capacity building initiative amounts to 5.4 billion Euros for 2023 (after 2 billion Euros for 2022) and additional authorisations to enter commitments in the following years amounting to 10.5 billion Euros. These funds are to be used primarily for military assistance to Ukraine. At the same time, they will be used for re-filling Federal Armed Forces stocks for items delivered to Ukraine as well as for Germany's contributions to the European Peace Facility (EPF), from which costs incurred from providing military assistance to Ukraine can be re-imbursed to EU member states.

Delivered military support to Ukraine:

(Changes compared to the previous update in bold)

Armoured fighting vehicles

8 tracked all-terrain vehicles Bandvagn 206 (BV206)*
ammunition for LEOPARD 1*
18 LEOPARD 2 A 6 main battle tanks with ammunition (German share in joint project with further LEOPARD 2 operators)
40 infantry fighting vehicles MARDER with ammunition (from Bundeswehr and industry stocks*)
50 MRAP vehicles DINGO
54 M113 armoured personnel carriers each with 2 MG* (systems of Denmark, upgrades financed by Germany)
118 MG3 for LEOPARD 2, MARDER and DACHS
Spare parts for LEOPARD 2 and MARDER

Air defence

55,000 rounds ammunitions for self-propelled anti-aircraft guns GEPARD
1 air surveillance radar TRML-4D*
2 air defence system Iris-T SLM*
Iris-T SLM missiles*
air defence system PATRIOT with missiles
34 self-propelled anti-aircraft guns GEPARD including circa 6.000 rounds of ammunition*
4,000 rounds practice ammunitions for self-propelled anti-aircraft guns
500 Man Portable Air Defense Systems STINGER
2,700 Man Portable Air Defense Systems STRELA

Artillery

24,500 projectiles 155mm (before: 23,500)
155mm precision guided ammunition*
5 multiple rocket launchers MARS II with ammunition (German share in joint project with USA and Great Britain)
ammunition for multiple rocket launchers MARS II
14 self-propelled howitzers Panzerhaubitze 2000 (German share in joint project with the Netherlands)
20 rocket launchers 70mm on pick-up trucks with rockets*
counter battery radar system COBRA*

Military Engineering Capabilities

4 armoured engineer vehicles DACHS*
4 mine clearing tanks WISENT 1*
8 bridge-laying tanks BEAVER*
11 mobile and protected mine clearing systems*
15 armoured recovery vehicles Bergepanzer 2*
2 armoured recovery vehicles Bergepanzer 3
3 mobile, remote controlled and protected mine clearing systems*
17 heavy and medium bridge systems*
6 palettes material for explosive ordnance disposal

Protective and Special Equipment

152 border protection vehicles* (before: 146)
68 reconnaissance drones VECTOR*
93 drone detection systems*
40 frequency range extensions for anti-drone devices*
1 communications electronic scanner/jammer systems*
32 reconnaissance drones*
42 mobile antenna mast systems*
40 laser target designators*
55 anti-drone sensors and jammers*
10 unmanned surface vessels*
10 anti-drone guns*
28,000 combat helmets
125 binoculars
600 safety glasses
1 radio frequency system
3,000 field telephones with 5.000 cable reels and carrying straps
353 night vision goggles*
12 electronic anti-drone devices*
165 field glasses*
38 laser range finders*
6 mobile decontamination vehicles HEP 70 including decontamination material
10 HMMWV (8x ground radar capability, 2x jamming/anti drone capability)*
7 radio jammers*
8 mobile ground surveillance radars and thermal imaging cameras*
1 high frequency unit with equipment*

Logistics

25 truck tractor trains 8×8 HX81 and 20 semi-trailers* (before: 23/18)
108 trucks Zetros*
14 tracked and remote controlled infantry vehicles THeMIS*
4 load-handling trucks 8×6 with 20 roll of containers*
288 vehicles (trucks, minibuses, all-terrain vehicles)
179 Pick-ups*
12 tank transporter tractor M1070 Oshkosh*
26 load-handling trucks 15t*
35 load-handling trucks 8×8
30 protected vehicles*
10 roll off containers

Combat Readiness and Survivability

11,000 group module rations
83,520 rounds ammunition 40mm*
160,000 first aid kits*
103,000 tourniquets
500 pistols SFP9*
2 hangar tents*
8 lift trucks*
295 generators
10 winter camouflage nets
168 mobile heating systems*
36 ambulances*
36,400 wool blankets
14,000 sleeping bags
Mi-24 spare parts*
spare parts for heavy machine gun M2
200 tents
116,000 winter jackets
80,000 winter trousers
240,000 winter hats
405,000 pre-packaged military Meals Ready
67 fridges for medical material*
3,000 anti-tank weapons Panzerfaust 3 with 900 firing devices
14,900 anti-tank mines (9,300* from industry stocks)
22 million rounds of ammunition for fire arms
50 Bunkerfaust with 15 firing devices
100 machine gun MG3 with 500 spare barrels and breechblocks
100,000 hand grenades
5,300 explosive charges
100,000 m detonating cord and 100.000 detonators
350,000 detonators
100 auto-injector devices
15 palettes military clothing
1,200 hospital beds
18 palettes medical material, 60 surgical lights
protective clothing, surgical masks
1 field hospital (project jointly financed with Estonia)*
medical material (inter alia back packs, compression bandages)
Diesel and gasoline*
10 tons AdBlue*
500 medical gauzes*
MiG-29 spare parts*
7,944 man-portable anti-tank weapons RGW 90 Matador*
Military support to Ukraine in planning/in execution

(due to security concerns, the Federal Government abstains from providing details on transportation modalities and dates until after handover)

Armoured fighting vehicles

64 tracked all-terrain vehicles Bandvagn 206 (BV206)*
66 Armoured Personnel Carriers (APC)*
110 LEOPARD 1 main battle tanks* (project jointly financed with Denmark)
20 infantry fighting vehicles MARDER*
ammunition for LEOPARD 1*
ammunition for MARDER*

Air defence

PATRIOT missiles
6 air defence system IRIS-T SLM*
Iris-T SLM missiles*
12 launchers Iris-T SLS*
Iris-T SLS missiles (from Bundeswehr and industry stocks*)
7 air surveillance radars TRML-4D*
18 self-propelled anti-aircraft guns GEPARD*
300,000 rounds of GEPARD ammunition

Artillery

26,350 projectiles 155mm*
155mm precision guided ammunition*
18 wheeled self-propelled howitzers RCH 155*
16 self-propelled howitzer Zuzana 2* (project jointly financed with Denmark and Norway)

Military Engineering Capabilities

5 bridges for bridge-laying tanks BEAVER*
18 bridge-laying tanks BEAVER*
3 mobile and protected mine clearing systems*
38 mine clearing tanks WISENT 1*
1 armoured engineer vehicles DACHS*
3 heavy and medium bridge systems*

Protective and Special Equipment

357 reconnaissance drones VECTOR*
121 reconnaissance drones*
10 unmanned surface vessels*
40 ground surveillance radars*
1 Satcom surveillance system*
2000 portable light systems*
8 mobile antenna mast systems*
5 mobile reconnaissance systems (on vehicles) *
348 border protection vehicles*
vehicle decontamination system
11 communications electronic scanner/jammer systems*

Logistics

12 tank transporter tractor M1070 Oshkosh*
30 tank trucks (water/fuel)*
3 load-handling trucks 8×6 with 8 roll of containers*
65 heavy duty trailer trucks 8×8 HX81 and 70 semi-trailers*
2 tractors and 4 trailers*
10 protected vehicles*
92 trucks Zetros*

Combat Readiness and Survivability

340,000 first aid kits*
13 ambulances*
continuing deliveries of medical material*
100 machine guns MG5*
100 grenade launchers GMG*
17 mobile heating systems*
132,480 rounds ammunition 40mm for grenade launchers*
field hospital (role 2)*
5,032 man-portable anti-tank weapons*

* Deliveries from industry stocks financed by German funds for security capacity building. Some of the deliveries require upgrades or productions is ongoing; also training measures take place.
Obligatory:
The Prigozhin-Shoigu love fest continues:
❗️Prigozhin accuses the Russian MoD of hiding facts about the Ukrainian offensive and Russian losses.

In a 4-minute audio message, Prigozhin declares there are areas where no military reporters are allowed to hide the truth about casualties Russia is taking during the… pic.twitter.com/yuUXSZRLYA

— Dmitri (@wartranslated) June 21, 2023
Here's the full translation of Dmitri's tweet:
❗️Prigozhin accuses the Russian MoD of hiding facts about the Ukrainian offensive and Russian losses.

In a 4-minute audio message, Prigozhin declares there are areas where no military reporters are allowed to hide the truth about casualties Russia is taking during the counter-offensive. According to Prigozhin, Ukrainians are aiming to reach Molochny Lyman (likely to cut the Russian Zaporizhzhia group into two).
If things progress the same way, Russians will one day wake up with Crimea being Ukrainian, says Prigozhin.

He once again attacks Shoygu for inactivity and brings up the dead sailors of the Moskva cruiser lost by Russia last spring.
Tatarigami has a long thread taking down David Sacks, the chief sycophant and reply guy to the Starlink Snowflake. First tweet from the thread and the rest from the Thread Reader App:
Given the persistent efforts of individuals like David Sacks to pursue a "peaceful resolution" on russia's terms, it becomes crucial to review some pillars of Russian military strategy, thoroughly analyzed and documented by Michael Kofman in 2021.

🧵Thread: pic.twitter.com/a56ixiKGkO

— Tatarigami_UA (@Tatarigami_UA) June 20, 2023
2/ 

To gain a comprehensive understanding of the fallacy and manipulation within David Sacks' narrative, it is crucial to examine his words in the context of the ongoing Russian invasion and their military strategy, objectives and core principles. 

3/ 

In his work, 

@KofmanMichael

 assesses russian military strategy, including core theoretical pillars like operational concepts and strategic operations. Non-military means, including warfare in the informational space, are essential components of the russian military strategy.

4/ 

The paper quotes Alexander Serzhantov, Deputy Chief of the Military Academy of the General Staff, highlighting the significance of information warfare in establishing favorable conditions and achieving effects comparable to large-scale troop deployments. 

5/ 

Understanding the integration of informational warfare with kinetic military actions during the active phase of war is crucial. The concept of an active defense strategy seeks to impede the adversary's ability to launch a successful offensive to secure a definitive victory 

6/ 

Although this primarily applies to scenarios where Russia directly confronts technologically superior forces like NATO, in my view, this fundamental concept can be extended beyond the initial or early stages of warfare with superior force. 

7/ 

If effectively implemented, active defense strategy would force a war with high levels of attrition, where combination of defensive and offensive operations, would enable Russia to maintain the initiative and exert control over the course of the conflict. 

8/ 

This core concept is grounded in the belief that the United States or other adversaries may lack the necessary political determination to engage in a protracted conflict, especially when the objectives are limited and accompanied by significant costs and risks of escalation. 

9/ 

The primary objective is to compel the russian adversary into a prolonged attritional conflict through a combination of military and non-military strategies, inflicting substantial costs, and ultimately prompting them to seek the termination of the war

10/ 

Non-military means, such as psychological and informational operations, employed in the Russian military strategy, play a vital role in shaping the adversary's perception of the war. These operations contribute to the achievement of both military and political objectives.

11/ 

David Sacks and individuals sharing similar perspectives, whether willingly or unwillingly, effectively serve as a designated tool that promotes the termination of the conflict on terms favorable to Russia under the pretext of being a peace-seeking party.

12/ 

David utilizes manipulation tactics to influence the audience's perception, implying that the responsibility for the war's continuation rests with Washington rather than Moscow. This disregards the fact that Ukrainian people see this war as an existential.

13/ 

This approach facilitates Russia, a major adversary of the United States, in undermining support for Ukraine within the US. Consequently, it aids Russia in achieving its military and political objectives at the expense of Ukrainian territories and population. 

14/ 

While I refrain from making statements about whether individuals are russian tools voluntarily, it is important to say that military strategy incorporates operational warfare, which can exploit internal political struggles within an adversary to achieve military objectives 
The Zaporizhzhia front:
As stated, strikes at the location of Russian air defense system on the Zaporizhzhia front. https://t.co/jl1hptBFaS pic.twitter.com/e6iBSd2Fmz

— Special Kherson Cat 🐈🇺🇦 (@bayraktar_1love) June 21, 2023
Bakhmut by way of Kyiv:
Children from Bakhmut celebrate graduation in Kyiv. Their teacher Maryna Zhvania says children were happy. Finally, they met each other and their teachers. "It was as if I had been at home, in my Bakhmut". pic.twitter.com/9bbpJNXl7h

— Maria Avdeeva (@maria_avdv) June 21, 2023
Tallyho!
Morning in Ukraine: to cheer you up, a friend sends you amazing video of Ukrainian pilots flying ultra-low on Su-25s. pic.twitter.com/7tJWXTFhiT

— Maria Avdeeva (@maria_avdv) June 21, 2023
Lord, guard and guide the men who fly
Through the great spaces in the sky,
Be with them always in the air,
In dark'ning storms or sunlight fair.
O, Hear us when we lift our prayer,
For those in peril in the air.
That's enough for tonight.
Your daily Patron!
A new video from Patron's official TikTok!
Open thread!