US: Biggest rise in COVID-19 hospitalizations since December 2022.

At least 7,109 admissions of patients diagnosed with COVID-19 were reported for the week of July 15 nationwide, up from 6,444 during the week before.https://t.co/YihLLui2Zf

— CoronaHeadsUp (@CoronaHeadsUp) July 26, 2023

What juddering from epidemic to endemic looks like:
… At least 7,109 admissions of patients diagnosed with COVID-19 were reported for the week of July 15 nationwide, the CDC said late Monday, up from 6,444 during the week before.

Another important hospital metric has also been trending up in recent weeks: an average of 0.73% of the past week's emergency room visits had COVID-19 as of July 21, up from 0.49% through June 21.

The new figures come after months of largely slowing COVID-19 trends nationwide since the last wave of infections over the winter.

"U.S. COVID-19 rates are still near historic lows after 7 months of steady declines.  Early indicators of COVID-19 activity (emergency department visits, test positivity and wastewater levels) preceded an increase in hospitalizations seen this past week," CDC spokesperson Kathleen Conley said in a statement.

Conley said virtually all counties are at "low" COVID-19 hospital admission levels, below the thresholds at which the CDC recommends additional precautions to curb the virus.

Only one part of the country did not record more hospitalizations last week compared to the week prior: the Midwestern region spanning Illinois, Indiana, Michigan, Minnesota, Ohio and Wisconsin…

Unlike previous waves, no single variant has yet emerged this summer to dominate infections nationwide.

Instead, the CDC's current projections estimate that a mix of descendants from the XBB variant that first drove infections last winter are now competing around the country…

… [T]he CDC says current supplies of shots will still be shipped until September for "exceptional" situations.

"While many individuals may wait to receive a COVID-19 vaccine until the updated version is released, as it is expected to provide more robust protection against currently circulating variants, certain individuals may need or desire a COVID-19 vaccine prior to the anticipated release of the updated vaccine in the fall," the agency said.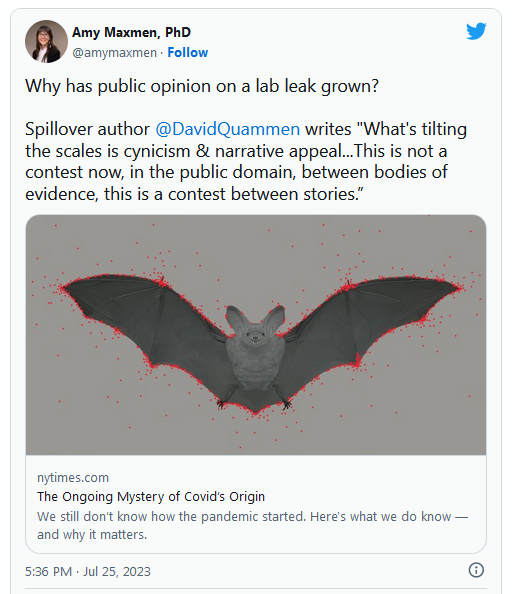 David Quammen is always worth reading. "The Ongoing Mystery of Covid's Origin": (Unpaywalled 'gift' link):
Where did it come from? More than three years into the pandemic and untold millions of people dead, that question about the Covid-19 coronavirus remains controversial and fraught, with facts sparkling amid a tangle of analyses and hypotheticals like Christmas lights strung on a dark, thorny tree. One school of thought holds that the virus, known to science as SARS-CoV-2, spilled into humans from a nonhuman animal, probably in the Huanan Seafood Wholesale Market, a messy emporium in Wuhan, China, brimming with fish, meats and wildlife on sale as food. Another school argues that the virus was laboratory-engineered to infect humans and cause them harm — a bioweapon — and was possibly devised in a "shadow project" sponsored by the People's Liberation Army of China. A third school, more moderate than the second but also implicating laboratory work, suggests that the virus got into its first human victim by way of an accident at the Wuhan Institute of Virology (W.I.V.), a research complex on the eastern side of the city, maybe after well-meaning but reckless genetic manipulation that made it more dangerous to people.

If you feel confused by these possibilities, undecided, suspicious of overconfident assertions — or just tired of the whole subject of the pandemic and whatever little bug has caused it — be assured that you aren't the only one.

Some contrarians say that it doesn't matter, the source of the virus. What matters, they say, is how we cope with the catastrophe it has brought, the illness and death it continues to cause. Those contrarians are wrong. It does matter. Research priorities, pandemic preparedness around the world, health policies and public opinion toward science itself will be lastingly affected by the answer to the origin question — if we ever get a definitive answer.
But much of the evidence that might provide that answer has either been lost or is still unavailable — lost because of failures to gather relevant material promptly; unavailable because of intransigence and concealment, particularly on the part of Chinese officialdom at several levels…

When the first known cases of an "atypical pneumonia" began turning up at Wuhan hospitals in late 2019, and then exploded into a coronavirus outbreak in early 2020, the location itself seemed to fit, in different ways, the priors that might incline one toward either a natural-origin explanation or a lab-leak explanation. The potential lab-leak connection was easiest to note: The city contained a research facility, the Wuhan Institute of Virology, with a well-known laboratory devoted to coronavirus research. On the other hand, Wuhan was also a major nexus for the significant national trade in wild animals for food, fur and traditional medicines (estimated at more than $70 billion annually), where such creatures, and the viruses they carry, were sold at many crowded markets — one of which, Huanan, lay at or near the center of the spatial pattern of earliest known cases.

So, starting from simply those circumstances, was a lab accident more "likely" than a natural spillover? And under either of those scenarios, how much did Chinese-government pressure and obscurantism constrain the availability of evidence for assessing one or the other? Because there exists no definitive account — yet — of the particular events that delivered SARS-CoV-2 into the human population, even experts are forced to frame their views as probabilities, based on data and circumstance, influenced variously by prior beliefs as to how the world works.

In assessing the probabilities for yourself, you might want to step back from the noise, anger, vitriol and politicization that have clouded the controversy and focus on the evidence we do have. To that end, it may help to note some events in the order they occurred…

So, what's tilting the scales of popular opinion toward lab leak? The answer to that is not embedded deeply in the arcane data I've been skimming through here. What's tilting the scales, it seems to me, is cynicism and narrative appeal.

I asked about this in conversation with David Relman, the biosecurity expert who was also an author of the "Investigate" letter with Jesse Bloom. To some extent, Relman agreed. "When you sow the seeds of distrust, or suggest that you haven't been transparent with what you knew," he told me, "you're setting yourself up for a persistent, insidious, continuing distrust." That inclines people to assume that "there was something deliberate, or deliberately concealed."…
Yes, it's quite a long article, but still: When you have some spare time, read the whole thing!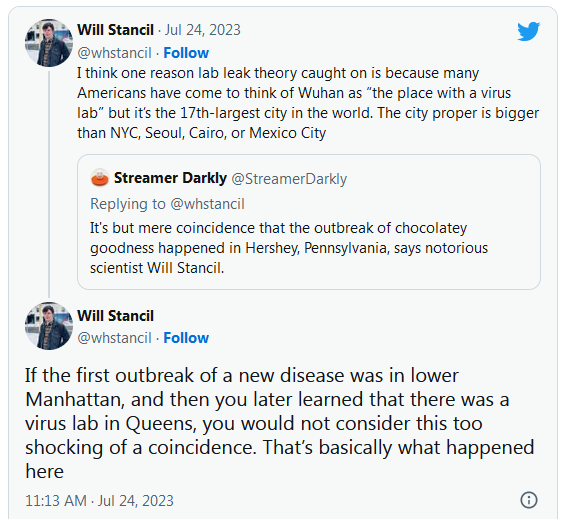 (link)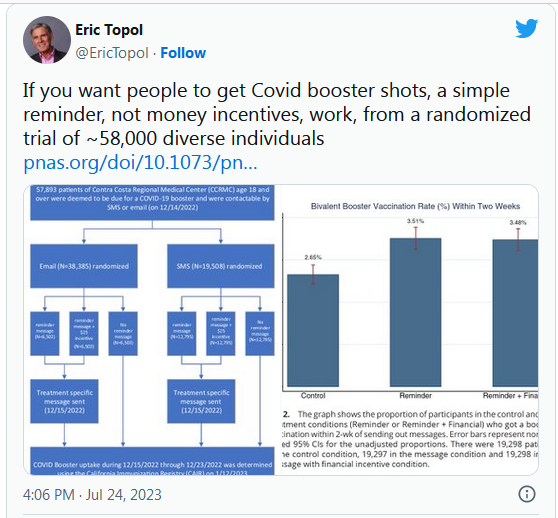 (link)
======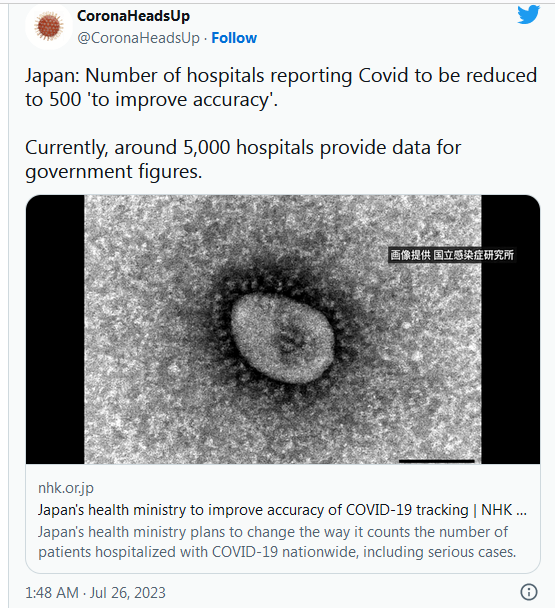 … The ministry collects information from all of the country's medical institutions on COVID in-patients including those seriously ill on ventilators.

But different circumstances at the institutions make it hard to obtain a detailed picture of the overall situation.

Starting in late September, the ministry will receive reports from about 500 designated medical institutions and release the figures every Friday.

A similar system is currently used to monitor the spread of seasonal influenza.

The ministry says it will use the system together with the reports on the average number of patients per medical institution to monitor the spread of coronavirus infections more accurately.
Italy:
A second booster with a mRNA bivalent vaccine offered the best protection against severe COVID-19 due to the Omicron BA.5 variant in older adults, reported @albertomateou. @MedPageID https://t.co/PvrzwvCOfM

— MedPage Today (@medpagetoday) July 23, 2023
we seem to be starting another, hopefully small, wave but this is a sign of how low prevalence had fallen a few weeks ago – and reaching the lowest number of Covid deaths since the start of the pandemic is a good thing!

We could & should def be doing more to keep them low. https://t.co/8NIYFCvfhk

— Prof. Christina Pagel (@chrischirp) July 25, 2023
Study: COVID deaths fell 84% in UK cancer patients after vaccine rollout

Hospitalization rates in cancer patients fell from 30.6% in early 2021 to 7.5% in 2022.https://t.co/ZR9SdIi99e pic.twitter.com/iQiOc1l5Ag

— CIDRAP (@CIDRAP) July 25, 2023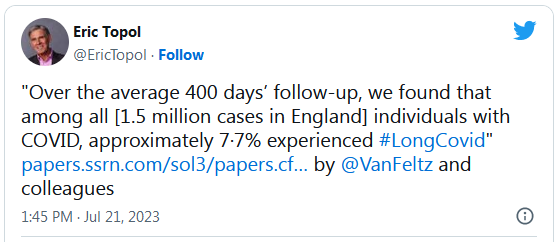 (link)
======
Encouraging news:
Researchers in @ScienceTM discover that boosters for mRNA #COVID19 vaccines can overcome gaps in vaccine-induced immunity in the immunocompromised—and elicit robust antiviral responses from T cells against the #Omicron variant. https://t.co/5tuthHc742

— Science Magazine (@ScienceMagazine) July 24, 2023
Why do some people not develop symptoms when they contract Covid? @MeganMolteni reports on a study that seems to explain why at least some of the asymptomatic people stay that way.
Luck of the draw. But scientifically very cool. 🧪https://t.co/8gml0Vt9dZ

— Helen Branswell 🇺🇦 (@HelenBranswell) July 19, 2023
#LongCovid is persisting as a mass disabling event.

The latest CDC data & an alarming World Health Organization statement about long Covid's persistent impact underscore the pandemic's lingering and debilitating effects https://t.co/i4zy3SX7pU pic.twitter.com/IJK7uoxQHY

— delthia ricks 🔬 (@DelthiaRicks) July 26, 2023
Study: The immunology of long COVID

"The oncoming burden of long COVID faced by patients, health-care providers, governments and economies is so large as to be unfathomable"

Prof. Danny Altmann https://t.co/ezhHJK6mBx

— CoronaHeadsUp (@CoronaHeadsUp) July 22, 2023
Long-COVID patients performed worse on cognitive tests for up to 2 years

The effects were equivalent to a 10-year age increase.https://t.co/afDwqzrF0J pic.twitter.com/6lQbWz5yfE

— CIDRAP (@CIDRAP) July 24, 2023
If you'd have told me 2 or 3 years ago that a real-time wastewater surveillance algorithm would become the primary way to detect Covid on the rise, I wouldn't have believed it. But it is now:https://t.co/MafNWQbY3h@PNASNews @MathematicaNow @belmusse pic.twitter.com/wKZB9lBNsg

— Eric Topol (@EricTopol) July 25, 2023
Just updated the @KFF #LongCOVID chart with current data

The number of people currently experiencing #LongCOVID is not declining!

Source: 1) https://t.co/lPhVhPJZyT

2) https://t.co/OSfqjgPgDJ https://t.co/PTrgw793Eu pic.twitter.com/BPJCoAmpBs

— Raj Rajnarayanan (@RajlabN) July 25, 2023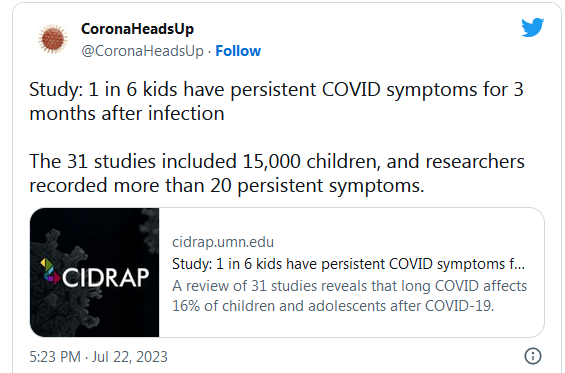 (link)
======
US, Florida: Nearly 10,000 cases of Covid reported during the past week, up 51% from last month. https://t.co/jxfakAWhJx

— CoronaHeadsUp (@CoronaHeadsUp) July 26, 2023
Houston seeing uptick in COVID-19 cases. My full ⁦@FOX26Houston⁩ interview with ⁦@CarolineonTV⁩ ⁦@AnthonyTVNews⁩ just now https://t.co/YDbpQICer9

— Prof Peter Hotez MD PhD (@PeterHotez) July 26, 2023
"Our study found evidence of higher excess mortality for Republican voters compared with Democratic voters in Florida and Ohio after, but not before, #COVID-19 vaccines were available to all adults in the US." https://t.co/OkIAPOF4Wa pic.twitter.com/Qkn7rlunvI

— Eric Topol (@EricTopol) July 24, 2023
"Aside from a massive uptick in deaths, post vaccine, during the Delta Summer."

The thing you're eliding is the thing the piece is highlighting. 20,000 people are dead who didn't have to be. https://t.co/q2vLp4mrPi

— Clean Observer (@Hammbear2024) July 23, 2023
Justttt placing this right here for no reason at all. https://t.co/E34f4rDF8T pic.twitter.com/PHdcHPdQbi

— Katelyn Jetelina (@dr_kkjetelina) July 25, 2023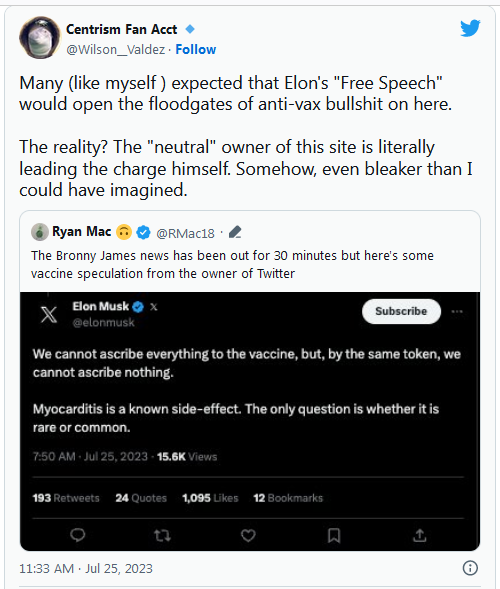 (link)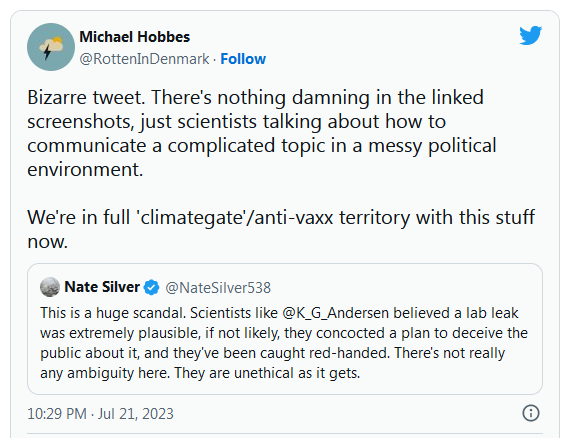 (link)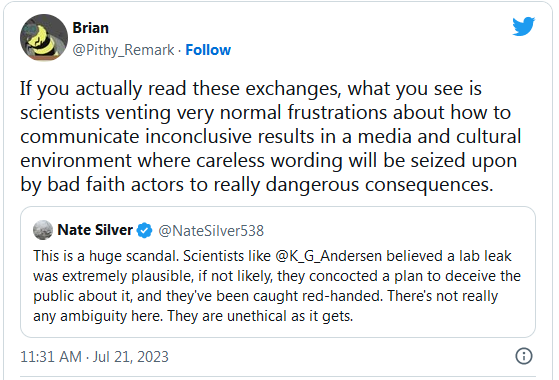 The idea that this is some nefarious cover-up essentially proves the very thing these communications show the scientists were concerned about–that moronic journalists and bad faith actors would twist their uncertainty into a conspiracy theory and run wild with it.

— Brian (@Pithy_Remark) July 21, 2023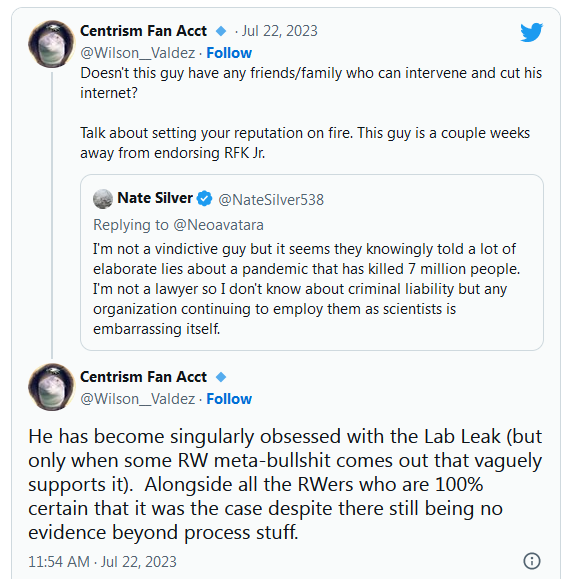 (link)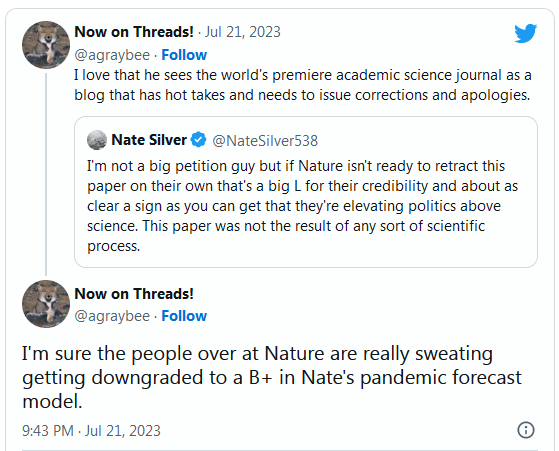 (link)
Reader Interactions