A new COVID vaccine is due out next month, but health experts and analysts say it is likely to be coolly received even as hospitalizations from "Eris", a variant of the Omicron form of the coronavirus, rise around the country. https://t.co/YCgj6imLYC

— Reuters Health (@Reuters_Health) August 14, 2023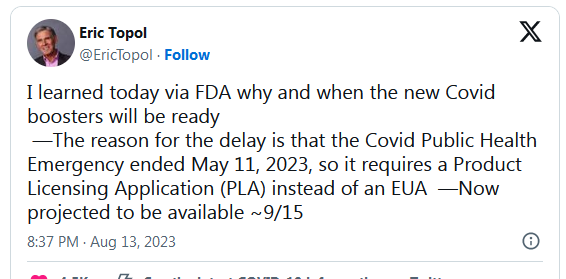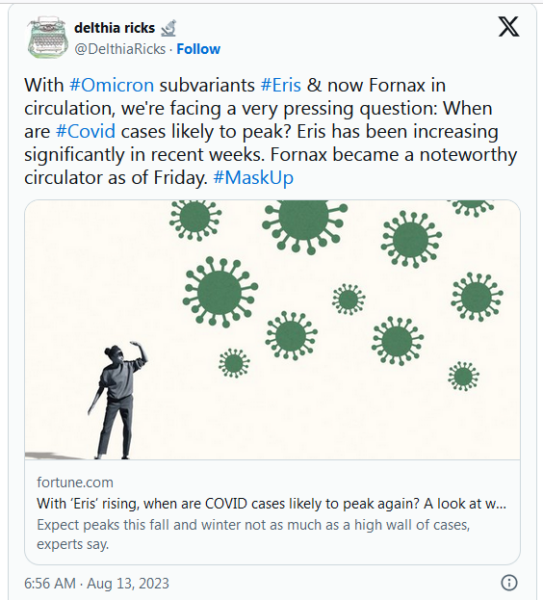 … As of Friday, another new player is more officially in the mix: "Fornax," or FL.1.5.1, an Eris relative named after a constellation in the southern hemisphere. That's according to Ryan Gregory, a biology professor at the University of Guelph in Ontario, who has been assigning "street names" like Kraken to high-flying variants.

FL.1.5.1 is the top variant currently reported in New York, considered a bellwether state by variant trackers. There, wastewater levels and hospitalizations are rising, notes Raj Rajnarayanan—assistant dean of research and associate professor at the New York Institute of Technology campus in Jonesboro, Ark.—and a top COVID-variant tracker…

Regardless, cases will likely peak in late November, shortly after the Thanksgiving holiday, Rajnarayanan says.

A post-Thanksgiving peak is typical for the virus, owing to holiday gatherings. Gregory agrees with the forecast. But in many ways, the landscape of the pandemic has changed from earlier days, he says.
From COVID's introduction to humans in late 2019 through the initial Omicron wave in January 2022, "you kind of have big, distinct, sharp waves, a big peak that went up fast and came down fast, driven by an individual variant—Alpha, Delta, Omicron," he tells Fortune.

But since last summer, there "just hasn't been that pattern anymore."

Instead, a new cadence developed—and it's likely to continue this fall and winter. It's one of a high wall of cases sustained by mini-waves of multiple new variants overlapping each other—one slicker, faster, sleeker Omicron spawn after the next.

It's all about the "high sea level rather than tsunamis," says Gregory….

Updated XBB.1.5 vaccines—matched to the dominant strain of this past winter—will reportedly be available by the end of September. And they should be a fairly good match, experts say, effective at preventing severe outcomes like hospitalization and death—and could help squash the predicted late-November peak…
Very good summary by @cmyeaton on the U.S. Covid situationhttps://t.co/SBnl6S9iLg pic.twitter.com/K6STGlFt90

— Eric Topol (@EricTopol) August 12, 2023
What % of people will pay for the boosters if their insurance plan doesn't cover it?
Far less than who got the bivalent booster free of charge (data below)
This will clearly worsen inequities with high risk people, who can't afford it, but would derive the most benefit. pic.twitter.com/NVofLbqjMd

— Eric Topol (@EricTopol) August 14, 2023
Currently spreading COVID-19 variants such as EG.5, or Eris, do not represent a major shift and updated vaccines in September will offer protection, the director of the U.S. Centers for Disease Control and Prevention said on Wednesday. https://t.co/YRUCQEFY4P

— Reuters Health (@Reuters_Health) August 10, 2023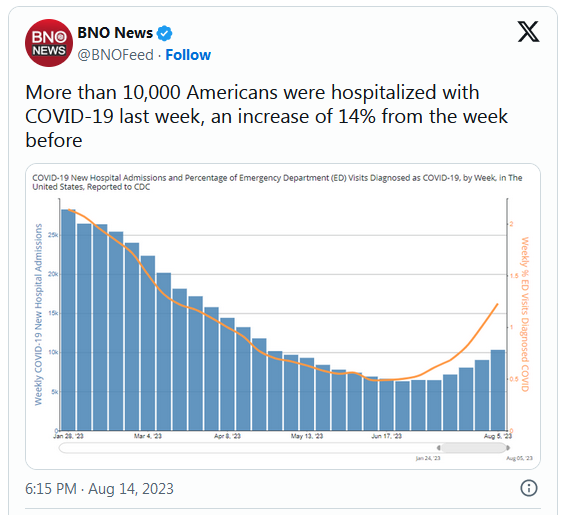 (link)
======
COVID infections and hospitalizations are on the rise in the US, Europe and Asia.

Health officials are pointing at the EG.5 'Eris' coronavirus, a subvariant of the Omicron lineage that originally emerged November of 2021 https://t.co/SUQABoiF6k 1/4 pic.twitter.com/u4vOazWAdt

— Reuters (@Reuters) August 14, 2023
#COVID19 is still circulating in every country.

Dr @mvankerkhove updates on the latest variant of interest EG.5 ⬇️ pic.twitter.com/YAoDQ2m4co

— World Health Organization (WHO) Western Pacific (@WHOWPRO) August 13, 2023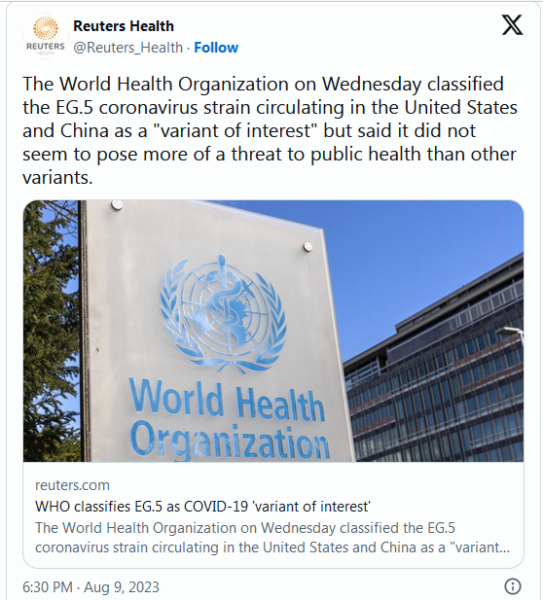 (link)
Here's the latest variant picture for the EG.5.* "Eris" variant, recently upgraded by the WHO from a "Variant Under Monitoring" to a "Variants Of Interest" .

The leading countries across Asia reporting EG.5.* are China (61%), Hong Kong (46%) and Taiwan (32%).
🧵 pic.twitter.com/1gZyV6Zx2b

— Mike Honey (@Mike_Honey_) August 11, 2023
Was South Africa punished for discovering Omicron? A new paper in Cell and highlighted in Nature as a major output showed that SA was probably the country to detect but not responsible >95% of spread of Omicron! Nothing as priceless as hindsight, to show that countries that… pic.twitter.com/n1dcauZZlb

— Tulio de Oliveira (@Tuliodna) August 13, 2023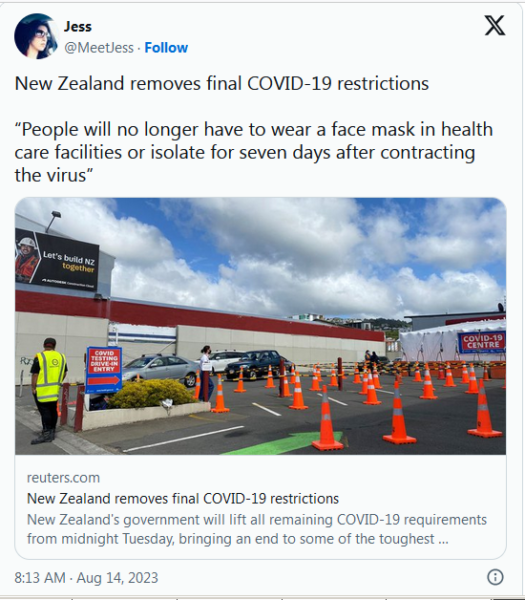 (link)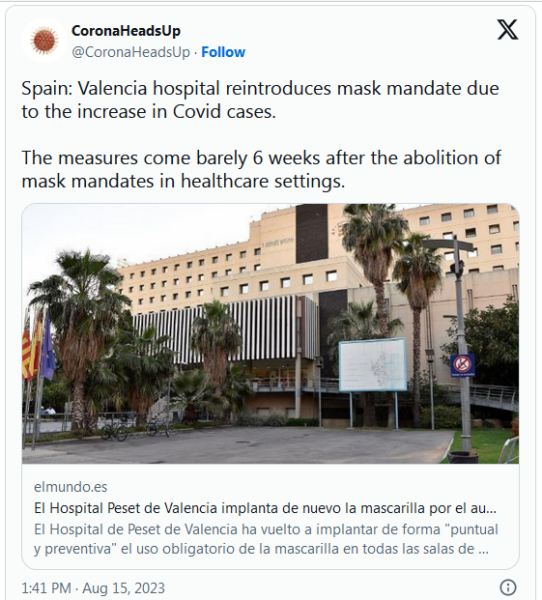 (link)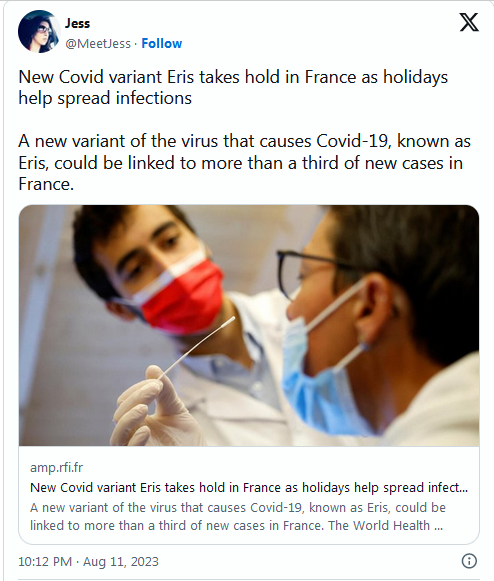 (link)
Latest English Covid hospital data:

Increases on all measures over recent week – admissions up 26%. Increases in people in hosp primarily for covid & people in critical care too (note critical care available since June 2023).

All regions⬆️except SW where its highest but flat. pic.twitter.com/48lJE0mFII

— Prof. Christina Pagel (@chrischirp) August 14, 2023
Canadian COVID Forecast: Aug 12-25, 2023

SEVERE: AB, BC
VERY HIGH: CAN,MB, NB, NL, ON, SK
HIGH: North, NS, PEI, QC
ELEVATED: none
MODERATE: none
LOW: none

About 1 in 46 people in Canada are CURRENTLY infected.

A new surge/wave has started in most provinces.

— Tara Moriarty (@MoriartyLab) August 14, 2023
======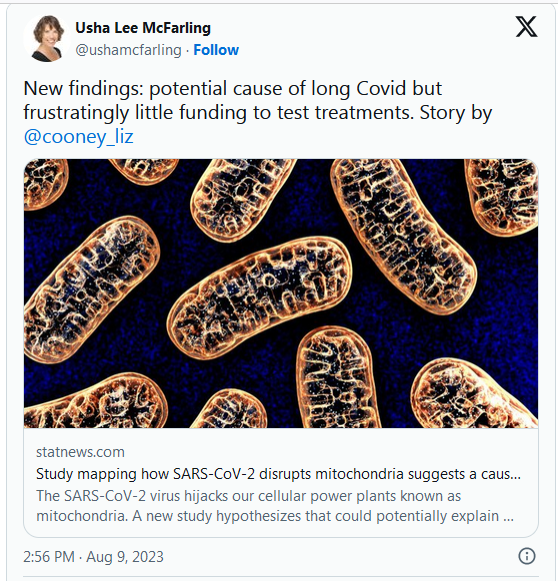 (link)
#LongCovid symptoms may emerge months after infection. The conclusion is from the large, prospective INSPIRE study. At 3, 6, 9 & 12 months after initially testing positive some people still had symptoms. Others had emerging symptoms not previously reported https://t.co/rusrUy114f pic.twitter.com/cE0tmiMRu2

— delthia ricks 🔬 (@DelthiaRicks) August 11, 2023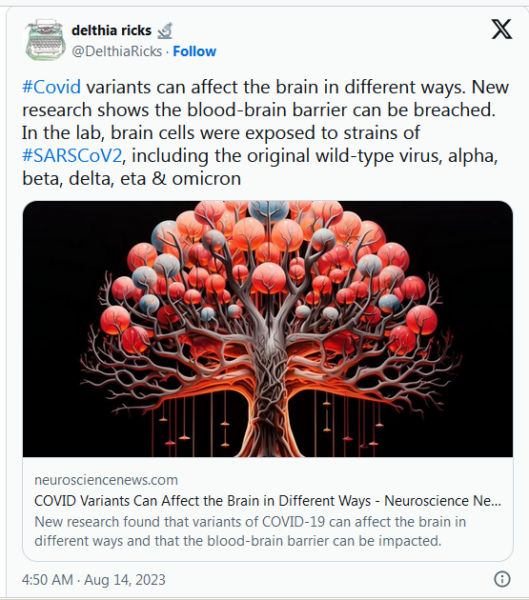 (link)
The gut #microbiome is a powerful predictor of #Covid-linked severity & mortality among hospitalized patients. The oral microbiome, however, is not a predictor of hospitalized Covid patients' fate, new research has found 👇 https://t.co/W3StLyzF70

— delthia ricks 🔬 (@DelthiaRicks) August 15, 2023
Keep an eye on this #SARSCoV2 variant that has popped up in Israel and Denmark with >30 mutations in the spike protein https://t.co/9r128ACoWQ

— Eric Topol (@EricTopol) August 14, 2023
======

(link)
A surprising jump in the Midwest's wastewater this week (https://t.co/llZyeAnNq2)

Estimates on current active infections in the population:

Midwest: 1 in 44 people ⬆️⬆️
Northeast: 1 in 70 people
South: 1 in 72 people
West: 1 in 75 people pic.twitter.com/5Uaoqoxr9Y

— JWeiland (@JPWeiland) August 12, 2023
Further evidence for my claim about how kids are taking a big hit with COVID right now. Don't listen to liars.

"In some parts of the country…the share of COVID-19 ER visits involving children ages 0 to 11 have already far surpassed older adults."https://t.co/2WrfgNhFUN

— Michael Olesen 💉😷🇺🇸🇺🇦 (@maolesen) August 15, 2023
People with positive #COVID19 results from home tests were 29% less likely to isolate

Those with positive home test results had significantly lower odds of isolating for any length of time than those with provider resultshttps://t.co/MuHreNV0k9 pic.twitter.com/yJbOkh9ArC

— CIDRAP (@CIDRAP) August 15, 2023
On the 52 American doctors who propagated Covid misinformation throughout the pandemic regarding vaccines, masks, promoting treatments without evidence, and conspiracy theorieshttps://t.co/txhx5HTsWS @JAMANetworkOpen by @Sahanasule and colleagues pic.twitter.com/5aFmLPNqoO

— Eric Topol (@EricTopol) August 15, 2023
I saw a post today saying myocarditis deaths were blowing up in the US.

Myocarditis is a very rare cause of death in the US. 2019, it accounted for 0.02% of all deaths in US.

In 2020 myocarditis death rate jumped 9.9%
DROPPED 10.3% in 2021
Dropped 8% in 2022 pic.twitter.com/wd4okIVi13

— Truth In Numbers (Daniel) (@Truth_in_Number) August 10, 2023
Whatever works!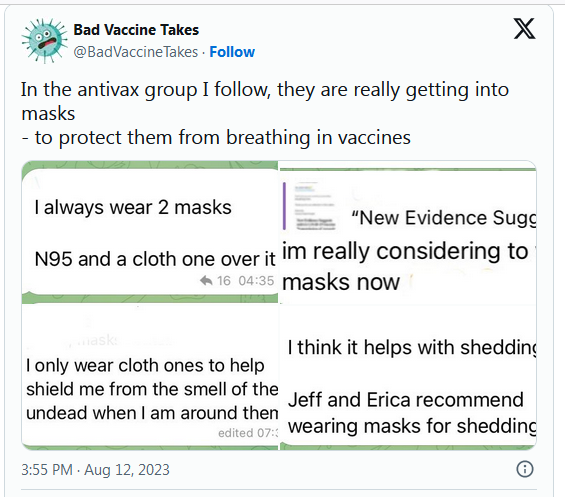 (link)