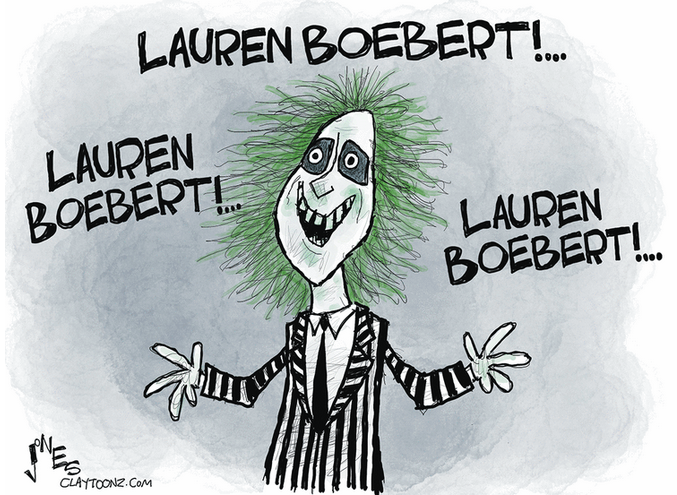 The surveillance state panopticon is preventing me from living out the American dream at a live performance of Beetlejuice in Denver, Colorado.

— Ben Collins (@oneunderscore__) September 16, 2023
They say all publicity is good publicity, and certainly Rep. Boebert has had no problem using previous (shall we say) unorthodox behavior to garner sympathy from her voting base — or at least her donor base, which for a woman who seems to have entered politics as an alternative to declaring bankruptcy is presumably incentive enough. But her latest shenanigans don't seem to have inspired the usual defensive clamor from the right-wing media, so…
Lauren Boebert, a self-proclaimed staunch proponent of "protecting our children from obscene content they should not be exposed to" can be seen here at an all-ages Beetlejuice musical rubbing a man's crotch while he gropes her breasts. Again, at an all-ages family show. 🤔 pic.twitter.com/tm08Q5Lifj

— Laura Burkhardt (@LauraAnnSTL) September 15, 2023
Lauren Boebert has perhaps shown a desire to reach across the aisle here.

— Michael McKean (@MJMcKean) September 16, 2023
Spare a thought (or a chuckle) for "bar proprietor Quinn Gallagher", who is going to have an embarrassing few days even if the Advocate is wrong in its identification as Boebert's date…
U.S. Rep. Lauren Boebert, a far-right Republican known for her homophobic and transphobic rhetoric, is dating a man who co-owns a bar that has hosted LGBTQ+ events.

Boebert and her date, Aspen, Colo., bar proprietor Quinn Gallagher, were forced to leave the Buell Theater in Denver during a performance of the musical Beetlejuice Sunday night because they were disturbing other audience members…

The man with Boebert has now been identified as Gallagher, co-owner of Hooch Craft Cocktail Bar in Aspen. The U.K.'s Daily Mail was the first to report the news.

The fact that they are dating is "very surprising," someone described as "a well-placed source" told the Mail. "I always thought Quinn was a cool guy and a Democrat. His parents would be horrified because they are definitely blue," the source said…
Maybe Mr. Quinn can claim he was just admiring the structural integrity of Rep. Boebert's new implants?
personally i find it offensive that children are exposed to such behavior (heterosexuality)

— Mrs. Detective Pikajew, Esq. (@clapifyoulikeme) September 15, 2023
Considering the rest of the video, she should have just admitted to the vaping. https://t.co/IQaEvkpnDR

— Tom Nichols (@RadioFreeTom) September 16, 2023
Hate when "the natural anxiety of being in a new environment" causes me to grab the dick of the dude sitting next to me. So relatable. https://t.co/QW00WeWmxi

— Centrism Fan Acct ?? (@Wilson__Valdez) September 16, 2023
When the overzealous intern ™ is … the candidate https://t.co/kbpKj28rKm

— Jonathan Martin (@jmart) September 16, 2023
Might want to rephrase this…. https://t.co/ki6wV4pC3d

— Jeff Greenfield (@greenfield64) September 16, 2023
Wise words from an expert on embarrassing oneself in public:
it also did not hurt anyone, unlike most MAGA legislation

— John Cole (@Johngcole) September 16, 2023
I don't care if Boebert blows an entire football squad cosplaying as Ted Cruz on top of a Russian Tank in the middle of a Trump rally. Give 'em their money's worth, I say, and earn a tip to boot.

But when she then starts lecturing America about "Christian values," well, it's on.

— Stonekettle (@Stonekettle) September 16, 2023
On stage, if the sponsors of the Texas Republican Youth Summit don't chicken out!
NEW: The Texas Republican Youth Summit has added Lauren Boebert as a speaker following her getting kicked out of a Denver theater for public sex acts, vaping, and causing a disruption. https://t.co/R1MQBwhPp7

— MeidasTouch (@MeidasTouch) September 16, 2023

Give Your Voters What They Want: not a live performance piece, it is to be hoped.