Another day, another automatic response: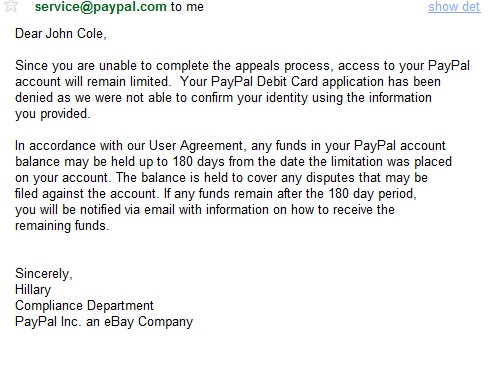 Ten years, and now they just can't be sure I am who I am. They only have my address, a copy of my bills, ten years of doing business with me, a copy of my driver's license, my bank information and numerous transfers to and from said bank with no incident, and my credit card company. Oh. And my phone numbers.
Suddenly, though, the sadists at Paypal can no longer can be sure I am who I am. I'm a fucking man of mystery and intrigue. Who is the real John Cole?
Paypal is the worst company in the world.
And again, I ask- what are they going to do with my funds at the end of the 180 days? Since they simply can not verify who I am, where are they going to send the money? They clearly don't trust my address, my bank, or my credit card, so how are they going to return my money? Will they walk down the street with fists filled with cash screaming for the real John Cole to come forward?