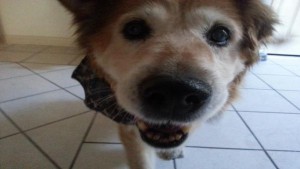 Commentor Larime the Gimp writes on behalf of his sister and her rescue dog Zoe:
Zoe was an owner surrender at the age of "17 years". She couldn't walk so well, had sores on her legs from living her life outside, terrible teeth, and could barely hear or see. I pleaded with rescues in my community, and finally an anonymous person helped me to pull her on the last day she was available before euthanization.

She loves going on car rides, to the dog park, and to play on the ground by rubbing her nose and paws against you when you pound on the ground next to her and call her name in her ear. She always has a smile and a wagging tail… but Zoe still needs help…

Her vet would like to still do an ultrasound to examine the enlarged spleen, a gravity urine analysis to check the diluted urine and a quarterly fecal exam and tumor check. The concern is that the spleen could be cancer, and with the diluted urine, she could be in the early stages of kidney failure. Only these tests will tell us for sure.

All of her medical bills and medication has cost me $927.96, and an ultrasound could be as much as another $150-$325 in addition to the urine, fecal, and medications.

Our hope is to raise $750 to go toward her current vetting bill all charged to her CareCredit card, and to go toward the ultrasound and future medication to help Zoe live out the rest of her life comfortably. Any amount is a huge help and is appreciated! ~Nae & Zoe
Commentor Nethead Jay has sad news about Hypatia:
Got this mail from the vet clinic that's taking care of Hypatia:

We saw Karen today… bringing our current balance to $336.57.

I told Karen that in order to go any further we need the payment taken care of. She is scheduled for 4.20pm for Hypatia's euthanasia tomorrow, but per Dr Yen we cannot proceed without the bill being settled. The expected fee for tomorrow is $324 (and this is without Karen getting the ashes back and having a general cremation for Hypatia). We are aware that donations are still coming in, but unfortunately we cannot continue to add to this balance…

That's after what's been donated so far has been paid to them. I can understand them, but this is awful timing…
If you can help out, here's Hypatia's fundraising page (with video, from happier days).
Finally, commentor GBear sent a link to cheer us up:
LOS ANGELES — Sunny was 16 when she was left at an animal shelter by the family she had lived with all her life. The 75-pound bulldog-pit bull mix had cancer and infected eyes, and shelter workers figured the family probably couldn't handle medical costs….

Fusaro, 44, had always avoided adopting older dogs because she didn't think she could handle it when they died. Sunny changed her mind. "No old dog should be left to die alone, unloved and broken-hearted on a concrete slab in a strange place," she said.

That day, Fusaro adopted Sunny and started making plans for "Silver Hearts," a photo book of old dogs that she hopes will encourage people to consider such animals. She plans to turn proceeds over to rescue organizations that save aging dogs.

When she took Sunny home, Fusaro figured she had a couple weeks, perhaps months at most. She never imagined Sunny would live long enough to be part of "Silver Hearts."

But Sunny rebounded and was soon eating, playing and loving trips to the beach. It's been over a year and Sunny is 17 now.

Fusaro's book is about 80 percent finished. She used shelter dogs, dogs of friends, Facebook, Sunny and her other dog Gabby…