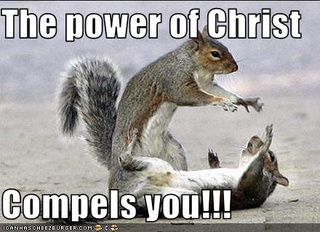 As we all now know, George Zimmerman was questioned by police for allegedly assaulting his estranged wife's father and threatening the father and soon-to-be-ex with a gun. But he wasn't arrested, and the gun wasn't confiscated:
Zimmerman [the wife] told officers who responded to her call that she never saw a weapon, police Chief Steve Bracknell said. Zimmerman and her father, David Dean, decided not to press charges, Bracknell said.

"We have no victim, no crime," Bracknell said.
So, just a misunderstanding between responsible gun owners. Mrs. Zimmerman's brother had an interesting comment though:
George Zimmerman has changed a great deal since he killed Trayvon, his brother-in-law said.

"Before the incident, he was probably the nicest person I ever met," DJ Dean said. "I think the guilt and self-hatred got to him."
I've been skeptical of the assumption that Zimmerman has a soul to corrode ever since his post-acquittal victory lap at the gun manufacturer's. Still, I wouldn't want to deal with the demons shooting an unarmed kid must raise.
Speaking of hell-spawn, Governor He-Who-Must-Not-Be-Named and his photogenic wingnut AG delayed an execution because of a fundraising event scheduling conflict. No, really:
Attorney General Pam Bondi persuaded Gov. Rick Scott to postpone an execution scheduled for tonight because it conflicted with her re-election kick-off reception.
When questioned about it, Scott pretended not to know why Bondi's office requested the delay, which is absurd. Bondi at least apologized for it, not that any expression of regret could possibly mitigate the breathtaking arrogance she and Scott displayed in this matter.
So an inmate who raped and strangled two women gets another 21 days on the planet. I'm opposed to the death penalty in all cases, so I'm not complaining about taxpayer dollars going toward his three hots and a cot for the next three weeks.
But here's hoping Bondi and Scott come in for some righteous blowback from the addled tea party loons who swept them to power. They couldn't have demonstrated more clearly that they don't give a rat's ass about so-called justice for victim's families or anything else besides money and power.
[X-posted at
Rumproast
]