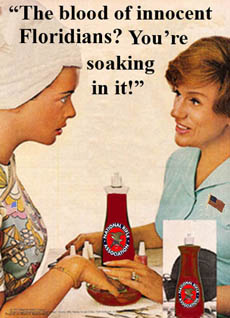 Remember when Florida let the NRA's Ma Hammer write the state's Stand Your Ground law? That worked out so well that they're adopting the pistol-packin' granny's draft of a new bill to allow armed yahoos to brandish firearms and fire warning shots if they feel threatened.
The theory goes like this: Instead of plugging an annoying movie texter in the chest and killing him outright, an armed citizen could just wave his Beretta around or fire a couple of rounds into the ceiling instead, thus saving lives! It's a pro-life bill!
Also, the Florida State Senator who is passing off the NRA's work as his own, Greg Evers, has developed a novel definition of Florida citizenship:
"A person with a firearm is a citizen," Evers said in a recent committee hearing defending the warning shot bill. "A person without a firearm is a victim."
Got that? No shootin' arn, no citizenship. I almost feel sorry for states like Texas, Utah, Oklahoma, Alabama, Mississippi, etc. Just when they think they can out-douche Florida, we release another douche-o-vation like Wave Yer Gun, and the outright crown for Douchiest State in America is ours once again. Suck it, South Carolina!