Someone threw a shoe at Hillary last night while she was speaking at a Scrap Recycling Industries event in Vegas.
[I was going to embed the video here, but I can't figure out how to turn off auto-play, and I hate fucking auto-play, which should be outlawed. So click the link if you want to see it.]
At first, she thought it was a bat, which explains the duck-and-circle maneuver. But after she figured out she was the target of a GWB-style shoe barrage, she handled it with aplomb:
Is that somebody throwing something at me?" Clinton asked, putting her right hand above her eyes to cut the glare of lights from the stage at Mandalay Bay

"Is that part of Cirque du Soleil?" Clinton quipped, prompting laughter from the audience.

"My goodness, I didn't know that solid waste management was so controversial," she added, referring to what she was talking about when the protester took action around 1:52 p.m. "Thank goodness she didn't play softball like I did."

The audience of more than 1,000 people attending the Institute of Scrap Recycling Industries' annual convention applauded Clinton's gumption and some stood, giving her a standing ovation.
Anyone who predicted that Clinton would run away from President Obama's record if she's gearing up for a 2016 campaign would find little evidence of that in her response to audience questions after the speech. She consistently praised the administration's handling of current issues.
Also, it sounds like the woman who threw the shoe is a garden-variety kook:
The Secret Service didn't release information about the papers the protester threw. But an attendee handed a reporter a piece of paper that was apparently thrown by her and it appeared to be a copy of a Department of Defense document labeled confidential and dated August 1967, The Associated Press reported. It referred to operation "Cynthia" in Bolivia.
Clinton was 20 in 1967; she probably wasn't involved in the Bolivian Army operation to capture Che Guevara. But who knows, right?
Speaking of kooks, Rep Louie Gohmert appeared on Faux News last night to help host and Defender of the White Megyn Kelly spin Gohmert's persecution of AG Eric Holder as black-on-white racial mau-mauing. If you're masochistically inclined, you can see the clip here. This still captures the tone: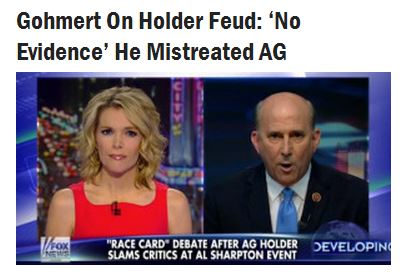 Does a photo of Gohmert exist where he doesn't look like a slack-jawed nitwit? If it does, I haven't seen it.