Some of the best people I know are dogs. The girl pictured below is one of the smartest dogs I've ever met, and hands-down the most complex. You can practically see the wheels turning when she is confronted with a choice.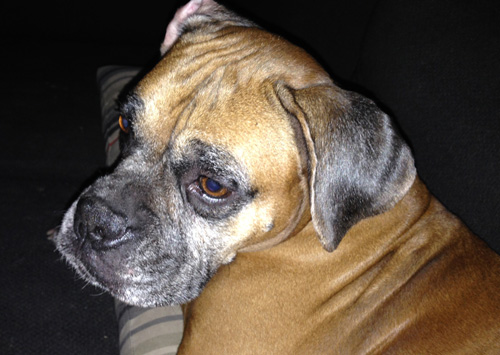 If I had to be trapped for all eternity with just one other creature, I'd pick her over approximately 7,234,693,309 of my fellow humans. She comforts me in my sadness, shares my joys and reminds me that life doesn't always suck.
I suspect many of us dog people understand through direct experience that our pets are complex, moral creatures. An article published in this weekend's WaPo and brought to my attention by valued commenter TOP123 confirms our suspicions. An excerpt:
In dogs' play, researchers see honesty and deceit, perhaps something like morality

Watch a couple of dogs play, and you'll probably see seemingly random gestures, lots of frenetic activity and a whole lot of energy being expended. But decades of research suggest that beneath this apparently frivolous fun lies a hidden language of honesty and deceit, empathy and perhaps even a humanlike morality.

Take those two dogs. That yogalike pose is known as a "play bow," and in the language of play it's one of the most commonly used words. It's an instigation and a clarification, a warning and an apology. Dogs often adopt this stance as an invitation to play right before they lunge at another dog; they also bow before they nip ("I'm going to bite you, but I'm just fooling around") or after some particularly aggressive roughhousing ("Sorry I knocked you over; I didn't mean it.").

All of this suggests that dogs have a kind of moral code — one long hidden to humans until a cognitive ethologist named Marc Bekoff began to crack it.

[snip]

To enforce moral conduct, dogs must be able to experience a spectrum of emotions, from joy to indignation, guilt to jealousy. They must also be able to read these emotions in others, distinguishing accident from intent, honesty from deceit. And indeed, recent studies by other scientists have shown evidence of these abilities (confirming what many dog owners already feel about their pets).

Scientists have found, for example, that dogs trained to shake hands with humans will stop shaking if they notice that they aren't being rewarded for the trick although a nearby dog is — a sign, the researchers suggested, that dogs can sense inequity.
Inequality — even dogs are pissed off about it!
Regarding dogs and guilt: ironically, the sweetest and most well-behaved dog I've ever had, a large male boxer (sadly missed to this day), was the most capable of expressing guilt. Once when my kid was still in diapers, the dog got into the diaper pail while we were out. The living room was so covered with shredded Huggies that it looked like it had snowed.
Before anyone uttered a word, the dog emerged from behind the sofa, looking like he'd just been accused of the most foul crimes imaginable. No rebuke was necessary.
That same dog was trained to stay off the sofa (we were more rigid about that sort of thing back then), but he had no qualms about lounging on the furniture when we were gone. When he was very old, he lost most of his hearing, so sometimes we'd return home and find him snoozing on the sofa, and he'd look startled and guilty as hell when he woke up and saw us standing there.
Now I regret that we didn't let him snooze wherever he damn well pleased, dog hair on the furniture be damned. Our current mutts do. Anyway, check out the article. And feel free to share pet stories or discuss whatever.