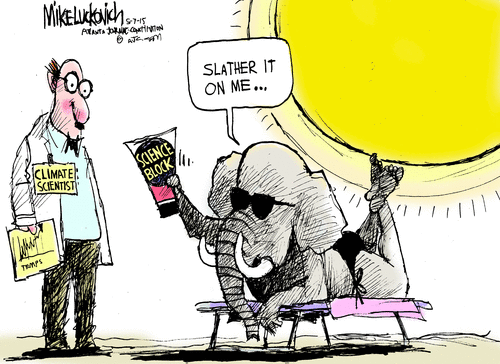 Or: What if they announced a horse race & nobody came? Dylan Byers, Politico's most gullible staffer, prayerfully calls upon the mighty powers of social media:
Let's be honest with ourselves for a second: This is Hillary Clinton's election to lose. On Nov. 8, 2016, Clinton will start — start — with a minimum 247 of the 270 electoral votes she needs to win…

The conventional wisdom among Clinton's supporters is that Clinton is invincible, because she has already weathered all the storms of media scrutiny… This argument overlooks two important factors: First, the national media have never been more primed to take down Hillary Clinton (and, by the same token, elevate a Republican candidate)…

Second, the media environment is radically different from the 1990s or even the 2000s. The power and volume of social media means that controversies can be both disseminated and elevated to unprecedented levels. In today's media environment, nothing with even a whiff of gunpowder comes across the transom without blowing up, because blowing stuff up is what the media do. Or, as Daniel Henninger notes in today's Wall Street Journal, the "electronic elements have reached critical mass … [and] the new political media that will drive the 2016 presidential contest are like the surface of the oceans — huge, always moving, unpredictable and potentially destructive."…
And right on cue (creative disruption!), a Washington Post exclusive: arising from the political depths…
Mitt Romney, who earlier this year decided against a third presidential bid after briefly flirting with a run, will jump back into the national political scene next month when he hosts GOP presidential hopefuls and some of the party's biggest donors in Utah…

Confirmed speakers from the likely 2016 Republican field include Wisconsin Gov. Scott Walker, Sen. Marco Rubio (Fla.), New Jersey Gov. Chris Christie, Ohio Gov. John Kasich, and Sen. Lindsey Graham (S.C.).

Former Florida governor Jeb Bush, long seen as a Romney rival due to tensions between their camps, was invited but will not attend…
Yeah, 'cause somebody has so much dough of his own that he needn't risk getting the luzer stink on him, not to mention the best advisors…
One of Jeb Bush's top advisers on Israel: George W. Bush
After spending months distancing himself from his family's political legacy, Jeb Bush surprised a group of Manhattan financiers this week by naming his brother, former president George W. Bush, as his most influential counselor on U.S.-Israel policy.

"If you want to know who I listen to for advice, it's him," Bush said Tuesday, speaking to a crowd of high-powered investors at the Metropolitan Club, according to four people present. The Republicans in the room spoke on the condition of anonymity to divulge information about the private meeting….
Oh, c'mon — if it weren't for nepotism, John Ellis Bush would be, at best, a mid-level vice-president in a Miami real estate development empire.
***********
Apart from SODH (shaking our damn heads), what's on the agenda as we wrap up the week?