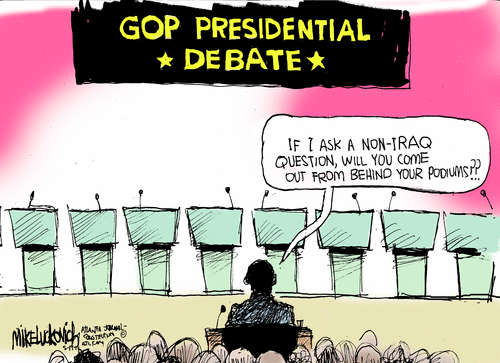 The Washington Post broke the news yesterday:
Fox News announced guidelines Wednesday that will winnow the field of participants in the first Republican debate of the 2016 presidential campaign.

The network will require contenders to place in the top 10 in an average of the five most recent national polls in the run-up to the event, narrowing what is expected to be a field of 16 or more by the Aug. 6 event in Cleveland…

Meanwhile, CNN laid out a different approach for the second debate on Sept. 16, which will be split into two parts — one featuring the top 10 candidates in public polling and a second that will include lower-tiered candidates who garner at least 1 percent in polls. The forum, being held at the Ronald Reagan Presidential Library in Simi Valley, Calif., will also require participants to have at least one paid campaign worker in two of the four early voting states.

Determining which contenders will get to participate in the official forums sanctioned by the Republican National Committee has been a challenge for the cable news network and party officials. No GOP primary debate has ever featured more than 10 candidates…

The top 10 contenders in the five most recent national polls are former Florida governor Jeb Bush, Sen. Marco Rubio of Florida, Wisconsin Gov. Scott Walker, Sen. Rand Paul of Kentucky, Sen. Ted Cruz of Texas, former Arkansas governor Mike Huckabee, retired neurosurgeon Ben Carson, New Jersey Gov. Chris Christie, real estate tycoon Donald Trump and former Texas governor Rick Perry, according to a Washington Post analysis. Former U.S. senator Rick Santorum of Pennsylvania and Ohio Gov. John Kasich are a fraction of a point behind Perry…
Missing from the teevee, under this scenario, would be the only Vagina-American candidate (Fiorina), the Not-White Male Who's Actually Been in Government (Jindal), and the GOP's Face of Aggressive Foreign Policy (Graham); also, quite possibly, Last Cycle's Runner-Up (Santorum) — under 'normal' Repub rules, 2016 should be "his turn". But we would get to watch Trump steal time from the "serious" candidates, so there's that!
Dave Weigel checks in with a couple of politicians who've lived this nightmare…
… In 2012, former New Mexico Governor Gary Johnson made it into a Republican debate in Greenville, S.C., then found himself shut out of almost every other televised contest. He remained irritated that the networks based their decision on polling that did not include him.

"It's important to recognize that in these last few cycles, it was the media that was in charge, not the parties," said Johnson. "If you get blackballed by one, you get blackballed by all of them. I pissed someone off in the board room–I don't know who and why."

Former Ohio Representative Dennis Kucinich, who ran for president in 2004 and 2008, found himself invited to the latter race's initial debates and kept out of most of the key ones. Like Johnson, he assumed that the media was making calls to keep out certain voices, suggesting that at least one debate dis was tied to his support for universal health insurance.

"It's very easy to use the media holdings to try to suppress points of view that go against the profits of larger corporations," said Kucinich. "There are already a substantial number of people disgusted with the parties, and this adds to that."….
Our Savvy Modrun Media Pundits might suggest that Weigel's choices illustrate the correctness of the gatekeeping procedure — both Johnson and Kucinich were considered, by all Very Serious People, as sideshow novelties rather than actual candidates. Those outside the charmed circle of the Media Village would probably notice that both sides are still blaming The Media…
The political Twitterverse, of course, is full of helpful suggestions:
No. Debates. End. The. Farce.

— John Podhoretz (@jpodhoretz) May 20, 2015
This differs from the real debates how? RT @daveweigel 90 minutes of primal screaming instead. Loudest one wins. https://t.co/QnzKGgMiIX

— Daniel Drezner (@dandrezner) May 20, 2015
Instead of arbitrarily limiting to 10, FoxNews should have play-in debates for lower GOP seeds: i.e. Huck vs Cruz. Winner to big stage.

— Steve Schale (@steveschale) May 20, 2015