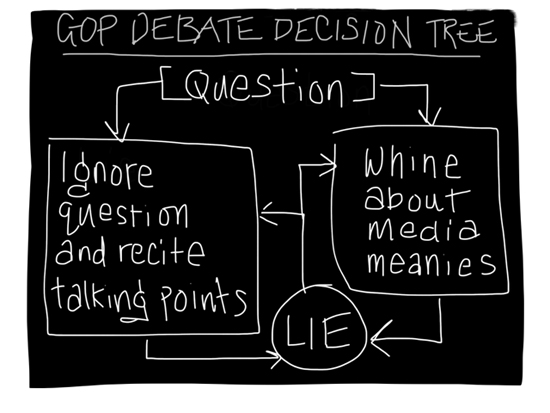 A few thoughts on the emerging contours of the 2016 presidential race: Having observed Bush family black ops at the state and federal level for a combined 16-plus years, I thought Jeb would be able to pull this nomination thing off. I was wrong. He's toast. So there goes my dream of watching another Bush lose to another Clinton. We'll have to settle for the satisfaction of Jeb being kicked to the curb by a vacuous, ambitious former underling instead.
Carson and Trump are toast too. They just don't know it yet. So is Fiorina. So is Kasich. So are Christie, Huckabee, Paul and any other nonentities I've left out. The GOP nomination comes down to Cruz and Rubio, and I think Rubio wins. He's more palatable to the establishment; he is conventionally handsome, and he has a pleasing (if sing-songy) speaking voice. Cruz has pissed off too many important people, has an irritating adenoidal voice and is funny looking in a general kinda way — more than most people, even.
So, Hillary vs. Marco. Former US Secretary of State vs. occasional US Senator. Pantsuit vs. empty suit. Piece of cake, right? Not so fast. Jon Chait, who is often wrong, is dead right here:
Rubio now inherits from the vanquished Bush the role of champion of Bushonomics and the general Bush strategy of combining folksy personal appeals, tiny dollops of policy for the working class, liberal instincts on immigration, and a fanatical devotion to the policy agenda of the party's donor class. Rubio is more like George W. Bush than Jeb Bush ever was. By the time the campaign is over, not only will all of Jeb's donors have defected to Rubio, Poppy Bush may be signing over Jeb's share of the family inheritance to Rubio.
If you lived through the 2000 election and watched any of the post-debate hot takes on TV last night, you might have experience déjà vu while observing the blooming of a massive media man-crush on Rubio. It echoes the late 20th century Beltway realization that they liked the cut of that folksy, plain-spoken cowpoke GWB's jib. Is Rubio a callow fool and a liar? Of course he is, but that doesn't matter a whit.
George W. Bush wasn't a Texas cowpoke in real-life either but rather the no-account wastrel scion of Northeastern bluebloods. The Bushies may have aspired to create their own reality, but the Beltway does it for real. Think they can't turn a brainless, mendacious haircut who mouths plutocrat-friendly platitudes for profit into a scrappy, dreamy underdog who is heroically building a bridge to the 21st & 1/16th century? It's what they do.
I'm not saying 2016 will be a repeat of 2000. Bernie Sanders is no Naderesque spoiler. And while it's true that Hillary isn't as natural a politician as Obama or her husband, she's better at it than Gore, I think. She's not running away from a successful president's accomplishments. And she knows what she'll be up against with the media, whose kneecapping of Gore had such ghastly consequences for the entire planet.
I don't think the Clinton brain trust will underestimate Rubio's fresh-face appeal. I just hope they're up to countering the media narrative. Because in 2000, that's what mattered — that's what made it close enough to steal.
What do you think?