Via The New York Times today, tucked into a piece about the ineducability of the Weasel Headed F**knugget:*
Occasionally, Mr. Trump blows off steam in bursts of boyish exuberance: At the end of a fund-raiser on Long Island last week, he playfully buzzed the crowd twice with his helicopter.
Boyish exuberance? Like this: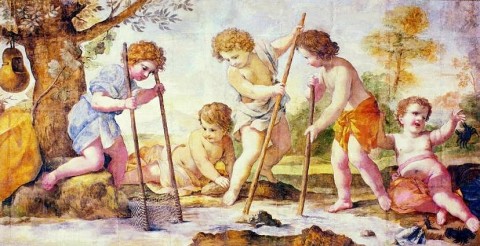 Not like that.
Inevitable popular culture reference:
Aaaaannnnnnddd:  open thread.
*Just to give you a taste of the larger theme:
Advisers who once hoped a Pygmalion-like transformation would refashion a crudely effective political showman into a plausible American president now increasingly concede that Mr. Trump may be beyond coaching. He has ignored their pleas and counsel as his poll numbers have dropped, boasting to friends about the size of his crowds and maintaining that he can read surveys better than the professionals.

In private, Mr. Trump's mood is often sullen and erratic, his associates say. He veers from barking at members of his staff to grumbling about how he was better off following his own instincts during the primaries and suggesting he should not have heeded their calls for change.
Image:  Giovanni Francesco Romanelli, Boys Fishing, 17th c.  And yeah — I meant it to be that tacky.