Critics frequently note that Donald Trump acts like an overgrown toddler. That's because his handlers and enablers treat him like one. Here's an example in the context of Trump's current public vacillation on whether to round up and deport an estimated 11 million undocumented immigrants:
"He has been listening to a wide range of opinions on that," said former New York mayor Rudy Giuliani, who has been at Trump's side nearly constantly over the past week. "As you might imagine, there are different opinions on this, even in his campaign. In a very thoughtful way, he's trying to figure what the right position is."

"By the way," Giuliani added, "that's what everybody criticized him for in the past: that he's not able to do that. He actually is able to do that."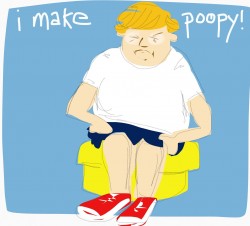 And we're supposed to applaud because Trump made a poopy in the big-boy bowl.
As was demonstrated so vividly during the administration of Incurious George, it's important for presidents to be able to take in new information and adjust their policies accordingly. But that's not what's happening here.
The U.S. government has been debating what to do with our undocumented immigrants for decades. It has been a political flashpoint forever, and the underlying facts haven't changed. Trump has demagogued the issue for more than a year. It's absurd to claim he's just now trying to figure out the right policy, let alone praise him for it.
A similar potty-training moment occurred after Trump expressed vague regrets about using "the wrong words" and causing "personal pain" during a speech. That non-specific non-apology was apparently supposed to address every bigoted and racist comment Trump has ever made, from birth to the present day, including his inexcusable and politically damaging broadsides against Judge Curiel and Captain Khan's family.
Here's campaign manager Kellyanne Conway in the role of a preschool teacher awarding a sticker for a well-targeted poopy:
"He was talking about anyone who feels offended by anything he said. He took extra time yesterday going over that speech with a pen so that was a decision he made. Those are his words. I hope America heard him because of all the people, David, who have been saying, 'Hey, let's get Trump to pivot, let's get him to be more presidential.' That is presidential."
No, it's not, Ms. Conway. It's really, really not.
Great googly-moogly, this election can't be over soon enough. Open thread!