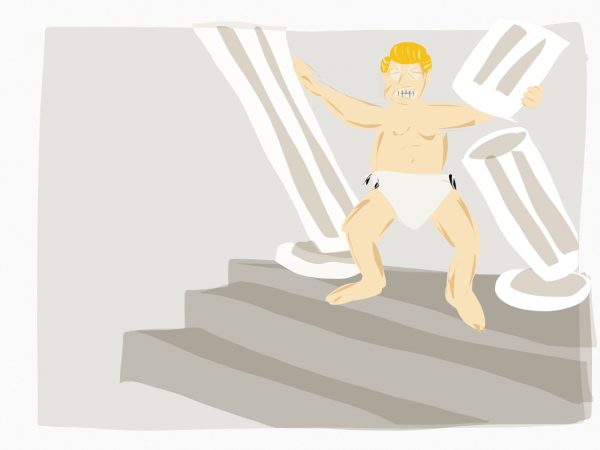 Trump is currently losing his shit, appropriately enough, in Florida, where much of the nation's meteoric crazy comes to flame out after the roads end at the water's edge:
Donald Trump blasted House Speaker Paul Ryan and other Republicans on Wednesday, suggesting that they've turned their backs on the GOP nominee because "there's a whole sinister deal going on" behind his back.

At a rally in Ocala, Florida, Trump warned supporters "this is the last time you'll ever have a chance to save our country."

"It's not gonna happen anymore. You won't be able — the numbers will be too great. Already, the Republican nominee has a massive — a massive disadvantage, and especially when you have the leaders not putting their weight behind the people," Trump said. "They're not putting their weight behind the people."

"Instead of calling me and saying, 'Congratulations, you did a great job, you absolutely destroyed her in the debate like everybody said,'" Trump began, trailing off to boast about how Pat Buchanan called his performance against Hillary Clinton during Sunday's debate "the single greatest debate performance in the history of presidential politics."

"So wouldn't you think that Paul Ryan would call and say, 'Good going?' In front of just about the largest for a second-night debate in the history of the country," Trump said. "So, you know, you'd think that they'd say: 'Great going, Don. Let's go. Let's beat this crook. She's a crook. Let's beat her. We gotta stop it.'"

But Ryan doesn't do that, Trump lamented, floating a conspiracy about a backroom deal. "There's a whole deal going on there," he said. "I mean, you know, there's a whole deal going on. We're gonna figure it out. I always figure things out. But there's a whole sinister deal going on."
Crickets from his fellow Republicans so far. Valued commenter Jeffro:
Hey Paul and Mitch and Reince: if you don't mind, we'd kind of like to avoid Der Trumpster taking the whole democracy down with him…could we at least get a joint statement attesting to the legitimacy of our elections and the legitimacy of whomever is elected President? Thank you.
Yeah, what he said.
When I think about Al Gore offering his concession after a Republican-loaded Supreme Court handed the presidency to a past president's wastrel son based on highly questionable vote totals compiled in a state governed by said wastrel's brother, I could weep with admiration at the patriotism on display — not phony slap-a-yellow-ribbon-magnet-on-your-SUV patriotism, genuine fucking love of country, respect for its institutions and care for its people.
Sack up, Ryan, McConnell and Priebus; it's time to kneecap your own goddamned strongman before he slays you — and takes the rest of us down as collateral damage.
ETA: Oh figgity fuck — I've bigfooted a fundraiser, which is like drunkenly stomping on a Make-a-Wish kid's sandcastle. $10 from Slytherin into the ActBlue pot! Dig deeply, fellow sorcerers!
[H/T — valued commenter
AMK
]