Another reminder that Fox News is not only a wingnut propaganda outfit that actively makes America dumber with every broadcast, it's a hive of gross, entitled swine who use their power to harass female colleagues: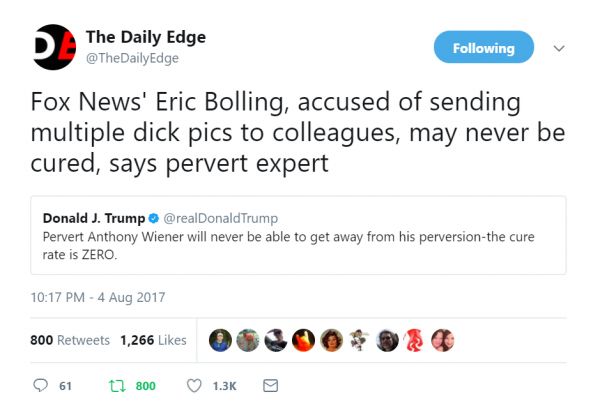 A Fox News spokesperson says they're investigating the matter. Yeah, sure.
Fox News was founded by serial groper Roger Ailes, who took a dirt nap shortly after being ousted from his perch as network boss for sexual harassment. Fox News put up with O'Reilly's revolting antics until the settlement payouts topped out at $13M-plus. Bolling is just the latest Fox News phone-fapper to be publicly outed.
But while it is horrifying that a prominent cable news network operates like a sleazy frat house populated entirely by giggling Martin Shkreli clones, it's not surprising. The Fox News aesthetic was designed to appeal to leering old men from day one. It's essentially an electronic Hooters where the servers read bubble-reinforcing propaganda from teleprompters instead of slinging greasy chicken wings and shitty beer at ass-slapping patrons.
Bolling is probably safe. After all, Fox News viewers elected a leering sexual assaulter as president. Why should Bolling be held to a higher standard than the president? It's not like Fox News is NBC.
Open thread.