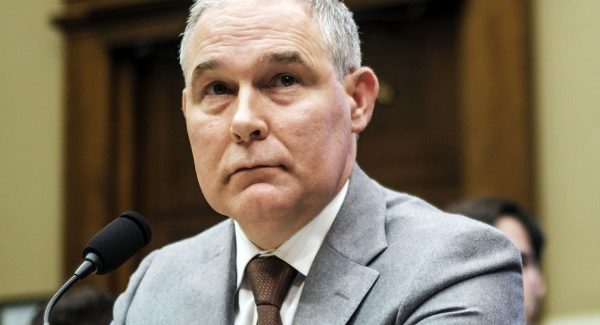 This is Scott Pruitt, the man Trump appointed to dismantle the EPA. You likely recognized him immediately because, if you read this blog, chances are you follow politics pretty closely. But most Americans couldn't pick the shit-bag out of a police lineup. So why does he need bulletproof seat covers? Via WaPo:
Environmental Protection Agency Administrator Scott Pruitt upgraded his official car last year to a costlier, larger vehicle with bullet-resistant covers over bucket seats, according to federal records and interviews with current and former agency officials.

Recent EPA administrators have traveled in a Chevrolet Tahoe, and agency officials had arranged for Pruitt to use the same vehicle when he joined the administration in February. But he switched to a larger, newer and more high-end Chevy Suburban last June.

One former EPA official, who spoke on the condition of anonymity out of fear of retaliation, said that Pruitt remarked that he wanted the larger car because it was similar to ones in which some other Cabinet officials rode.
Just yesterday, the GAO busted Pruitt for improperly squandering $43K in taxpayer dollars to install a soundproof phone booth in his office. There is already such a facility in his building, mind you, but Pruitt wanted his own.
Before that, Pruitt came under (metaphorical!) fire for his first-class travel expenses (necessary, he claimed, because plebes harass him when he flies coach) and world tours taken on the taxpayer dime. A week or two ago (time telescopes out endlessly these days), Pruitt was criticized for being an entitled, grandiose tenant from hell while occupying a posh condo belonging to an energy lobbyist for just $50 a night.
Pruitt maintains a 19 person-strong 24-hour security detail with a fleet of 19 or more vehicles. None of his predecessors even had 24/7 security. Pruitt spends $30 million a year on this small army because he's received "unprecedented" death threats, according to his office and Trump. That turns out to be mostly bullshit.
Pruitt has received crank tweets and odd emails, plus a couple of genuinely disturbing messages via social media, which is about what he'd receive if he posted controversial opinions on a nearly top-10K blog.
Anyway, just a reminder that this guy is a crook — perhaps the most crooked official in the Trump administration, excluding Trump himself, of course. Pruitt is living large on taxpayer dollars, which Democrats should continue to point out every fucking day between now and November.
Open thread!