Cheryl has been covering the bad faith and disingenuousness of the JCPOA critics and their bad faith arguments against the agreement. I want to focus on the actual strategic issue of what war with Iran would actually entail given the people that are advocating against the JCPOA seem to think that a military solution would bring about a better resolution.
Strategic air strikes won't achieve our objectives.
Let's look at three maps. The first details Iran's nuclear sites: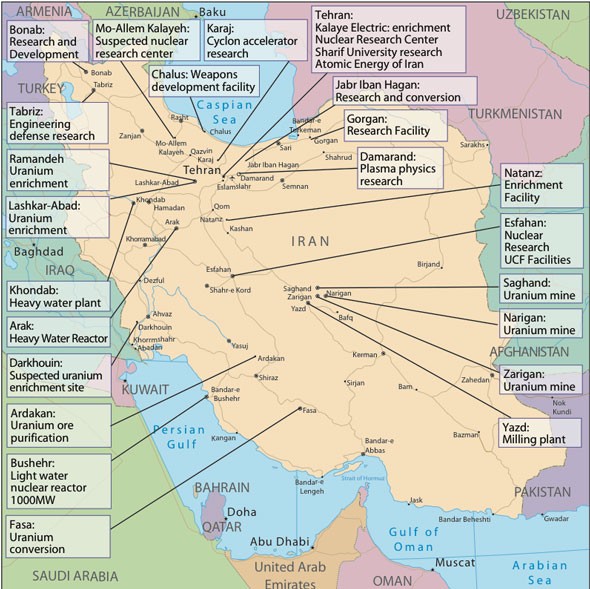 (Map 1: Iranian Nuclear Sites)
Map 2 is of Iran's military bases: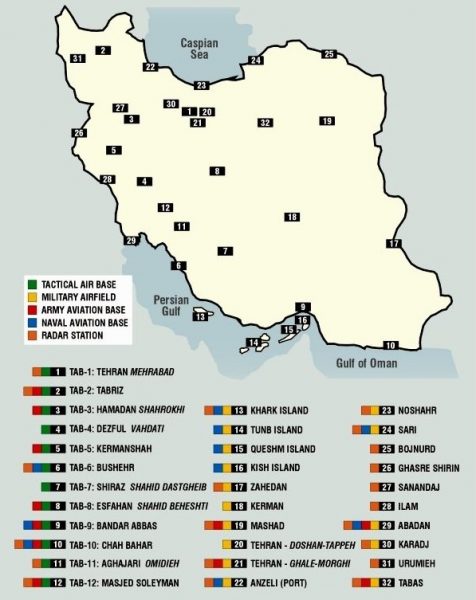 (Map 2: Iranian Military Bases as of 2002)
The third map is of Iran's population centers and population density.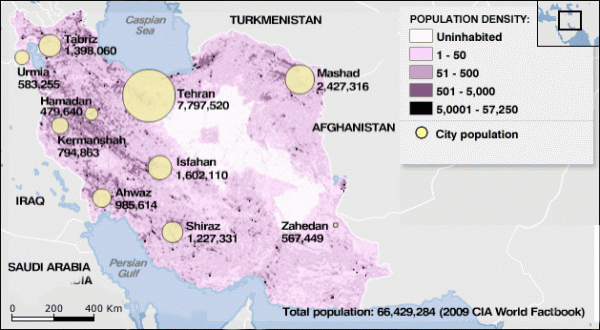 (Map 3: Iranian Population Centers with Population Density)
The Iranians aren't stupid. All of their nuclear research sites, nuclear energy sites, labs, military bases, etc are either built near heritage sites, near cities and towns, and/or close enough to the borders and the ground and sea lines of commerce and communication (GLOCCs and SLOCCs), that attempting to blow them up will cause not just significant collateral damage, but that damage will include damage to heritage sites (a war crime), as well as potentially release enough toxic material that will necessitate undertaking an immediate humanitarian assistance, disaster management and mitigation, and emergency response mission alongside offensive military operations. Iran's placement of their nuclear sites and military bases complicates use of strategic air strikes. Moreover, these sites are hardened, meaning that Landpower will have to be used to actually go in and finish the job after the initial air campaign is concluded.
The Iranians will pursue an asymmetric, irregular, and unconventional warfare strategy against the US.
The Iranians have the ability to close the Shat al Arab waterway  and the Straits of Hormuz in order to spike global petroleum prices. They also have the ability to sink a US aircraft carrier. Such actions would be part of the overall Iranian strategy to fight the US on an asymmetric, irregular, and unconventional warfare strategy. If they do this, it will spike global oil prices and crash the economy, which would itself be part of the asymmetric and irregular strategy.
This strategy goes beyond asymmetric naval warfare. Iranians are incredibly patriotic. Even a majority of those unhappy with the current government and who would like to see some changes. The minute we attack, those folks are going to rally to the national cause and defense. As such the Iranians allowed their war planning to leak back in the mid aughts when they were worried that the US would use Iraq as a launching pad to attack Iran. The planning basically called for emptying all the population centers, moving everyone into the mountains, and creating civilian cadres assigned to military units to conduct asymmetric and irregular warfare against the American invaders. The Iranians have specifically developed a layered or mosaic defense.
In 2005, the IRGC announced that it was incorporating a flexible, layered defense —referred to as a mosaic defense—into its doctrine. The lead author of this plan was General Mohammad Jafari, then director of the IRGC's Center for Strategy, who was later appointed commander of the IRGC.

As part of the mosaic defense, the IRGC has restructured its command and control architecture into a system of 31 separate commands—one for the city of Tehran and 30 for each of Iran's provinces. The primary goal of restructuring has been to strengthen unit cohesion at the local level and give commanders more latitude to respond to potential threats—both foreign and domestic. But the new structure would also make it difficult for hostile forces to degrade Iranian command and control, a lesson the Iranian military has learned by analyzing U.S. operations in Iraq, Afghanistan and the Balkans.

The mosaic defense plan allows Iran to take advantage of its strategic depth and formidable geography to mount an insurgency against invading forces. Most of Iran's population centers and major lines of communication are spread out within the interior of the country. Iran's borders are ringed by rugged mountain ranges that serve as natural barriers to invasion. As enemy supply lines stretched into Iran's interior, they would be vulnerable to interdiction by special stay-behind cells, which the IRGC has formed to harass enemy rear operations.

The Artesh, a mix of armored, infantry and mechanized units, would constitute Iran's initial line of defense against invading forces. IRGC troops would support this effort, but they would also form the core of popular resistance, the bulk of which would be supplied by the Basij, the IRGC's paramilitary volunteer force. The IRGC has developed a wartime mobilization plan for the Basij, called the Mo'in Plan, according to which Basij personnel would augment regular IRGC units in an invasion scenario.

IRGC and Basij exercises have featured simulated ambushes on enemy armored columns and helicopters. Much of this training has been conducted in an urban environment, suggesting that Iran intends to lure enemy forces into cities where they would be deprived of mobility and close air support. Iran has emphasized passive defense measures—techniques used to enhance the battlefield survivability —including camouflage, concealment and deception.
This strategy is one of attrition. Leveraging the human geography of Iran – Iran's people, places, and things – to bog the US military down and inflict such high casualties as quickly as possible in order to destroy support for the war in the US and severely damage the morale of the troops fighting it on the ground. Basically the Iranians, who invented the game of chess, have opted to prepare to play go and to play it for massive psychological effects against the US.  This means the US would be fighting a war among the people. Something we are particularly bad at. Those US military units that are actually good at it, do not have enough personnel to actually conduct this type of campaign at the national level.
The US military has a readiness problem!
As GEN Thomas, the SOCOM Commander testified to Congress back in May 2017:
The head of U.S. Special Forces told Congress Thursday that constant deployments and unrealistic mission expectations were taking a major toll on his troops.

 Army General Raymond Thomas, top commander of Special Operations Command (SOCOM), testified before the Senate Armed Service Committee, saying his elite forces had been engaged in "continuous combat over the past 15 and half years."

During Thursday's testimony, Thomas also criticized "media circles" for promoting the idea that Special Forces could solve any issue around the world. Special Forces, about 8,000 of which are currently active in an estimated 80 nations, are not a "panacea" to remedy all global conflicts, he argued.
We don't have enough of the specialized personnel to cover down on all of SOCOM's missions right now, we certainly don't have enough of them to fight an asymmetric, irregular, and unconventional war against Iran. Not only that, but US conventional forces are also overstretched and barely able to conduct the missions they already have.
The US Air Force, as well as US Navy aviators, have been in almost constant combat operations since Operations Desert Shield/Desert Storm. As Lt. Gen. (ret) David Deptula, the Dean of the Mitchell Institute of Aerospace Studies has stated:
The U.S. Air Force (USAF) has been at war not just since 9/11, but since 1991.  After 25 years of continuous combat operations, coupled with budget instability and lower-than-planned top lines, have made the USAF the oldest, smallest, and least ready it has ever been in its history. The average USAF aircraft age is 27 years—the youngest B-52 is over 50 years old. Going into Operation Desert Storm, the USAF had over 530,000 active duty personnel, today that number is 320,000—40 percent less, and the USAF has almost 60 percent fewer combat fighter squadrons today (55) than it did during the first Gulf War in 1991 (134).  Today, over 50 percent of USAF forces are not sufficiently ready for a high-end fight against near-peer capabilities posed by China or Russia.
LTG Deptula's analysis can be seen in the increase in crashes, like the one last week, of US military aircraft.
In March of 2017, the US Army notified Congress, through the official testimony of three 3 star general officers, that it was also faces a conventional force readiness problem. We now know this is even worse than we thought as the Army is way off – by 12,000 recruits – its recruiting targets to this point in 2018.
The Trump Doctrine and a campaign of maximum pressure will not work with Iran.
The Iranians do not actually care if they treat the President fairly or else. They're not interested in currying favor with him personally, with his family and associates in regard to business, nor with the United States. That isn't to say that they want a direct confrontation. Rather, unlike Kim in the DPRK, they aren't seeking a summit to elevate their status in the international system or as a way to get out from under crippling sanctions. Iran has survived under such sanctions since the early 80s. Any attempts by the President and his surrogates to try to replicate what they think was a successful strategy against the DPRK that brought Kim to the table, will not work with Iran. Moreover, the Iranians know that two of the President's most prominent surrogates in regard to Iran – his National Security Advisor Ambassador Bolton and his personal attorney Mayor Giuliani – are actually paid surrogates for the Mujahedin e Khalq (MEK), which is a quasi-religious/quasi-political cult that was on the US's terrorist list until a few years ago and not thought highly of in Iran. This reduces two of the President's key surrogates on this issue effectiveness within the region. The President's approach to applying maximum pressure, including weaponizing twitter through the use of incendiary and insulting tweets, is the wrong strategy to achieve results with Iran. It is not clear if it was even a major factor, despite administration assertions, in Kim's decision making. Even if it becomes clear that the maximum pressure campaign was a major contributing factor in Kim's decision making, Ayutalluh Uzma Khameini is not Kim Jong Un and Iran is not the DPRK.
War with Iran would be so catastrophic to the US it shouldn't even be contemplated. The actual physical terrain, as well as the human geography, is disadvantageous to the US. ISIS is not done and has either dug into its remaining strongholds in Iraq and Syria or reconstituted itself as a purely guerrilla force. Arguably the region's best strategist is MG Suleimani, the Quds Force Commander, who turned around Assad's flailing military campaign in the Syrian Civil War. Given Iran's asymmetric, irregular, and unconventional war planning, if the US attacks Iran it will be like placing one's hand in a wood chipper and pulling out a stump.
Open thread.
(I previously wrote about this issue here).