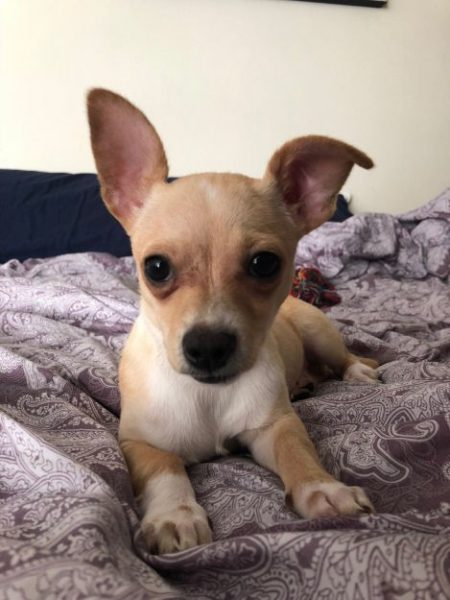 From commentor Kay (not the front pager):
My DIL's best friend is very ill. She is hoping to go home to Korea in 2 weeks so her mom can take care of her if she is well enough (she's in the hospital now, just out of ICU). She has a 12 week old part-chihuahua puppy she was planning to take with her, but she just found out it would have to be in a long quarantine.

Does anyone know anyone who would be interested in this (really adorable) puppy? I can't take him. I already have two very large and cantankerous cats and a very small and cantankerous dog. None of them will take kindly to a happy little puppy soaking up all the attention.

The little guy came to visit yesterday, and he really is a sweetie. He is trained to a pad indoors (100% pee, ~80% poop), but had not been outdoors until yesterday. My son spent quite a bit of time outside with him, trying to train him to go outside to "do his business." He did finally get the idea, so it looks like he can be trained for walks.

He's been trained to the "sit" command, but probably will need additional obedience training. He loved our dog, and followed him around outside (we had to keep him in his crate in the basement inside to keep him safe from the dog and cats). He's a little shy, but a little kibble in the hand quickly makes you his best friend.

Seeing him in person, I have my doubts about his parentage. He is a lot longer than our chihuahua, and his legs are a LOT shorter. I'm guessing there is dachshund in there somewhere… Anyway, he (probably) won't get too big, but he won't be so tiny that his bones are fragile like chihuahuas and mini pincers.

He looks a little dour in these pictures, but he has the cutest grin when he's outside!

His current name is Snowee (I assume because of his snowy white tux shirt), but he's young enough to learn another name.

I'm in the DC/Metro area. If you know anyone in the surrounding area (within like half a day's drive or so), I would be glad to bring the little guy around. He's 12 weeks old, has his shots current up to 12 weeks, and is pad trained.
Chihuahuas and dachshunds, even more than most small dogs, are notorious for bonding to their person, with all their considerable hearts (cf: Lily Cole). This little guy is at a prime age to become someone's soul-friend for the next fifteen to twenty years…
If you know someone who might be interested, leave a comment below, or contact me (annelaurie [dot] bj [at] gmail [dot] com) and I'll forward your message to Kay.