With Trump and his Trumpkins — aka the entire Republican power structure — the extremes of grotesque behavior serve a purpose: in the disgust they evoke, they distract us from the point of the whole exercise.  That would be, of course, extracting as much cash as possible through the exercise of arbitrary power.
Today's example — actually, now about a week old — comes from griftmonger supreme Scott Pruitt.  All the grandiose corruption, stiffing aids for hotel rooms, buying a Maxwell Smart cone of silence, unobtanium-infused skin cream and the rest was the sizzle. The steak was wrecking the environment at the behest of one corporate master or another.  This was true to the bitter end:
In his last act as EPA Administrator on Friday, Scott Pruitt vacated an Obama-era ruling that dramatically restricted sales of polluting "glider" trucks.
What are glider trucks, you may ask? (I did.)  Do they serve any useful social purpose?
You be the judge:
The glider trucks, led by manufacturer Fitzgerald Glider Kits, are new truck bodies and frames fitted with old, diesel engines that pre-date emissions controls.

Those engines emit as much as 43 times the carcinogenic particulate matter and 13 times as much smog-forming nitrogen oxides as modern diesel truck engines. In the presence of sunlight, nitrogen oxides form smog, which has been linked to asthma.
The whole thing was a scam, exploiting a loophole that was supposed to allow the reuse of new engines if a rig was totalled, but instead installing pre-2007, high polluting engines in new truck bodies.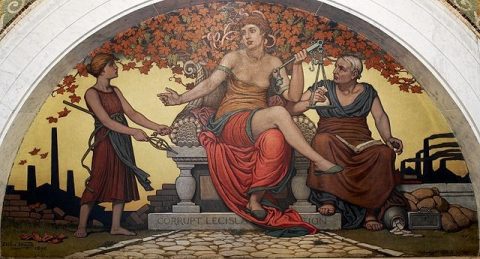 Pruitt used a debunked and then retracted study that claimed the highly polluting engines were somehow magically transformed into cleaner ones in their new clothes in a move that bars the EPA from enforcing the Obama-era rules this year and next.
I'm not sure exactly what Pruitt's profit-center is here, given that everyone — and I mean everyone — hates these things.
Manufacturers such as Virginia-based heavy-truck maker Volvo, Illinois-based Navistar, and Cummins, which makes diesel engines in Indiana, all opposed Pruitt's efforts to keep the loophole open, as did UPS, which buys thousands of long-haul trucks. Name-brand truck and engine makers have invested millions in developing the cleaner engine technology.

"I cannot recall an issue with such a breadth of opposition," Paul Billings, national senior vice president for advocacy at the American Lung Association told the Washington Post.
Was this simply bidnezz–some quid pro quo between Pruitt and the one truck company making a buck of these shit-spewing rigs? Or was this just one last f**k you to liberals on the way out?
I guess it could be both, or rather, it was certainly the latter, plus whatever personal corruption Pruitt was able to extract from the deal.  But my point (and I do have one, besides generalized disgust and impotent rage) is that this his how Trump's administration rolls, and it's exactly as the Republican Party and its paymasters intended it to.
While the gaudy scandals dominate our attention and most of the media effort, the executive departments and agencies are keeping very busy, creating or gutting rules, making decisions, operating almost completely unexamined, in ways that transfer wealth to the chosen few, and risk and consequences to everyone else.
I'm not sure there's a shovel big enough to clean manure pile these assholes are depositing in our stable.
Pace Adam:  I'm doing a really crappy job staying frosty these days.
Open thread.
Image: Elihu Vedder, Corrupt Legislation, mural in the main reading room, Library of Congress Thomas Jefferson Building, 1896