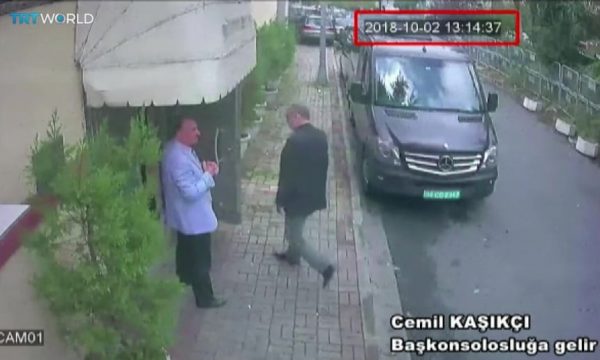 On Tuesday, October 2, Saudi journalist and activist Jamal Khashoggi went to the Saudi consulate in Istanbul to pick up paperwork for his upcoming wedding. He never came out alive.
Turkey says that they have recordings of his interrogation, torture, and murder by Saudis inside the consulate. Additionally, there is photographic evidence of a 15-man Saudi team arriving in Istanbul just before Khashoggi disappeared, including special forces officers, intelligence officials, and a forensics specialist. Turkey is now upping the pressure on Saudi Arabia.
A story has been floated that Khashoggi's Apple watch picked up the audio and sent it to the cloud, which is where Turkey got it. But this is probably a cover story to allow Turkey to deny it has listening devices inside the Saudi consulate. Of course, every country bugs every other country's consulates and embassies. Hard to see why the Turks are being so coy.
David Ignatius has written a long backgrounder on Khashoggi. Khashoggi was devoted to his country, Saudi Arabia. He took some big chances, including joining the Muslim Brotherhood when he was in his 20s, where he met Osama bin Laden. He grew to feel that bin Laden was moving in too radical a direction. He managed to maintain backing by prominent Saudis, which allowed him to continue his truth-telling journalism.
But now Mohammed bin Sultan (known as MBS) is now effectively ruler of Saudi Arabia. Ben Rhodes has written a backgrounder on MBS and US – Saudi relations. He has pursued a bloody war in Yemen to show his opposition to Iranian influence there. American backing for Saudi Arabia dates back to the 1950s, when the United States took over the United Kingdom's role in the Middle East and Saudi oil was essential.
Fracking has greatly downgraded the importance of Saudi oil. Meanwhile, Saudi Arabia has maintained an extreme religious conservatism, supplying Osama bin Laden with his warriors who took down the World Trade Center in 2001 and spreading an extreme form of Islam to other countries. Although MBS presents himself as a reformer, little of this has changed. He saw Khashoggi as a threat to his power.
Any other American President would have issued a strong statement by now that Khashoggi must be produced, or evidence given of his safety. The statement would have condemned the intimidation of reporters and might have mentioned a Bulgarian reporter's death at about the same time Khashoggi disappeared. But Donald Trump is not any other American President.
Trump's first trip after becoming President was to Saudi Arabia. The first trips of other American Presidents have been to our neighbors Canada and Mexico. Saudis have been big investors in Trump properties and supporters, or perhaps originators, of his agenda against Iran. The visit was replete with sword dancing, Trump's picture projected on a building, and the laying of hands on a glowing green globe.
Trump's public reaction has been one of his standard go-tos, "Nobody knows." That is a ridiculous thing for the President to say. His daily intelligence briefing must include at least what is in the media about the Turkish claim to have recordings and the comings and goings of that apparent Saudi hit team. And there's probably more.
The United States historically has stood up for human rights, but Trump has stated that arms sales to Saudi Arabia are important enough that he must tiptoe carefully with the Saudis. "The arms order from the Saudis is a tremendous order, we would be doing a service to ourselves if we gave it up now."
Trump seems to think (or wants us to think) that Saudi Arabia could easily have turned to China or Russia for its arms sales. However, Saudi Arabia's current military equipment is American. It would be difficult to integrate Chinese or Russian equipment into its armed forces.
Transforming the Saudi military to employ Russian, much less Chinese, weapons would cost a fortune even by Gulf standards, would require years of retraining and would greatly reduce its military power for a generation. Russia cannot produce next-generation fighter aircraft, tanks and infantry fighting vehicles for its own armed forces, much less for the export market. China has not produced, never mind exported, the sophisticated aircraft and missile defense systems Saudi Arabia wants. (New York Times)
Trump used the figure of $110 billion as American arms sales to Saudi Arabia, but last year's sales were $5.5 billion, quite a bit less. Boeing lost a $20 billion contract with Iran when Trump pulled out of the Joint Comprehensive Plan of Action. But that was okay with Trump, because it was Iran.
As the President plays dumb, Congress is acting.
A bipartisan group of 11 Democratic and 11 Republican senators sent a letter to President Trump this week, calling for an investigation and a determination of whether to impose sanctions on foreign government officials because of Khashoggi's reported disappearance, "including with respect to the highest ranking officials in the Government of Saudi Arabia." (Washington Post)
The President now has 120 days to decide whether to impose sanctions under the Global Magnitsky Act. The act is intended to deal with gross violations of human rights. More here.
There is no American ambassador to Saudi Arabia. Jared Kushner has been practicing his personal diplomacy with MBS and seems to have been the main point of contact.
A number of companies are withdrawing from participation in "Davos in the Desert," a business conference to be held in Saudi Arabia later this month. Those who have announced they will not be attending include Uber chief executive Dara Khosrowshahi, tech investor Steve Case,  Bob Bakish, chief executive of Viacom and owner of MTV and movie studio Paramount Pictures, and Virgin Group founder Richard Branson. Media companies that will not be attending include the Los Angeles Times, the New York Times, CNN, and Bloomberg.
Fred Hiatt, the Washington Post's editorial page editor, penned a blistering editorial. Khashoggi wrote for the Washington Post.
Even if we still needed Saudi Arabia's oil, which we do not; even if Saudi Arabia was a strong and principled ally in the region, which it is not; even if it helped push the Palestinians toward peace, or kept its promises in Yemen, or bought the weapons that Trump thinks it is going to buy. . . . No matter what Saudi Arabia offered, could its supposed friendship be worth shrugging off the ensnaring and killing of a critic whose only offense was to tell the truth?

Is that the country we want to be?
The situation points up Donald Trump's many conflicts of interest, both his business with the Saudis and his animus toward Iran. There has been little to no interest in the American people in the war with Iran that many of Trump's advisors want. If the Saudis are found to have killed Khashoggi, that further alienates the American public from Iran's main adversary. We are also beginning to see how many think tanks have taken Saudi money and kept quiet about their questionable activities.
Photo: Khashoggi enters the Saudi consulate.
Cross-posted to Nuclear Diner.