The actual Trump Doctrine, which we've covered here at Balloon Juice extensively since the President gave his first campaign speech about national-security and foreign policy back in April 2016, is:
America's allies are taking advantage of our treaty and other obligations in the national security space; America's allies and peer competitors are ripping the US off through our trade agreements; the US should go it alone if it can't renegotiate better deals; and only a President Trump could guarantee that the US would be treated fairly – or else. That only a President Trump could guarantee that the US would be treated fairly, whether in national security arrangements or global trade, was simply an extension of one of the major, if not the major theme of his campaign: Donald Trump would be treated fairly or else and only Donald Trump could guarantee that Americans, especially the forgotten men and women as he phrased it, would be treated fairly or else.

That the US will be treated fairly or else, and that only a President Trump could guarantee that happening became the central, unifying theme of his national security and foreign policy approach was actually a stroke of strategic communication genius. A significant amount of the President's initial strategic communication approach was through tying his primary opponents, the Republican National Committee, and the broadcast and cable news networks in knots about treating him fairly. This included trying to get Megyn Kelly removed from debate moderation after he felt she treated him badly, as well as actually dropping out of a GOP primary debate on Fox News and holding a competing charity event for veterans because he did not like that Fox wouldn't comply with his demands. And if they failed to do so he'd deal with them harshly. Then candidate Trump threatened his fellow primary opponents and the RNC by making it clear that if he didn't feel he was being treated fairly by them, then the "or else" would be his running as an independent candidate, thereby splitting the Republican vote for president, and handing the election to the then presumed Democratic front runner Hillary Clinton.

By making this the dominant theme of his national security and foreign policy approach, he was able to make a singular through line for his campaign – "I, Donald Trump, will be treated fairly or else by the GOP, the RNC, and the news media; only I, Donald Trump, can guarantee that you the forgotten men and women of America are treated fairly in regards to both domestic politics and foreign policy; and only I, Donald Trump, can guarantee that the US will be treated fairly or else there will be serious and severe repercussions for the GOP, the RNC, the news media, elected and appointed officials, and America's allies, partners, and peer competitors". Here was the simple through line to connect Make America Great Again both domestically and internationally by placing America first. It is also the essence of the real Trump Doctrine: President Trump and by extension the forgotten men and women of America, as well as America itself, will be treated fairly or else.
Muhammad bin Salman's strategy for the wetwork operation against Jamal Khashoggi is to leverage the Trump Doctrine in order to allow him to get away with having Khashoggi to be vanished by rendition, or as is now reported and most likely to have happened, extra-judicially executed at the Saudi Consulate in Istanbul. The Crown Prince, who is popularly known as MBS, like so many other authoritarian and autocratic foreign leaders, has figured out that the President makes his decisions on whether he feels he is being treated fairly. If he feels that he is, then one can pretty much do whatever they want. If he feels that he isn't, then the President goes on the offensive to deliver the "or else". MBS believes he can get away with this because the President has publicly made it clear that as long as the Saudis spend money purchasing his properties or at his properties, then he likes them because they are treating him fairly.
At one of his 2015 campaign rallies the President said:
Saudi Arabia, I get along with all of them. They buy apartments from me. They spend $40 million, $50 million. Am I supposed to dislike them? I like them very much.
The Permanent Saudi Mission to the UN is housed in Trump World Tower across the street from the UN. The Kingdom owns the entire 45th floor. The Trump Tower in Chicago is running a profit, as is the Trump International Hotel and Tower in New York, largely because of bookings from the Saudis. Even as almost all the other Trump branded properties posted significant losses, especially his beloved Scottish golf courses. Jared Kushner has also been seeking financing from the Saudis for his personal business interests. At this time it appears that funding stream did not come through. The lack of funding, however, has not kept the Crown Prince from bragging that he has Jared in his pocket, which, once reported, MBS denied.
Muhammad bin Salman is gambling that because the Saudis spend lavishly on the President's private business interests, and that because the President doesn't understand the terms of what the Saudis have negotiated in regard to their potential purchases of US military equipment, which are really just a bunch of letters of intent that have yet to be finalized., that the President will provide him with the plausible deniability he needs to get away with having Khashoggi vanished and mist likely extra-judicially executed. Despite the fact that MBS negotiated a huge discount from Jared "The Hidden Genius" Kushner and guarantees that approximately 50% of the weapons would be built in Saudi Arabia, which means that the sale, if it were actually finalized, would not significantly increase US manufacturing or jobs.
Right on schedule this morning the President announced that Saudi King Salman, who is actually just an infirm figure head, stated the Saudis didn't do anything to Khashoggi, but it could have been rogue killers.
Just spoke to the King of Saudi Arabia who denies any knowledge of whatever may have happened "to our Saudi Arabian citizen." He said that they are working closely with Turkey to find answer. I am immediately sending our Secretary of State to meet with King!

— Donald J. Trump (@realDonaldTrump) October 15, 2018
https://twitter.com/abbydphillip/status/1051825703623233538
You know, rogue killers who just happened to be traveling on Saudi Arabian diplomatic passports, on Saudi Arabian government jets, one of whom was an autopsy specialist who happened to pack his bone saw, who just happened to be hanging out at the Saudi Consulate in Istanbul when Jamal Khashoggi walked in to get his official Saudi marriage documents signed, and who just so happened decided that Khashoggi looked like a good guy to practice a little recreational wetwork and improvisational autopsying on. Which would, I suppose, explain, why the Saudi Arabians had a professional cleaning team in their Istanbul consulate this morning, which left shortly before the Turkish police were allowed to enter the building.
Journalists at Saudi consulate in Istanbul spotting cleaners coming into building just before Turkish investigators are scheduled to arrive to probe Jamal Khashoggi disappearance (via APTN feed) pic.twitter.com/iAAjM0PpGu

— Borzou Daragahi ?? (@borzou) October 15, 2018
Cleaning crew was brought in to #SaudiArabia consulate in Istanbul before Riyadh reportedly agreed to #Turkey's demand for a search of the premise where journo #Khashoggi was las seen entering. pic.twitter.com/xTMGIB8Vfs

— Abdullah Bozkurt (@abdbozkurt) October 15, 2018
As long as the President places being treated fairly, and specifically his subjective understanding of being personally treated fairly, as the central consideration of US policy, we will see more of this type of behavior from the authoritarians, autocrats, despots, tyrants, neo-nationalists, and neo-fascists that the President finds so admirable. During his 60 Minutes interview with Lesley Stahl, he all but gave Putin a green light, and anyone else who was paying attention and might have similar interests, to keep assassinating people – from political rivals to opposition figures to journalists to defectors from Russia's intelligence services – as long as they're not American citizens and the wet work doesn't take place in the US.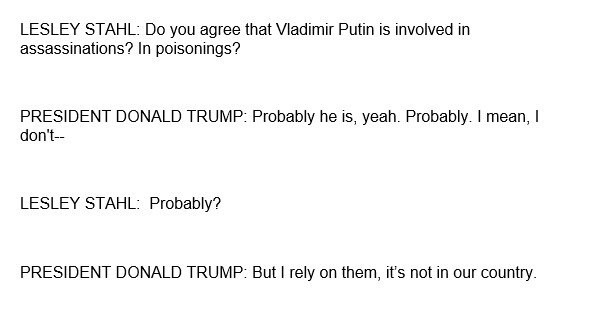 While there is an old political science/international relations axiom that state's don't have friends, they have interests, the Trump Doctrine has turned the US into a transactional state. A transactional state being run by the head of an ongoing white collar criminal and organized criminal enterprise. It is no surprise that authoritarians and aspiring authoritarians like Muhammad bin Salman are developing strategies that leverage the treat the President fairly part of the Trump Doctrine to get away with whatever they want in order to avoid the "or else" response.
We are off the looking glass and through the map.
Open thread!