Sometime last year, right around Christmas, I came across the following drawing: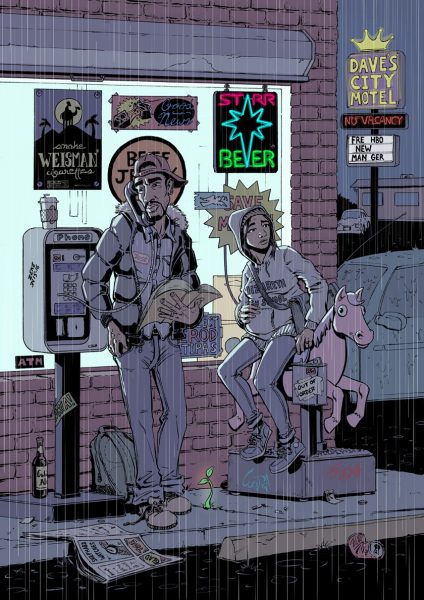 (Jose y Maria by Everett Patterson)
The drawing was done in 2014 by comics artist Everett Patterson. Since I came across this in a tweet or someone's blog post after last Christmas had come and gone, I saved the image knowing I'd likely, and unfortunately, have a chance to use it this year. Here's Patterson's description of his drawing (emphasis mine):
This was our Christmas card for 2014, depicting Jesus's parents in a modern setting. I was inspired by a number of evocative "imagine what it would have been like"-type sermons I heard earlier this year, and also (as usual) by the work of Will Eisner, who so often depicted, with religious reverence, noble individuals enduring the many minor discomforts and petty indignities of urban America.

The main goal of this illustration was to pack as many clever biblical references into the scene as possible. I won't list every one (there are at least a dozen), but a few that I'm proudest of are: the verse from the prophet Ezekiel in the graffiti on the phone kiosk, the way the "Save More!" behind Mary's head looks kinda like "Ave Maria!," and the two ads for "Glad" and "Tide" on the newspaper (get it?).

A word on perspective: for this image, I chose very, very wide vanishing points. The result is what I occasionally call "middle-class white people perspective." Rather than feeling immersed in the scene, the viewer is looking at it as if from across the street or from the warmth and safety of his or her passing car. I have a small hope that this Christmas image will come to mind when we see other "down and out" people huddling outside of gas stations, reminding us that our Savior's parents (and indeed, Jesus himself) were at one time similarly troubled.
As I'm sure everyone is aware by now, I'm not a Christian, but it seems to me that all of the winter holidays – Diwali, Hanukkah, Christmas, and Kwanzaa – of 2018 are being celebrated by many in what seems to be the twilight of America. A twilight that has brought the rudest, meanest, smallest in terms of their ethical and moral stature, small minded, and bigoted people to power who seek, for a variety of reasons, to rule not to govern. Some, like the President, his family, the Secretary of Commerce, and the former Secretaries of HHS and Interior, and the Director of the EPA, seek merely to enrich themselves. Some, like the Vice President, the Secretaries of Education and HUD, the former Attorney General, the Acting Attorney General, and the White House Press Secretary, seek to impose a white, largely evangelical* Christian herrenvolk democracy. Some, like Senator McConnell, Leonard Leo, Stephen Miller, John Bolton, and far too many others, seek to manipulate the President into fulfilling their own personal revanchist, anti-liberal democracy agendas. These men and women, some true believers, some merely opportunists, would have turned away Joseph, Mary, and Jesus as they fled from the danger of Herod through the dangers of the desert to the dangers of being strangers in the Land of Egypt even though most of them profess to be the most devoted followers of Jesus and his teachings.
There is, however, always hope. There are people who are doing good things for others. Who are trying to make a difference one good act, act of kindness, and/or act of charity at a time. Who are doing their best to embody the real meaning and ethic of the Christmas holiday season.
Grateful to everyone who has donated so far — and to all of those on the ground here in El Paso who are helping with temporary shelter, food & other help for these families. I will share volunteer opportunities in El Paso for those in the area as soon as they are shared with me.

— Beto O'Rourke (@BetoORourke) December 24, 2018
While there isn't a need for donations of used clothing at this moment, Annunciation House is looking for NEW socks, underwear, and bras. Sizes small and medium for men, women, and children. They can be brought to the donation site (from 8am-8pm) at 1003 E San Antonio Ave.

— Beto O'Rourke (@BetoORourke) December 24, 2018
You can also volunteer directly through Annunciation House. They're looking for people who are willing to drive refugees to the bus station and airport. To get started, email [email protected] and a volunteer lead will get back to you.

— Beto O'Rourke (@BetoORourke) December 24, 2018
The migrants stand by inhaling the delicious aromas waiting for it to be ready while they make jokes -it's paella o pa' Ella. pic.twitter.com/j5v5mJAhMB

— ??????????? (@Andalalucha) December 23, 2018
Armando Rodiel- an award winning Paella chef helped make the event happen- Originally from Valencia, Spain he says Paella is about community pic.twitter.com/6suW3Tm9tt

— ??????????? (@Andalalucha) December 23, 2018
Around the corner from the shelter Honduran and Salvadoran migrants are preparing 6000 tamales for Xmas – this is a DIY effort of ? pic.twitter.com/3fJRCamBjL

— ??????????? (@Andalalucha) December 23, 2018
Paella Sin Fronteras. Paella without borders. pic.twitter.com/kZNkPOlBfm

— ??????????? (@Andalalucha) December 24, 2018
Hope is not a strategy, but it is essential for survival. And America is not simply an outline on a map, it is an ideal. So keep the faith and hold the line.
Merry Christmas to all those Juicers and jackals who observe it!
Open thread!
* The coalition of religious conservatives is, of course, larger than just those from the evangelical Christian denominations that we refer to as Evangelicals, Charismatics, and Fundamentalists. It also includes traditionalist Catholics, some members of the Church of Latter Day Saints, and some ultra-Orthodox Jews. The reality, however, is that if the goals of religious conservatives are ever achieved in the US, the evangelical Christians will turn on the traditionalist Catholics, the Mormons, and the ultra-Orthodox Jews. Then they will turn on each other as the Evangelicals, the Charismatics, and the Fundamentalists don't actually agree on matters of theology and dogma. The pursuit of doctrinal purity can only lead to purge after purge.