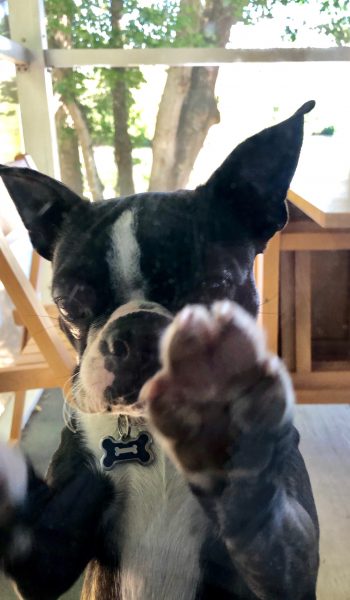 We're having a new central air/heat unit installed over the next couple of days, and it's a big, ugly, expensive undertaking. The previous owners smoked in the house for 30 years, so we're not just replacing the old, crappy A/C unit and ancient handler; we're having the duct work ripped out and replaced and starting afresh.
My husband chose the HVAC vendor, and he did not screen them for political views. Imagine my horror when a truck covered in Trump stickers and hauling a trailer with a giant MAGA banner rolled into my fucking driveway a while ago.
I was this-close to saying, "Get your goddamned MAGAtmobile off my property, you gormless dupe of the most obvious conman who ever swindled a sucker!" But then I remembered my husband had given the A/C outfit a substantial deposit.
When the driver emerged from the truck, Badger, who has heretofore been a friend to all, barked hysterically, as if the man were a Nazgûl invading our yard instead of a garden-variety fool. Daisy seemed confused by the hub-bub.
The A/C guys are friendly enough. But I eventually had to banish the dogs to the porch because Badger would not chill, and I thought he might bite someone and cause a lawsuit.
Anyhoo, we've got no A/C for the next couple of days (luckily the weather is mild) and an infestation of Trumpsters in our attic. And it looks like Badger has hidden talent as a stupidity sniffer.
How's your Thursday going?